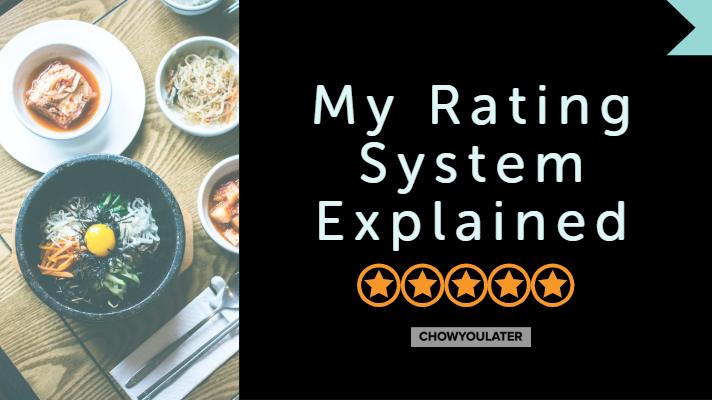 For me, it's only about 3 things: Food, Service, and Cleanliness. These are the bare bones of what all restaurants should deliver therefore make up the only factors used in my Restaurant Rating System. Everything else is secondary and listed out in my pluses, minuses, and neutral comments section. This is the format and how I will review all the restaurants I visit.
I take into consideration not all restaurants, especially those starting out, have the resources to invest in the latest and greatest for their marketing, interior, and staffing. I do not specifically look for these things. Yes, they are nice and I'll mention it in my notes but not major requirements for me nor are they deal breakers. For instance, I'll choose a hole in the wall restaurant with a welcoming waitstaff over an upscale, pompous one any day of the week. 
I am a value seeker.
Always have and will be. I represent the customer who enjoys eating out and getting everything they paid for. This is not limited to only full service restaurants but to fast food and cafes. Essentially, if I paid a dollar, I expect to get a dollar and maybe more in return. This is what I mean when I mention value. Secondly, I understand that restaurants have to make a living and at times are starting out so there is plenty of leg room in my reviews. It's designed that way. 
Restaurant Identity is crucial to me.
My reviews dig deep, in trying to figure out what the restaurant is. This is probably the most important criteria. Who are their target market and reach? I try to channel this demographic and ask myself whether I would like them. What messages are the restaurant trying to convey? I look for personality and not a carbon copy because, frankly, that's too easy and lazy. When I walk into a restaurant I want to be inspired by the hustle and bustle of the restaurant owners. So when I come across a restaurant that's put their heart and soul into it I have nothing but respect. I admire the risks and chances these restaurant owners take. Whatever vision they want to share with me is factored into my scoring. 
Let's talk about relevancy.
For instance, if they are known for pizza, I would not review a restaurant based on their meatball subs. I will always ask the staff their flagship entrée. The Golden Rule of eating out is to order the item that sells the most. And since we're on this topic. I want to emphasize I am not a food critic. I simply enjoy foods of all cultures and have my personal taste preferences. There will be some cuisines I am most familiar with and my reviews will showcase this but for the most part I am not here to blabber on how perfectly spiced and exquisite a dish is. If something is delicious, it's delicious dammit. I am first and foremost a restaurant critic commenting on the overall customer experience. 
My Rating System is weighted.
To balance the scoring I've decided on using a weighted average approach with the largest weight going to Food (65%), then Service (20%), and lastly to Cleanliness (15%). These will be itemized in my reviews for transparency. It never made sense to rate a restaurant based on intuition and hunch rather than by some cold, hard numbers. At the end of the day no matter how fancy or unappealing a restaurant may look, it all comes down to the food, service, and cleanliness. 
"Look after the customers and the business will take care of itself" – Ray Kroc
Lastly, I write my reviews not to bash or disrespect any establishment. These are all constructive and at the end of the day, just my opinions. I put this blog together to represent those who enjoy dining out and wanting the best value for their dollar. To restaurant owners or die hard restaurant fan boys, please do not take it personally! I am a restaurant enthusiast who loves finding hidden gems and discovering new places and want to inform others like me. If you disagree with my reviews, feel free to comment and we can have a discussion.