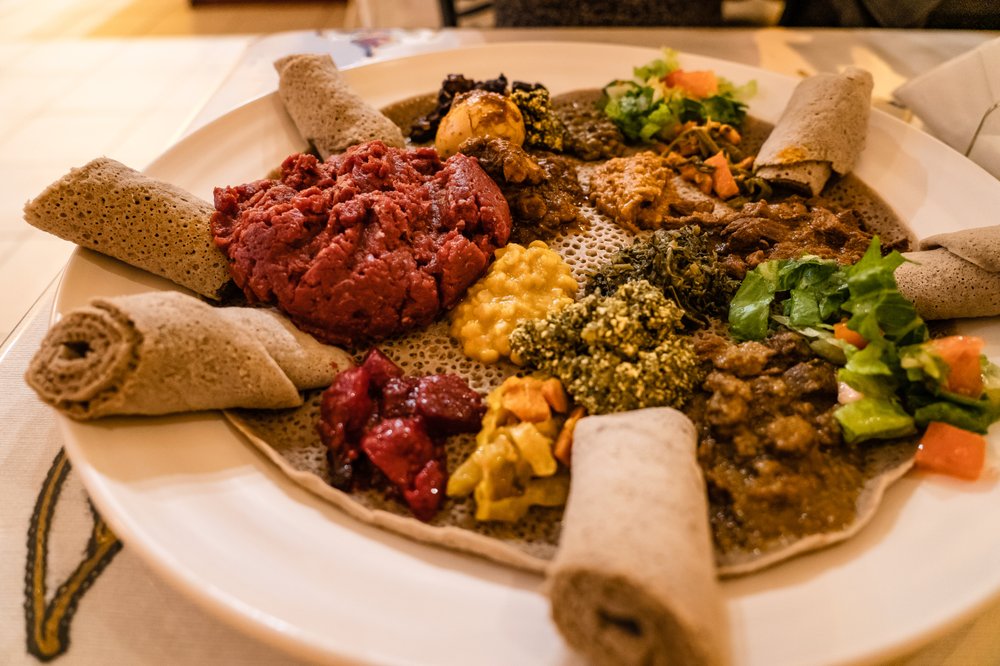 [4.21/5] This is part 2 of my quest in search for Boston's best Ethiopian Restaurant (you can check out my other review of Habesha by going to my profile). Who would have known, a conversation with an Ethiopian Uber Driver got me here. At first, seeing the scarce number of reviews I was a little skeptical but this is what I do to help my fellow restaurant enthusiasts. How did Sheger Cafe do?
Review #055
Restaurant Type: Casual Dining.
Food (65%)
Taste to price 4/5
Quality to price 4/5
Portion to price 4.5/5
Average = 4.17
Service (20%)
Friendliness 5/5
Promptness 4/5
Average = 4.5
Cleanliness (15%)
Bathroom 4/5
Dining area 4/5
Kitchen area 4/5
Average = 4
Overall Score = [F(.65)]+[S(.20)]+C(.15)]
= [2.71]+[0.9]+[0.6]
= 4.21
The Pluses…
+ GREAT MENU. Easy to read. Simple layout with just enough images to make a sound decision on the order. Good variety for Ethiopian food beginners and authentic cuisine seekers alike.
+ Awesome customer service. I was greeted with a nice smile and the waitress answered my questions and even recommended me her favorites.
+ Feels much like a family business which I always have a soft spot for.
+ For the main entree, I had #18 THE ULTIMATE COMBINATIONS OF SHEGER CAFE and THE KITFO SPECIAL. See attached video. That explains it all.
+ Keep in mind, the KITFO SPECIAL is raw. If you're going to have Ethiopian food, you have to accept going raw (lol). I thoroughly enjoyed it. Lots of flavor and fresh, red meat. The KITFO SPECIAL has got to be a staple to the order.
+ Great portions. If I'm at an Ethiopian restaurant and I don't take anything home, then it ain't an Ethiopian Restaurant.
+ Great ambiance. Just like Habesha, there is a big screen TV playing contemporary Ethiopian music. Various Paintings/Photos on the wall are cool.
+ Very CLEAN restaurant and bright atmosphere due to lights and interior colors.
The Negs…
– Not really their fault, but parking in the area can be a little tricky.
The Neutrals…
o They don't have a real sign outside. It may be a little difficult finding this place since the previous tenant's sign (Oriental Market) is still up.
o I had the HONEY WINE. That was my first time having it. My best description is it tastes like a mix of apple cider vinegar and honey. A little too sweet for me as I prefer my drinks on the dryer side. Spoiler alert: there is no alcohol in it.
o When you walk in you'll see a Traditional Ethiopian Coffee Ceremony Set which was pretty darn cool. Makes me wonder if they hold a ceremony on some days. I'd love to watch and drink it.
In Conclusion…
They opened about 5 months ago and it's still a relatively unknown. At less than 20 reviews, I have to say this place is very underrated and a very much a hidden gem. I'm glad I was one of the first to step foot. I owe that Uber driver a glass of Honey Wine and I will gladly come back here. In all, Sheger Cafe is a must visit if you're into Ethiopian foods.
#ChowYouLater