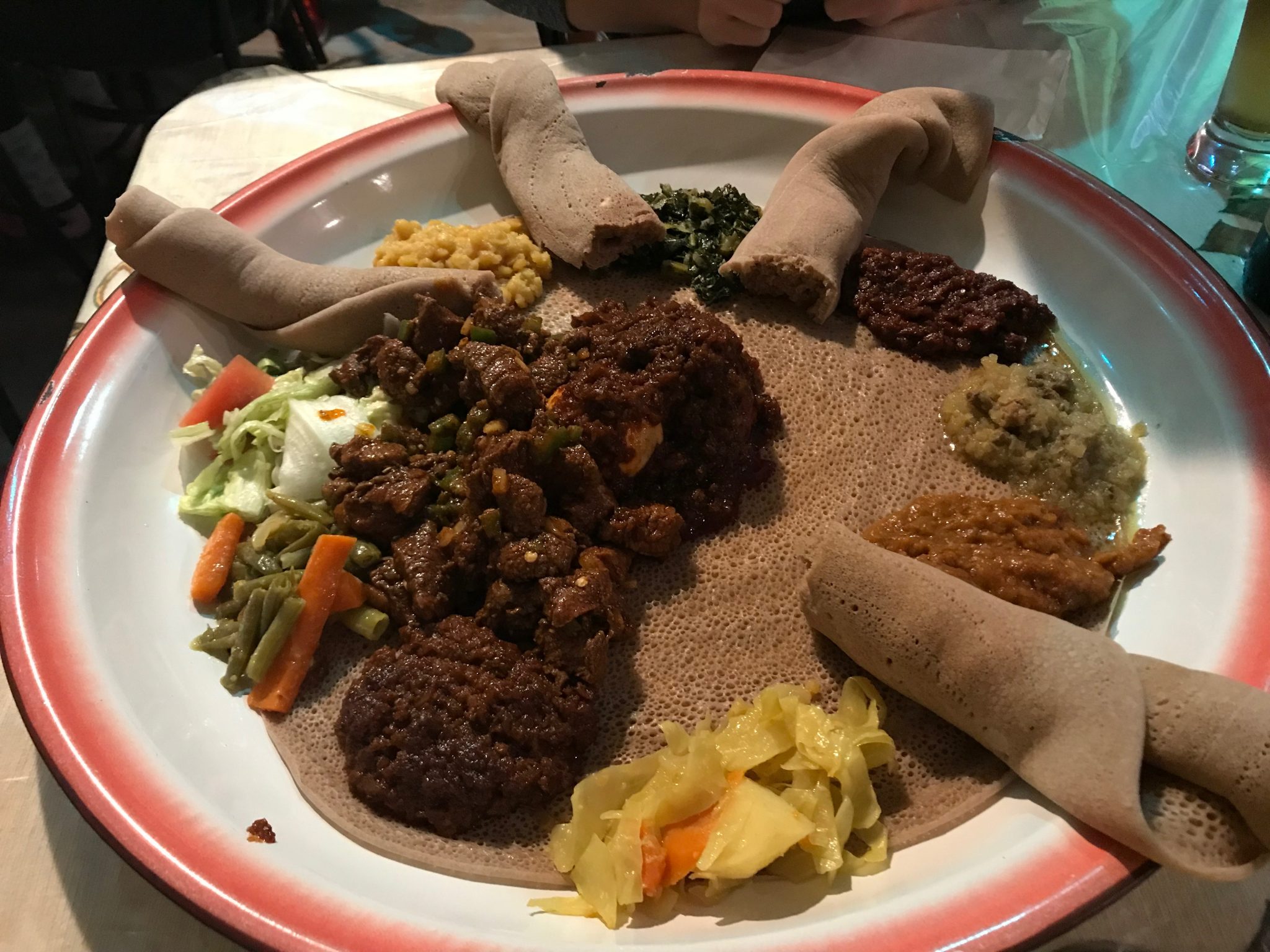 [3.78/5] An Uber conversation brought me here. What started off as the usual Uber ride turned into a discussion of the best places for Ethiopian cuisine in the Boston area. The driver was from Ethiopia and he revealed, I mean mentioned (:P), Habesha along with Addis Red Sea and Shegar Cafe. Now if you know anything about me, then you will know this means I need to go on a mini Ethiopian restaurant tour. First stop, Habesha.
Review #053
Restaurant Type: Casual Dining. Full Service Restaurant.
Food (65%)
Taste to price 4/5
Quality to price 4/5
Portion to price 4/5
Average = 4
Service (20%)
Friendliness 3/5
Promptness 3.5/5
Average = 3.25
Cleanliness (15%)
Bathroom 3.5/5
Dining area 3.5/5
Kitchen area 3.5/5
Average = 3.5
Overall Score = [F(.65)]+[S(.20)]+C(.15)]
= [2.6]+[0.65]+[0.53]
= 3.78
The Pluses…
+ I enjoyed the presence of the owner. He came to our table and asked us how the food was and whether we needed anything. Much appreciated!
+ We ordered the HABESHA SPECIAL and the GORED GORED.
+ The HABESHA SPECIAL was cooked to my liking, lots of flavor and spices which were so comforting and earthy. INJERA was warm too!
+ As for the GORED GORED, that was my daredevil move of the day, as (1) it was my first time having it and (2) it's raw! I'm usually hesitant and finicky when it comes to the unfamiliar and raw, but this one here turned out to be a great decision. Think of a spiced up beef tartare. Lots of turmeric, spice lovers rejoice!
+ They have Ethiopian Beers and HONEY WINE (TEJ)!
+ When I go to an ethnic restaurant, I always enjoy and desire to learn more about the culture and traditions. For that reason, I liked that the wait staff had on traditional clothing and the TV blasting Ethiopian music videos.

The Negs…
– As others mentioned, the wait staff appeared a little disinterested. Service was not slow by any means, but some enthusiasm and a smile could go a long way.
– Menu could have been written clearer. For instance, some of the entrees were for two people. Some language denoting this and pictures would help a lot.
– This is minor, but I wished there were more traditional themes and decor throughout the restaurant.
In Conclusion…
I haven't been to many Ethiopian restaurants, but I can say I've ventured enough to call myself a fan of Ethiopian Cuisine and this is prior to my food tour. The uniques use of spices and food prep always brings me back to the Ethiopian restaurants. Habesha delivers in the food and did not disappoint one bit. Come here for the food. However, if you want ambiance, a place to feel like you've escaped to Addis Ababa for a split second, there are better options…
#ChowYouLater