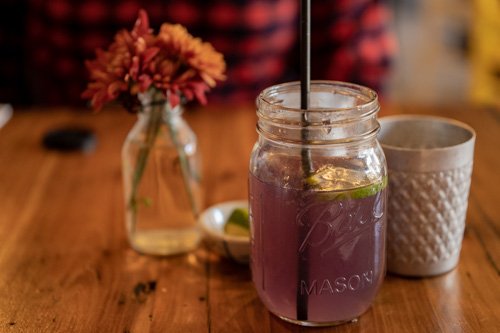 [4.78/5] I don't go to Malden often but when I do it's for Boda Borg, meeting friends, or shopping at Hunt's Photo. I have yet to find my go-to restaurant when I'm in the Malden area and the search have continued for some time. The next stop is Crying Thaiger. Are you the one?
Review #052
Restaurant Type: Casual Dining.
Food (65%)
Taste to price 5/5
Quality to price 5/5
Portion to price 5/5
Average = 5
Service (20%)
Friendliness 4/5
Promptness 4.5/5
Average = 4.25
Cleanliness (15%)
Bathroom 4/5
Dining area 5/5
Kitchen area na
Average = 4.5
Overall Score = [F(.65)]+[S(.20)]+C(.15)]
= [3.25]+[0.85]+[0.68]
= 4.78
The Pluses…
+ AMBIANCE, Ambiance, Ambiance! The moment you walk in, you start to realize this isn't your typical Thai Restaurant. This place is gorgeous. Designed with instagram in mind, there's a backdrop for group photos and Halloween themed decorations which all play a role into building great ambiance.
+ ATTENTION TO DETAIL. Whoever designed their interior, picked out the dinnerware, tables, and wall art deserves an applause. The balance between modern and traditional decor is not easy to do.
+ Real flowers were used on the table. I always admire restaurants that do this. It's a small detail but it can be an expensive one for restaurants. This tells me how serious the owner is to the customers.
+ MENU. I could spend hours going through the menu. There's so much to discuss but I'll keep it short. Lots of pictures, easy eye navigation, lots of creative concepts you do not usually see at a Thai Restaurant.
+ A SPECIAL MENU and LUNCH MENU are major pluses. The DRINK MENU is icing on the cake. Yes, they serve staples like Thai Iced Tea and most importantly alcohol, as in, CRAFT BEERS, THAI BEERS as well as a decent list of WINE varieties. How many Asian restaurants offer this?!
+ With so many positives, I haven't even mentioned the food yet. I ordered the SPICY NOODLE SOUP and the SUKI SEAFOOD SOUP. Both were fresh, flavorful, and with a good variety of meats. They tasted exactly as described in the Menu.
+ Awesome PRICES! Wow, a place that doesn't overcharge. If anything, I wonder given all the cosmetic work and overhead costs, why we're not charged more. I'm used to the other way around where restaurants go cheap on everything yet charge premium prices for food. This is rare for a restaurant to do this. I admire the integrity.
+ Quick, friendly, attentive waiters/resses. They were always aware of customer needs.
The Negs…
– There's really no major negatives here, but if I had to nitpick, the COLOR CHANGING PURPLE DRINK is indeed a cool concept as it literally changes color once you squeeze some lime in but it tasted a little off. It's missing a couple of more ingredients to get right. To me, it was like sugar water; I admire the effort though. Don't let my opinions stop the creative work, keep it up!
In Conclusion…
The Crying Thaiger left me bawling at their brilliance. This restaurant is a rare site balancing the intricacies of traditional and modern Thai elements. I love the Metal Thai Cups and the contemporary bowls the foods they're served in. The dishes were delicious offering quality ingredients at more than reasonable prices. These little things add up together compiling a memorable experience for me. As a restaurant enthusiast, I was geeking out. There's so many positives and talking points of this place, I can't even fit it all in trying to keep it under 600 words. You have to visit for yourself. Earlier, I was going on about not having a go-to in Malden. Well, look no further, I've found it.
#ChowYouLater