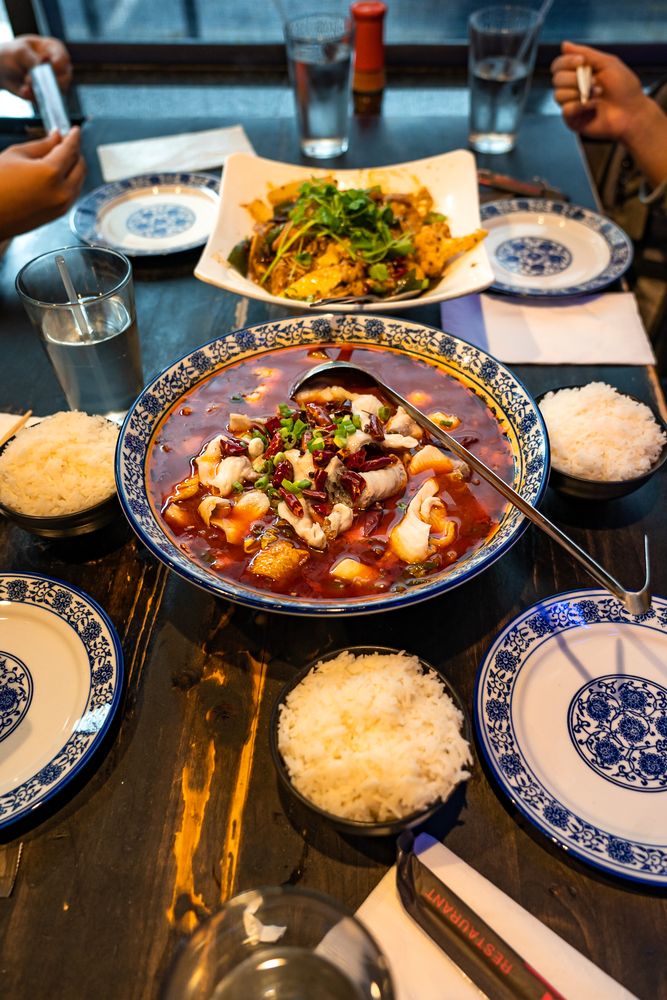 [3.95/5] Mala Restaurant holds a special place in my heart. No really it does. This restaurant along with some other ones made up some memorable, euphoric times I had when my GF and I first met. This was one of our go-to restaurants and after a long stint, we recently went back. What are my thoughts? Should you visit? Here we go.
Review #054
Restaurant Type: Casual Dining.
Food (65%)
Taste to price 4/5
Quality to price 4/5
Portion to price 4/5
Average = 4
Service (20%)
Friendliness 3.5/5
Promptness 4/5
Average = 3.75
Cleanliness (15%)
Bathroom 4/5
Dining area 4/5
Kitchen area 4/5
Average = 4
Overall Score = [F(.65)]+[S(.20)]+C(.15)]
= [2.6]+[0.75]+[0.6]
= 3.95
The Pluses…
+ HUGE MENU. I can't say I've tried everything as I usually skip all the hoo-ha and go straight to the MALA SPECIAL POT and BARBECUE aka the lone menu page that comes with a black marker.
+ The black marker is for making your own MALA XIANG GUO. Use it wisely my friend. See my picture for a cheat sheet of what I usually get. I would also add some meats such as LAMB, GIZZARD, SAUSAGE, and/or QUAIL EGGS.
+ Flip over the SPECIAL POT Menu and you'll find the BARBECUE side which I also highly recommend. Their skewer beats most places specializing in Chinese BBQ. You can't go wrong with any of the meats.
+ Great for groups. Dishes are generally served FAMILY STYLE here. This is the type of place you want to try as much food as possible and the only way to do that is to (1) have a Kobayashi stomach, or (2) bring a group of 4 or more.
+ Because I had the luxury of being in a group, we ordered the FRESH FISH WITH CHILI SAUCE. I have high tolerance for spice and if you do too, then I'd suggest the EXTRA SPICY option. If you're a fan of TILAPIA and SPICY OILS then this is a good one to get.
+ I love the CHINAWARE. They make great photos and it adds onto the ambiance (see pics).
The Negs…
– Flavoring of foods can be inconsistent at times. In the past I've had my dishes overly salty and bland on other trips. Either way, it still tastes good, just be aware.
– No alcohol here. This is kind of a bummer but it's pretty common in most modern Chinese restaurants. I would love to see some Peppercorn Bloody Mary's in the future 🙂
The Neutrals…
o You can count on this place being packed. Plan accordingly during lunch/dinner times especially on the weekends.
o You can always tell what kind of restaurant a place is based on the customers and for this one, it's as authentic as a small city like Boston can offer. You will find the majority of customers, international students from China. They're friendly and nice 🙂
In Conclusion…
After coming here for years, I look at Mala like the start of a phase, much like what Iron Man is to the MCU. The success of this restaurant opened doors for the Chinese hot pot and spicy bowl type of restaurants. Nowadays you see a plethora of them on Harvard Ave and they are difficult to miss. If you don't know where to start, Mala Restaurant is not a bad place to begin. After years of coming here, they still got it. And if you're on a date much like I was, grab some rolled ice cream or bubble tea afterwards and explore the bars. There's a lot to do and make the night a memorable one.
#ChowYouLater