I don't think I've ever met anyone who didn't enjoy Pad Thai. Now that I'm taking on a keto diet, my cravings have been stronger than ever. What's the best way to fill the void? To make a keto version of Pad Thai, of course! My keto pad thai dish is for those who like to live on the spicy side. The best part is that it's easy to make!
Last updated: June 29, 2020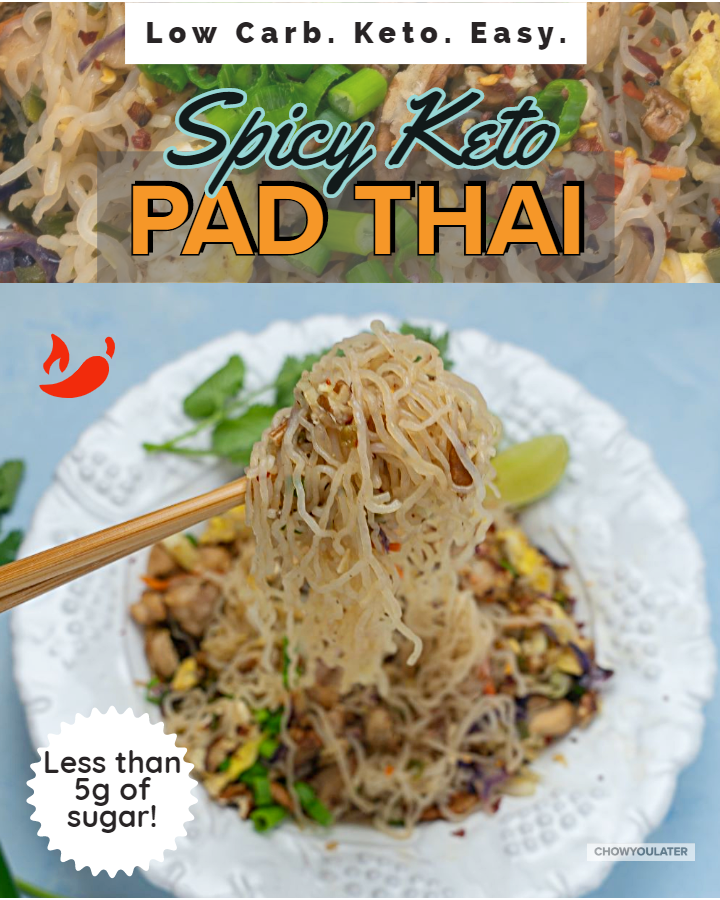 This post may contain affiliate links which means that if you choose to make a purchase, I will earn a commission. This commission comes at no additional cost to you as it helps support my page which is much appreciated!
Quick Links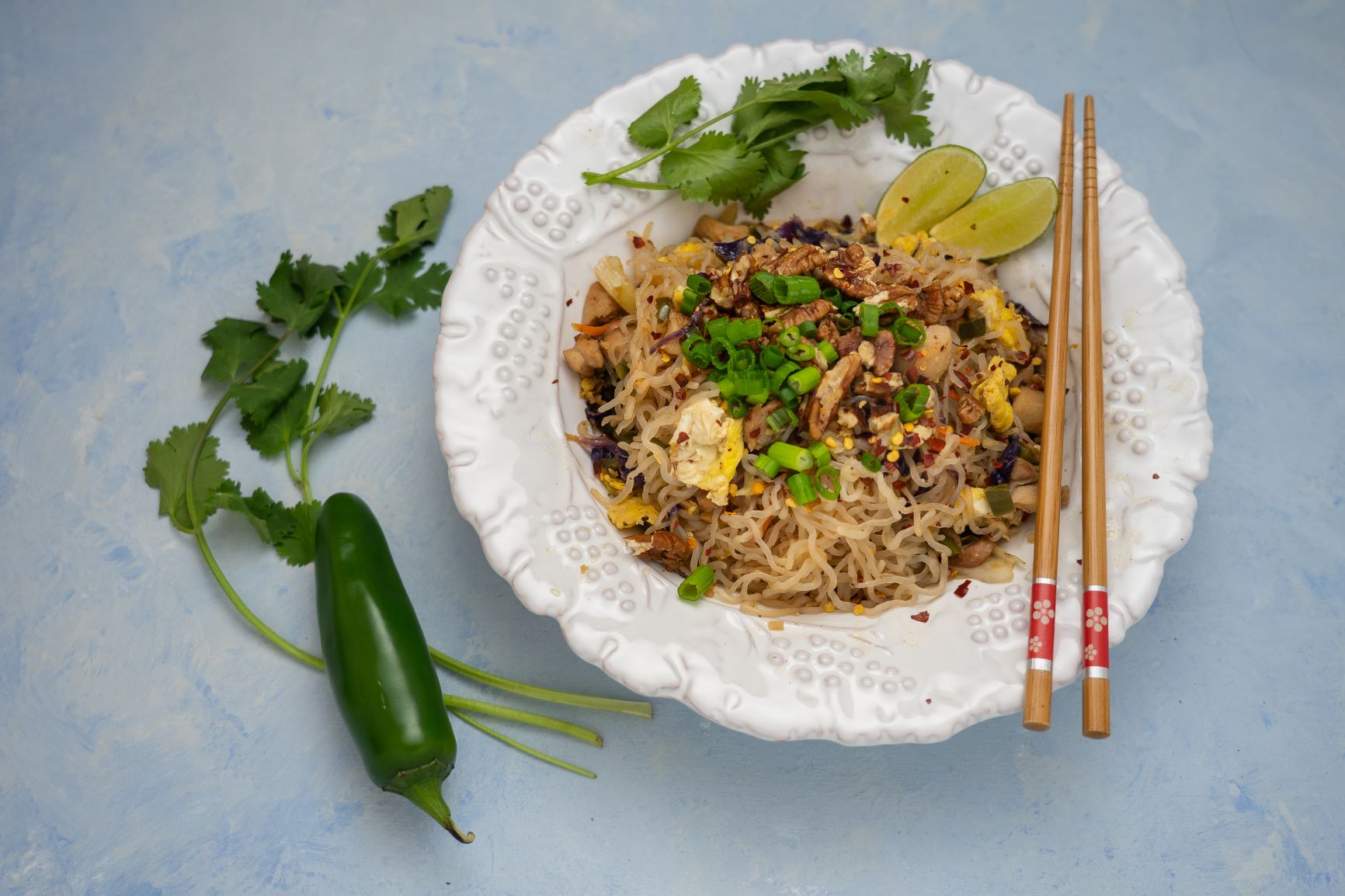 Is Pad Thai Keto Friendly?
Generally, no. Traditional Pad Thai has a few main ingredients I'll cover in my post:
Rice Noodles
Palm Sugar
Fish Sauce
Tamarind
There are a bunch of other variations that use seafood and many other ingredients but for simplicity purposes we'll leave it to these 4 main ones.
1.) As long as rice noodles are being used then it cannot be keto friendly. Instead, I've substituted the noodles for shirataki noodles. They're made out of the roots of Konjac Yam which are found throughout East Asia. They have close to zero carbs which makes it absolutely keto friendly!
Related: How to Cook Shirataki Noodles the Right Way
2.) Another common ingredient is palm sugar. Just as its name implies, there is sugar in this Thai favorite. With my recipe, I'm going to replace it with Monkfruit Sweetener to capture some of the sweetness found in Pad Thai. See: What is monk fruit sweetener?
3.) Traditional Fish Sauce is commonly made with sugar therefore, I suggest using a different kind of brand. See: Is Fish Sauce Keto?
4.) With tamarind, this one's a major no-no as it contains net carbs of 23 grams. The form commonly used is the paste which is highly concentrated and we can't have that to stay in ketosis. Instead, I'll be using lime to capture it's tanginess and monkfruit for its sweetness.
How about the Keto Pad Thai Sauce?
Traditionally Pad Thai uses a mix of tamarind, fish sauce, and palm sugar to make their addictive pad thai sauce. This mix is made prior to cooking and is poured over the veggies and meats while they're stir-fried. For my recipe, I've keto-fied it by subbing them in for lime, fish sauce, coconut aminos, and monkfruit sweetener.
Is Fish Sauce Keto?
Here's the thing about fish sauce. Some are preserved for a long time and blended with some fillers and sugar. I hate to recommend just one brand but I've only seen one that's safest for keto-ers. This one's called the Red Boat Premium Fish Sauce. They boast only having two ingredients: freshly caught wild anchovies and sea salt. I've heard Costco carries them so you may want to check for them there. I've also seen them at Wholes Food Market. If not, you can always order them at Amazon.
So maybe that's a good business to get into is keto fish sauce. There's barely any competition. Maybe one day you'll see me strike a deal on Shark Tank.
Want to see other keto friendly ingredients? Check out my Keto Grocery Shopping Guide.
What is Monkfruit Sweetener?
For those who don't know what Monkfruit is, it's a natural sweetener extracted from monk fruit, native to Southeast Asia. I advise using monk fruit as an alternative to sugar because it has zero calories and 100-150 times sweeter than sugar especially if you want to stay in ketosis! The one I'm using in my recipe is made by Lakanto which is very popular in the Asian Keto community and praised by many keto leaders such as Thomas Delauer and Drew Manning. You can find this brand and many others at your local Wholes Food Market, Sprouts, and Trader Joes or you can get them at Amazon.
Why Chicken Thighs?
Chicken thighs are used here simply because of the fat content. The thighs are the fattiest part of a chicken at 10.9 grams of fat. Compare that to the chicken breast at almost 4 grams of total fat which more than doubles the fat count. For this reason, I recommend the boneless and skinless chicken thigh.
What other ingredients were substituted?
Before I go into other substitutions I wanted to go into my thought process a little bit. For my recipe, my number one purpose is to make it keto friendly. Second, the recipe should be easy and convenient using ingredients found at your nearest major grocery store. With that said, lets review. I've substituted the tamarind for lime and monkfruit sweetener. I know, not exactly a 1 to 1 substitution but you have to trust me on this. And as mentioned above, the only fish sauce keto friendly is the Red Boat one and Soy Sauce will have to be replaced with Coconut Aminos.
Now that we got that out of the way, the other ingredients are pecans. Traditionally crushed peanuts are used but I found pecan has more of a naturally sweet flavor with an amazing 2 net carbs per serving, 20 grams of fat compared to peanuts at 2.75 grams/17.75 grams of fat. Either way, you can use either, I personally prefer pecan due to the higher fat and lower carbs.
Instead of bean sprouts, which can be high in carbs if you're purchasing soybean ones, I've subbed it for shredded cabbage. The one I'm using has a mix of shredded red and green cabbages with julienned carrots from Trader Joe's. Please see the picture below. It made my life so much easier. That's pretty much it! After trying out the recipe you will find it doesn't taste too far from the traditional version.
How to make Spicy Keto Pad Thai
Things you'll need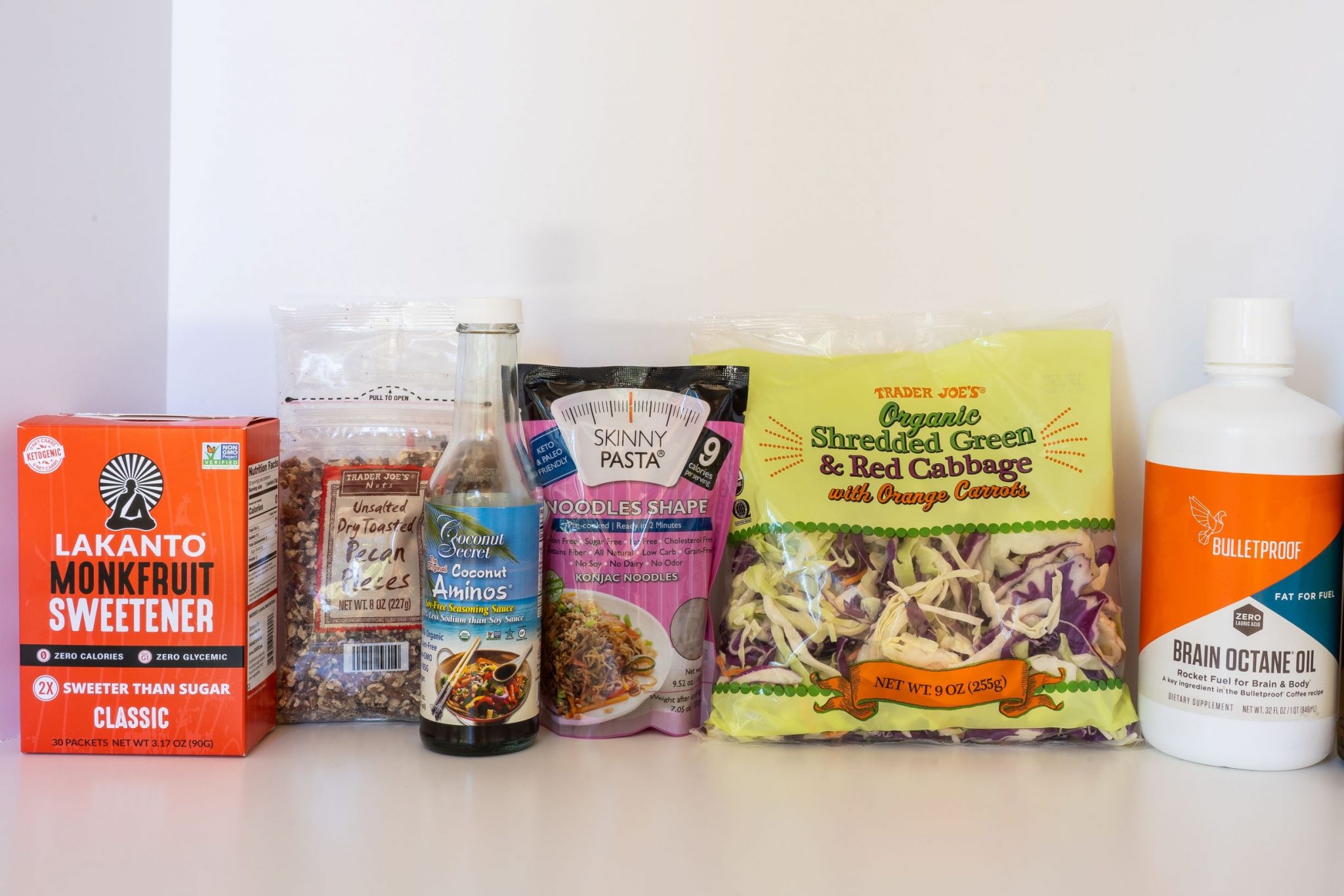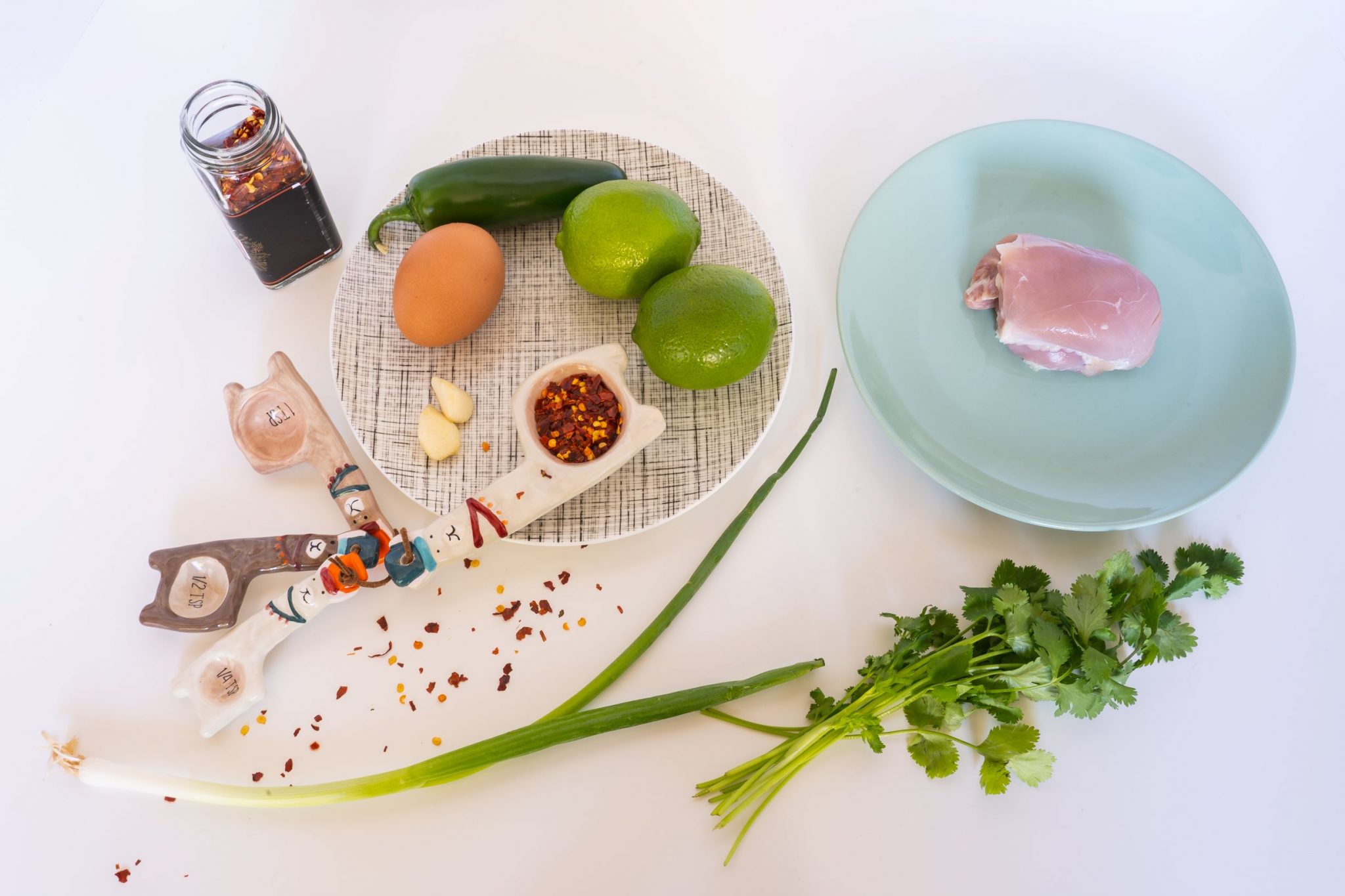 Easy Spicy Keto Pad Thai
This recipe was made for the spicy eater who doesn't have much time to cook and prepare.
Ingredients
Meat
1

piece

Boneless Skinless Chicken Thigh

(or ¼ lb of chicken)
Veggies for cooking
¾

cup

Shredded Cabbage

(substution for bean sprouts)

¼

cup

Julienned Carrots

1

piece

Brunoised Jalapeno

2

Minced Garlic cloves
Garnish/Toppings
½

cup

Crushed Pecan

1

tbsp

MCT Oil

¼

cup

Cilantro coursely chopped

You can also use Dried Cilantro

1

stalk

Chopped Scallion

1

tbsp

Crushed Peppers

or Ground Cayenne for extra spice

4

wedges

Lime
Instructions
Shirataki Noodles
Follow the package instructions. If not, I can show you how to cook shirataki noodles.Note: I found that one package may not be enough for noodle lovers. If you love noodles I suggest getting two packages or 4 servings of shirataki noodles for 2 people.
Gather all the ingredients
Prep all the ingredients. Cut the chicken into small strips. Brunoise the jalapeno. Mince Garlic. Chop the scallions and cilantro. Cut the lime into wedges. Beat egg.

Bring together the ingredients.

Pro tip: Separate the ingredients into two groups, one for cooking and the other for garnishing.
Time to cook!
In a frying pan, heat 1 tablespoons of oil on medium high heat. Add the chicken and cook for about 2-3 minutes or until chicken is no longer pink in the middle. Then, remove and transfer to a plate. Let the pan cool down for about 1 minute before returning it to the burner.

Now lower heat to medium. Add in another tablespoon of oil. Throw in jalapeno, and then garlic. Let it cook for about 30 seconds. Turn heat on medium high. Then throw in the chicken that was cooked earlier.

Turn heat on medium high. Add in shredded cabbage and carrots. Stir fry veggies and chicken for about 30 seconds.

Then move veggies and chicken to the side. Pour beated eggs to pan and scramble with spatula for about 30 seconds. Stir with chicken and veggies.

Pour in half of the pad thai sauce over the chicken and veggies, then throw noodles in. Stir fry for about 2 more minutes. Your Keto Pad Thai is ready for toppings!

Protip: I reccomend using half the sauce but everyone has different taste preferences. If you find it too salty or not salty enough feel free to tweak it according to your tastes. If you have extra you can save it in a jar and use for next time.
Toppings
Transfer the Pad Thai to a plate served family style or to individual plates.

Add in the toppings (ie pecans, limes, MCT oil, scallions, cilantro, crushed peppers) based on my reccomended amont or by your personal tastes.
Notes
Nutrition info is approximate using the sparkpeople.com recipe calculator, and the carb count does not count sugar alcohols. It is your responsibility to check the accuracy of all nutritional facts posted here, especially if you have a medical condition, in which case you should consult with your doctor before using any of the recipes.
Nutrition
Calories:
552.6
kcal
|
Carbohydrates:
21.4
g
|
Protein:
15.5
g
|
Fat:
48.6
g
|
Saturated Fat:
12.7
g
|
Polyunsaturated Fat:
9.8
g
|
Monounsaturated Fat:
24.6
g
|
Cholesterol:
138
mg
|
Sodium:
610
mg
|
Potassium:
387.6
mg
|
Fiber:
10.5
g
|
Sugar:
4.3
g
Nutrition Facts
Easy Spicy Keto Pad Thai
Amount Per Serving
Calories 552.6
Calories from Fat 437
% Daily Value*
Fat 48.6g75%
Monounsaturated Fat 24.6g
Cholesterol 138mg46%
Sodium 610mg27%
Potassium 387.6mg11%
Carbohydrates 21.4g7%
Protein 15.5g31%
* Percent Daily Values are based on a 2000 calorie diet.
MADE THIS RECIPE?
Lets see it! Tag @chowyoulater on Instagram and hashtag it #chowyoulater
LOOKING FOR UPDATES? Subscribe to my email list and/or follow me on Instagram, Pinterest, and Facebook.