When I think of Indian food, I think of one of three things. Curry, Nan, and Tikka Masala. This is one of the most popular dishes in America yet it can be difficult to come by if you're on a low carb keto diet. Now, you won't need to worry about that because I've crafted together a Keto Chicken Tikka Masala for you to enjoy. One that tastes almost identical to the real thing!
Last updated: December 5, 2019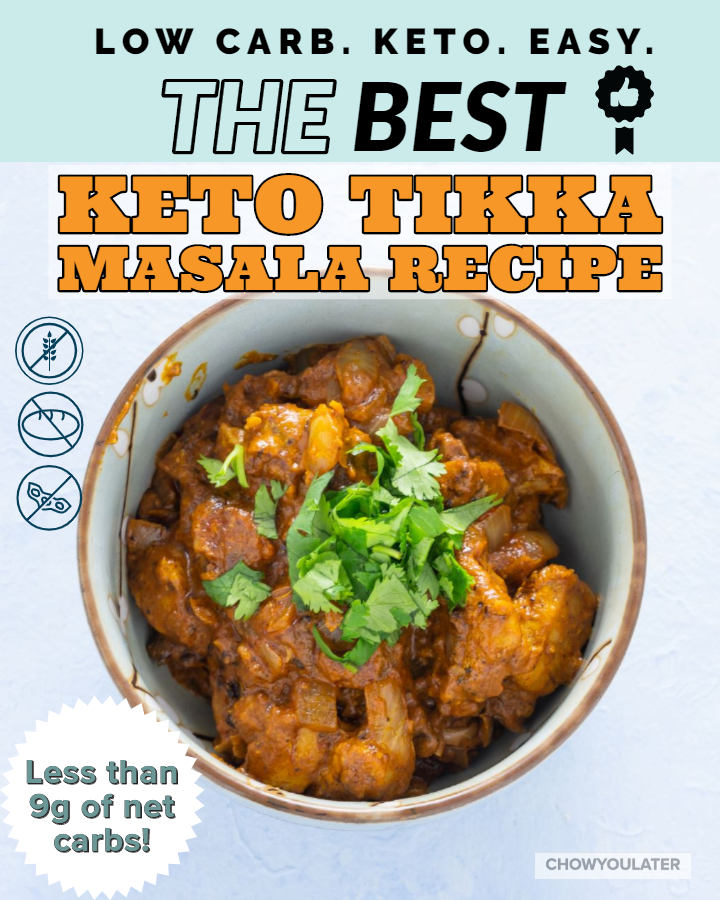 This post may contain affiliate links which means that if you choose to make a purchase, I will earn a commission. This commission comes at no additional cost to you as it helps support my page which is much appreciated!
Is Tikka Masala keto?
I often get the question, "is tikka masala keto friendly?" The short and easy answer is no. The reason is because it's typically prepared with dairy-based yogurt which is usually high in carbohydrates that will most likely take you out of ketosis. Luckily, almost everything else is very much keto friendly. Tikka Masala is high in fat due to the ghee and heavy whipping cream. Those are the ingredients that makes tikka masala highly attractive to the keto community.
Then, how is your recipe keto friendly and low carb?
Great question. Fortunately what we can do is make some key substitutions. Instead of using dairy yogurt, we can swap it for alternative yogurts such as coconut milk yogurt, almond milk yogurt, and in some cases greek yogurt. Just make sure to check the nutrition information found on the back of the package.
For my recipe, I found a blend I want to recommend, the Califia Farms Unsweetened Plain Yogurt. It's dairy free because it's made with almond and coconut. The best thing about this product is it only carries 1 gram of Net Carbs per cup. That is nothing!
The second ingredient that adds to the carbs I haven't mentioned yet is the tomato sauce. Always make sure to grab the one with the lower net carbs. The one I found, surprisingly, is Whole Food's private label brand (365 Everyday Value). I don't think you can go wrong with these especially when they carry only 2 grams of net carbs per serving when other manufacturers can easily double that number.
So there you have it. I am able to make my recipe low carb by using some specific manufacturers to make it keto. If you found other companies with an even lower carb count, shoot me a message and I'll gladly update my recipe as well as give you the credit you deserve.
What other kind of proteins can I make with Keto Tikka Masala?
Using my recipe, you can actually make virtually any kind of protein. Just substitute the chicken for your favorite protein. These can be:
Paneer
Tofu
Lamb
Fish
Cauliflower/Broccoli
There are other variations such as chickpeas but that would prove one, two many for carbs so I've only suggested the above. As you can see, with those number of proteins listed you can easily accommodate your favorite protein. With that said, let's get into my recipe.
What You'll Need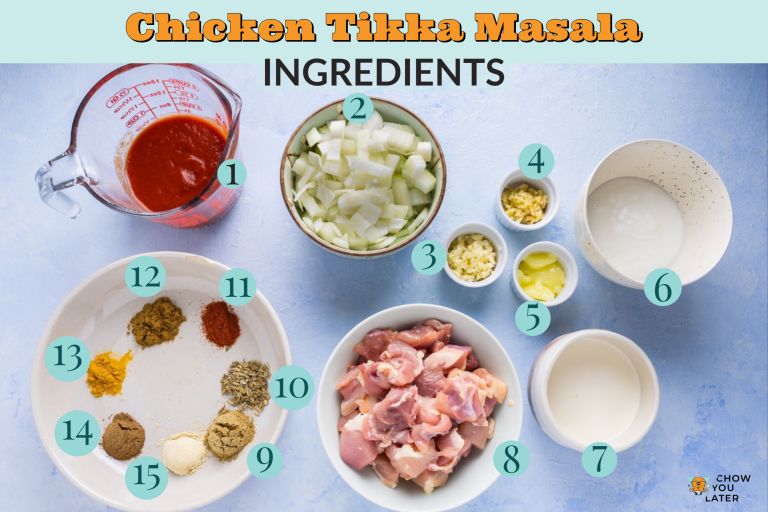 Tomato Sauce
Onion, diced
Garlic, minced
Ginger, minced
Ghee
Coconut/Almond Milk Yogurt
Heavy Whipping Cream
Chicken, boneless skinless thighs
Coriander
Fennel Seeds
Chili Powder
Cumin
Turmeric
Garam Masala
Fenugreek Powder
Keto Chicken Tikka Masala
Ingredients
For the Curry
1

tbsp

Ghee

1

medium

Onion, diced

1

clove

Garlic, minced

1

tsp

Ginger, minced

1

tsp

Coriander ground

1

tsp

Fennel seeds

optional

1

tsp

Fenugreek, ground

optional

1

tsp

Cumin

½

tsp

Turmeric

½

tsp

Garam masala

½

tsp

Chili powder

1

cup

Tomato sauce

½

cup

Heavy cream
Optional Toppings
Fresh Cilantro

(optional)

Fresh Coriander

(optional)
Instructions
Marinating the Chicken
Combine the following ingredients: Cubed Chicken, Coconut Milk Yogurt, minced garlic & ginger, and garam masala. Mix together well. Let it sit for at least an hour.

Pro tip: For best results, you can marinate the chicken for 4 hours or overnight.
Browning the Chicken
Medium-high heat a frying pan. Wait a couple of minutes for it to warm up. Add in the avocado oil and let it heat up for another minute. You can splash a few drops of water in the pan to test if it's ready. If the oil sizzles, then you can add the pieces of marinated chicken in. Saute each side for about 2-3 minutes or til they become brown. Once brown, move them over to rest on a separate plate. Reduce heat to medium.

Pro tip: Put the chicken in one by one, make sure there's some space in between them, and once they're on the pan don't move them so they can brown easier. You don't have to do all the chicken at once if your pan is too small. You can do them in batches and don't worry if the chicken isn't cooked all the way. You're just browning it.
Making the Curry
In the same pan, add in the ghee. After it melts or heated, add in the diced onions, garlic and ginger. Saute until onion turns golden brown. Add in the spices: Coriander, fennel seeds, fenugreek, cumin, turmeric, garam masala, chili powder. Stir in together with the onion mix for about 30 seconds.

Note: You're going to notice some burnt parts from browning the chicken. Using your spatula, scrape it off. Do not dispose them. They will give the curry more flavor. Scrape and mix them in with onion.

Pour in the tomato sauce. Mix it in with the onion and spices. Saute for about 5 minutes or until onion becomes orange in color.
Simmering Time
Finally pour the heavy whipping cream. Add the browned chicken back in. Stir in pan. Let it simmer for about 10 minutes.

Move to bowl, top with fresh cilantro. Enjoy!
Notes
Nutrition info is approximate using the sparkpeople.com recipe calculator, and the carb count does not count sugar alcohols. It is your responsibility to check the accuracy of all nutritional facts posted here, especially if you have a medical condition, in which case you should consult with your doctor before using any of the recipes.
Nutrition
Calories:
445.4
kcal
|
Carbohydrates:
12.2
g
|
Protein:
23.7
g
|
Fat:
33.3
g
|
Saturated Fat:
15.7
g
|
Polyunsaturated Fat:
3
g
|
Monounsaturated Fat:
10.2
g
|
Cholesterol:
184.8
mg
|
Sodium:
701.2
mg
|
Potassium:
172.2
mg
|
Fiber:
3.4
g
|
Sugar:
5.7
g
Nutrition Facts
Keto Chicken Tikka Masala
Amount Per Serving
Calories 445.4
Calories from Fat 300
% Daily Value*
Fat 33.3g51%
Monounsaturated Fat 10.2g
Cholesterol 184.8mg62%
Sodium 701.2mg30%
Potassium 172.2mg5%
Carbohydrates 12.2g4%
Protein 23.7g47%
* Percent Daily Values are based on a 2000 calorie diet.
MADE THIS RECIPE?
Lets see it! Tag @chowyoulater on Instagram or Twitter and hashtag it #chowyoulater
LOOKING FOR UPDATES? Subscribe to my email list and/or follow me on Instagram, Pinterest, and Facebook.