Curry. Who doesn't love it? When I think of it, a warm plate filled with the perfect mix of the most fragrant spices comes to mind. I think of the thick gravy engulfing the basmati rice underneath it and the nan that's served on the side. I think many envision this but since we're on a low carb diet how can we possibly have this? Well, today I show you how to make the most amazing keto curry recipes.
Last updated: March 17, 2020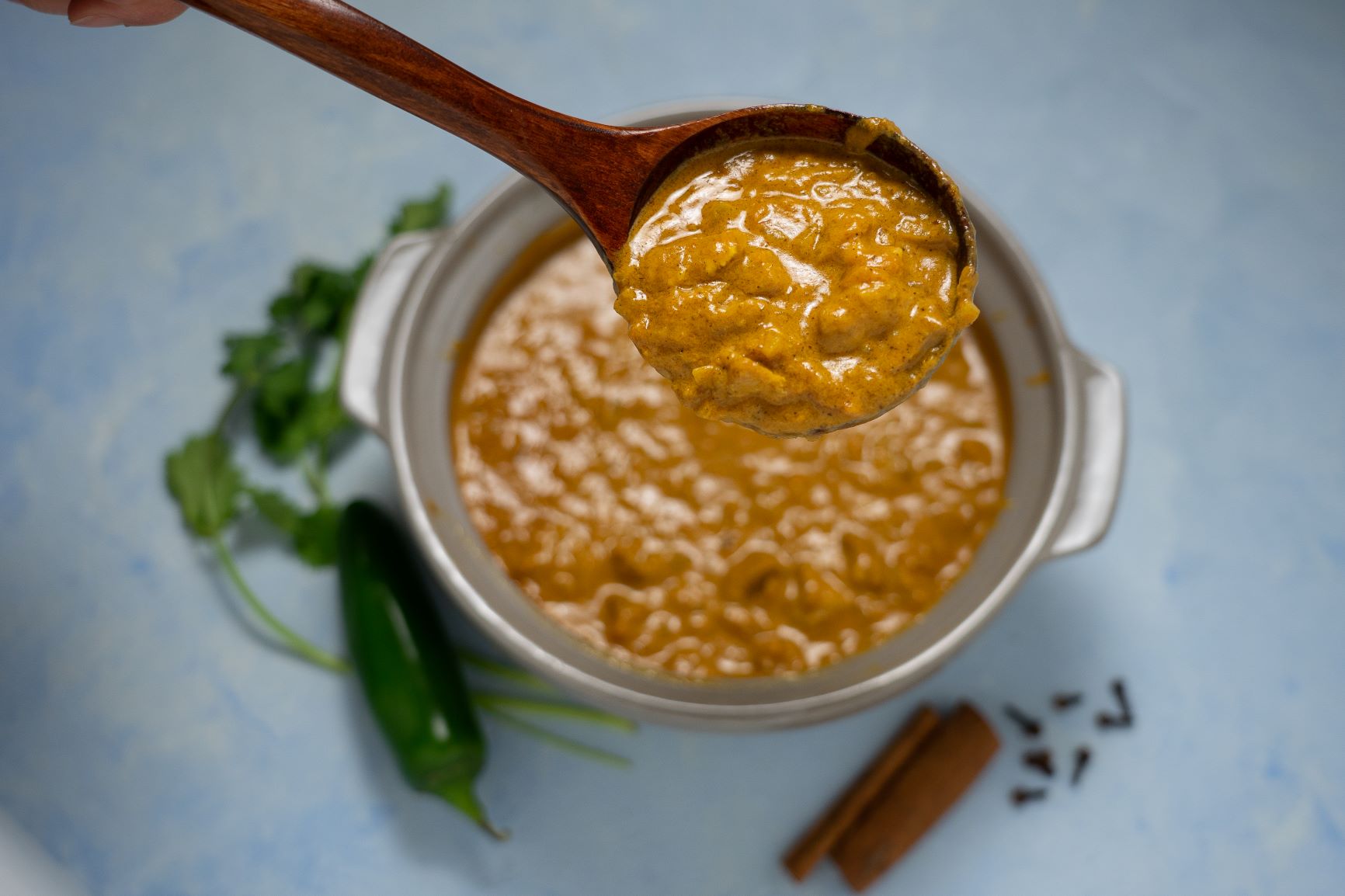 This post may contain affiliate links which means that if you choose to make a purchase, I will earn a commission. This commission comes at no additional cost to you as it helps support my page which is much appreciated!
Is Curry Keto?
This one is a loaded question as curry is, in fact, more of a vague category of any type of dish that's made up of Indian spices, meats, and veggies. Going by this, technically, most of our favorite Indian dishes are considered curry such as Tikka Masala, Korma, Vindaloo, etc. For that reason, curry is keto friendly. It just depends on the type of ingredients used. Just as there are certain foods keto-ers should stay away from, the same logic applies here.
And if you happen to be eating out, then I would strongly suggest asking the wait staff if there are any sugars added, and whether there are any dairy products. Usually if it's made with heavy cream it's okay but yogurt is a big resounding no.
I think the main question is what exactly can keto-ers eat? For your convenience, I found a few common ingredients as well as sides that are often found in Indian curries high in carbs. We should look to avoid these if we want to stay in ketosis. They are:
Chickpeas
Dairy Based Yogurt
Potatoes
Any sugars added to the curry
Kidney/Lima Beans
And obviously sides such as basmati rice, nan, and roti are prohibited. For my keto curry recipe, I've basically made a version omitting any of the above ingredients and substituting them for a more keto-friendly version. I've also added more coconut found in the oil and milk. One might as well call this a keto coconut curry.
Can I make Instant Pot Keto Curry?
The answer is YES! As a matter of fact I recommend it and the recipe card actually uses a pressure cooker to make the curry. The convenience associated with an Instant Pot or Pressure Cook outweighs any of it's negatives and pays for itself in the long run. Having one saves a lot of time, like half the time. For instance, this recipe calls for only 10 minutes of high pressure cooking while a stove top simmer would mean 30 minutes or more depending on the temperature. With a pressure pot cooker, we are able to become more precise.
My recipe calls for only 10 minutes of high pressure cooking while a stove top simmer would mean 30 minutes or more depending on the temperature.
And if you do not have one, don't fret. I've included instructions on how to cook on the stove top as well as pressure cooking.
What are some low carb sides I can eat with?
You can have this with cauliflower rice, shirataki noodles, and even keto bread made with almond/coconut flour.
What You'll Need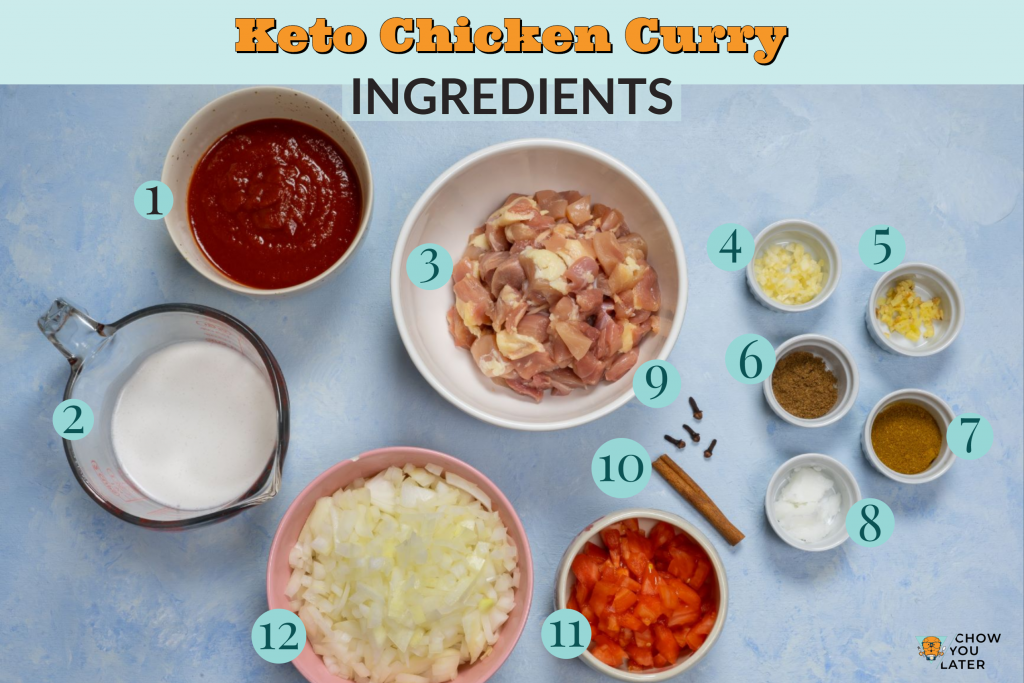 Tomato Sauce
Coconut Milk
Chicken thighs, skinless boneless
Garlic, minced
Ginger, minced
Garam Masala
Curry Powder
Coconut Oil
Cloves
Cinnamon Stick
Tomato, diced
Onion, diced
Today I'll be making a keto chicken curry but if you don't like chicken, simply swap it out. And just like that, we're able to make multiple keto curry recipes depending on the protein used. It also changes the texture and dynamic. With curry, the base is always the same; it's a simple plug and play. Here are some ideas to get you started:
Cauliflower/Broccoli
Tofu
Paneer
Pork
Fish
The possibilities are endless, and only limited to your imagination. You can pretty much make any dietary restricted version.
Low Carb Keto Curry Chicken
Equipment
Frying Pan

6 Quart Pot or larger

Instant Pot (optional, for faster convenient cooking)
Ingredients
Protein
1

lb

Chicken thighs, boneless skinless
Toppings
1

stalk

Cilantro

(Optional)

1

stalk

Fresh Coriander

(Optional)
Instructions
Saute and Infuse Chicken
In a large frying pan or wok, heat it to medium. Let a couple of minutes pass for it to heat. Add in the coconut oil, wait a few moments for it to warm up. Then add in the onions and cinnamon stick. Stir for a few minutes until onion turns yellow.

Once onions yellow and cinnamon has been infused with the oil, move the onions to one side and add in the chicken to the other. Cook the chicken for about 5 minutes or until they've been browned.

Pro tip: For the chicken, at first place it flat on the pan. Don't touch it for a few minutes. Then flip it over to the other side so the chicken browns. Note: Most Instant Pots have a saute feature. You can choose to saute on the instant pot rather than a separate pan if you like. I like to saute on a frying pan as it makes cleaning up easier. Be careful when saute-ing on the instant pot as ingredients can stick to the bottom of the pot if you're not continually stirring.
Simmering the Spices
If you want to cook on the stove top: If you're frying pan is large enough, you can simmer there. If not, move contents over to a larger pot and add in the curry powder, garam masala, cloves, garlic, ginger, tomato sauce, fresh tomatoes, and half a cup of coconut milk. Mix it together in medium heat. When it comes to a boil, lower temp to low heat and simmer for a half hour. If you're using an Instant Pot: Move the chicken and onion mix to the Instant Pot. Add in the curry powder, garam masala, cloves, garlic, ginger, tomato sauce, fresh tomatoes, and half a cup of coconut milk. Mix it together well. Close the lid, and cook on meat/stew for 10 minutes in high pressure.
Thickening the gravy and finishing touches
On the Stove Top: After simmering for a half hour, increase the heat to medium-high. You'll have another half a cup of coconut milk remaining. As the curry comes to a boil, pour the remainder of the coconut milk into the pot. Stir some more. It should thicken.

On the Instant Pot: Let the pressure release naturally (NPR). This should take about 10 minutes. Then open the lid, set the mode to saute and as the curry comes to a boil, pour in the rest of the coconut milk (about 4 oz) left. Stir and it should thicken.

Pro tip: If you like your curry to be even thicker, you can add heavy cream or almond flour to thicken it up a bit.
Toppings
Move the curry to a bowl. Top or garnish with either cilantro, coriander, or just have it the way it is. Enjoy!
Notes
Nutrition info is approximate using the sparkpeople.com recipe calculator, and the carb count does not count sugar alcohols. It is your responsibility to check the accuracy of all nutritional facts posted here, especially if you have a medical condition, in which case you should consult with your doctor before using any of the recipes.
Nutrition
Calories:
385
kcal
|
Carbohydrates:
9.3
g
|
Protein:
23
g
|
Fat:
28.7
g
|
Saturated Fat:
19.2
g
|
Polyunsaturated Fat:
2.1
g
|
Monounsaturated Fat:
4.5
g
|
Cholesterol:
120
mg
|
Sodium:
452.6
mg
|
Potassium:
113.5
mg
|
Fiber:
2.3
g
|
Sugar:
3.2
g
Nutrition Facts
Low Carb Keto Curry Chicken
Amount Per Serving
Calories 385
Calories from Fat 258
% Daily Value*
Fat 28.7g44%
Cholesterol 120mg40%
Sodium 452.6mg20%
Potassium 113.5mg3%
Carbohydrates 9.3g3%
Protein 23g46%
* Percent Daily Values are based on a 2000 calorie diet.
MADE THIS RECIPE?
Lets see it! Tag @chowyoulater on Instagram or Twitter and hashtag it #chowyoulater
LOOKING FOR UPDATES? Subscribe to my email list and/or follow me on Instagram, Pinterest, and Facebook.