Say no more to ramen cravings. With this easy Keto ramen recipe, I will show you how to make low carb noodles in as little as 30 minutes. This recipe was made in mind for those who don't have much time cooking and like to get their dinner out of the way without sacrificing deliciousness. Perfectly fine to be enjoyed either as a main entree or as a side dish.
Last updated: June 29, 2020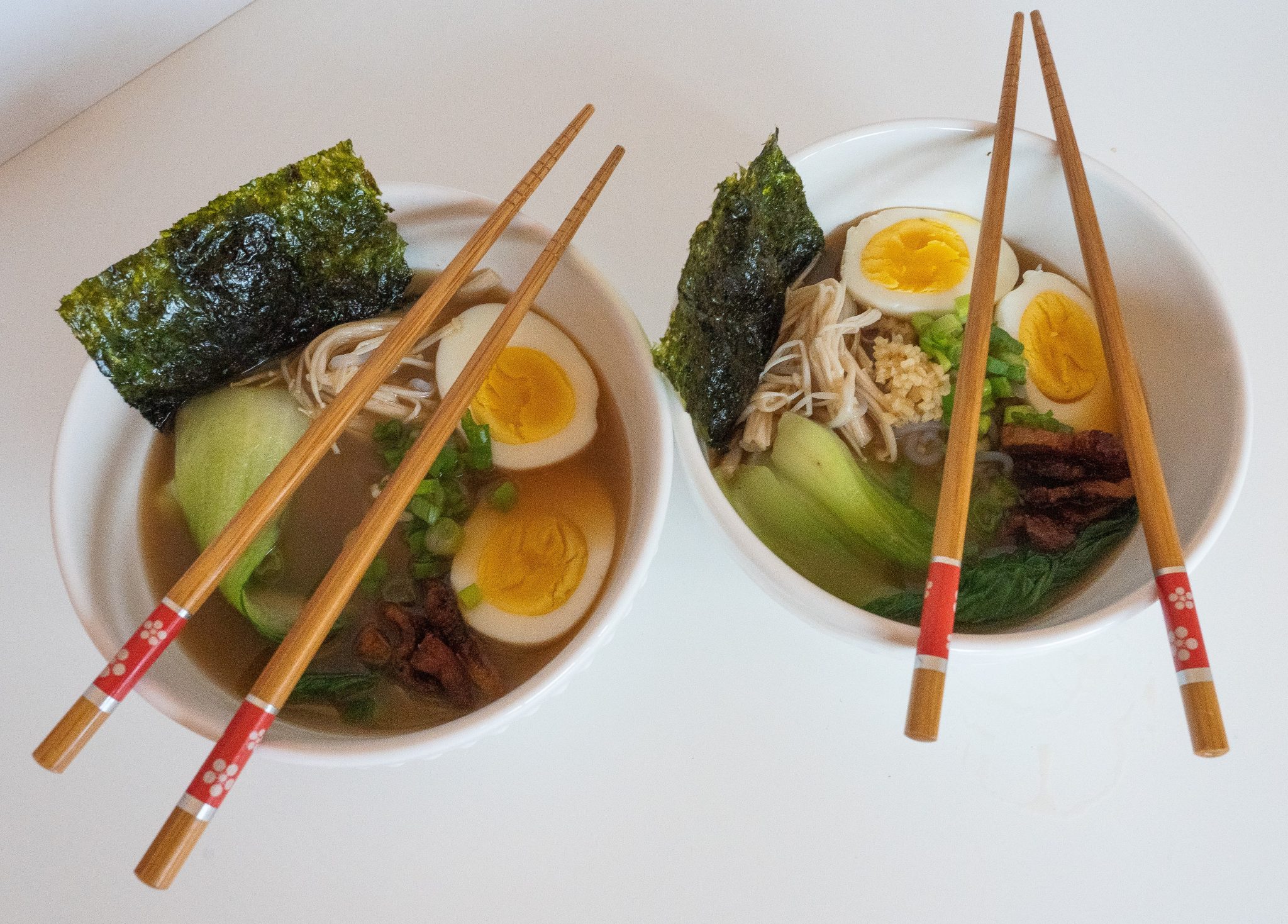 This post may contain affiliate links which means that if you choose to make a purchase, I will earn a commission. This commission comes at no additional cost to you as it helps support my page which is much appreciated!
Quick Links
When I first started keto I had to part ways with so many of my favorite dishes. I also had to say goodbye to a lot of eating out. One of my biggest sacrifices was the ramen bowl. Who can resist that hearty smell of pork broth? I sure couldn't. Even worse, was smelling it hundreds of yards away at every parking lot and shopping centers. In the Bay Area, ramen shops are a dime a dozen!
Can I eat Ramen on Keto?
The easy, short answer is no. You cannot have ramen on keto simply because of the traditional ingredients used; they are not keto. In order to understand why let's break down ramen bowls which consists of three major categories of ingredients: (1) Noodles, (2) Flavors, and (3) Toppings. Let's delve a little deeper.
Traditional Noodles
Like many diets, there are bound to be conflicting pieces of information and confusing language thrown around. Ramen noodles, in all of its tradition, is not keto friendly whatsoever as it is served with noodles made of buckwheat. As a matter of fact, most noodles are not keto friendly which unfortunately includes favorites like the rice noodles used in pho and pad thai. Luckily there are a couple of valid substitutions for keto:
Noodles made out of vegetables such as squash or zucchini
Shirataki (more on that later)
Kelp Noodles
Traditional Ramen Flavors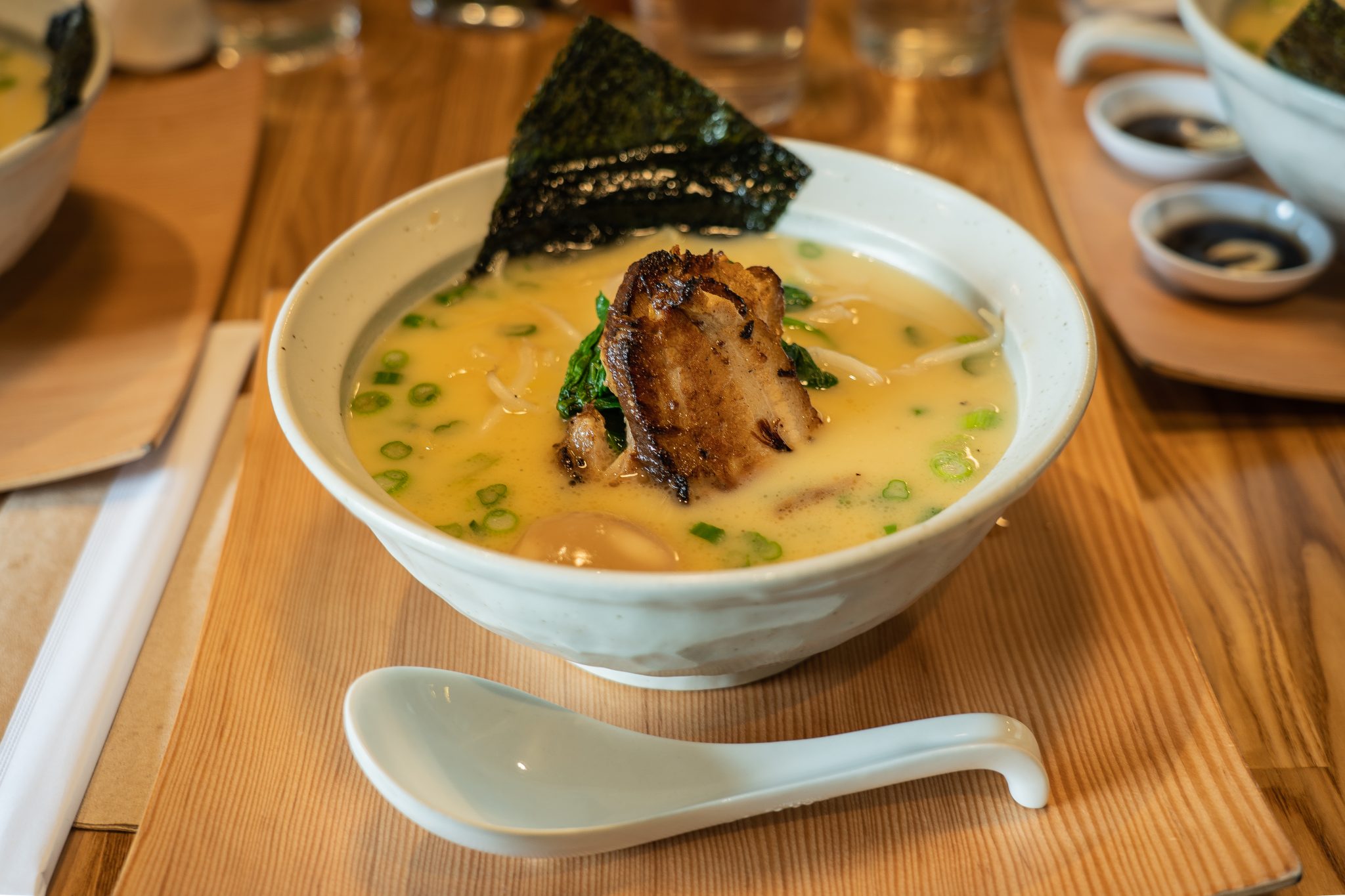 Typically ramen comes in 4 styles of flavors:
Shoyu or Soy Sauce in Japanese
Shio or Salt in Japanese
Miso, a paste made from fermented soybeans
Tonkatsu or pork-based broth
By the process of elimination, in a Keto diet, the Miso and the Soy Sauce flavors are not keto as both miso and soy sauce falls within the legume food family. So no to Miso and Shoyu but the good news is that there are substitutions that taste just like soy sauce such as Coconut Aminos that can be switched. That leaves Shio and Tonkatsu which are perfectly fine to eat. In the case of my keto ramen recipe, it is closer to the shoyu flavor.
Traditional Ramen Toppings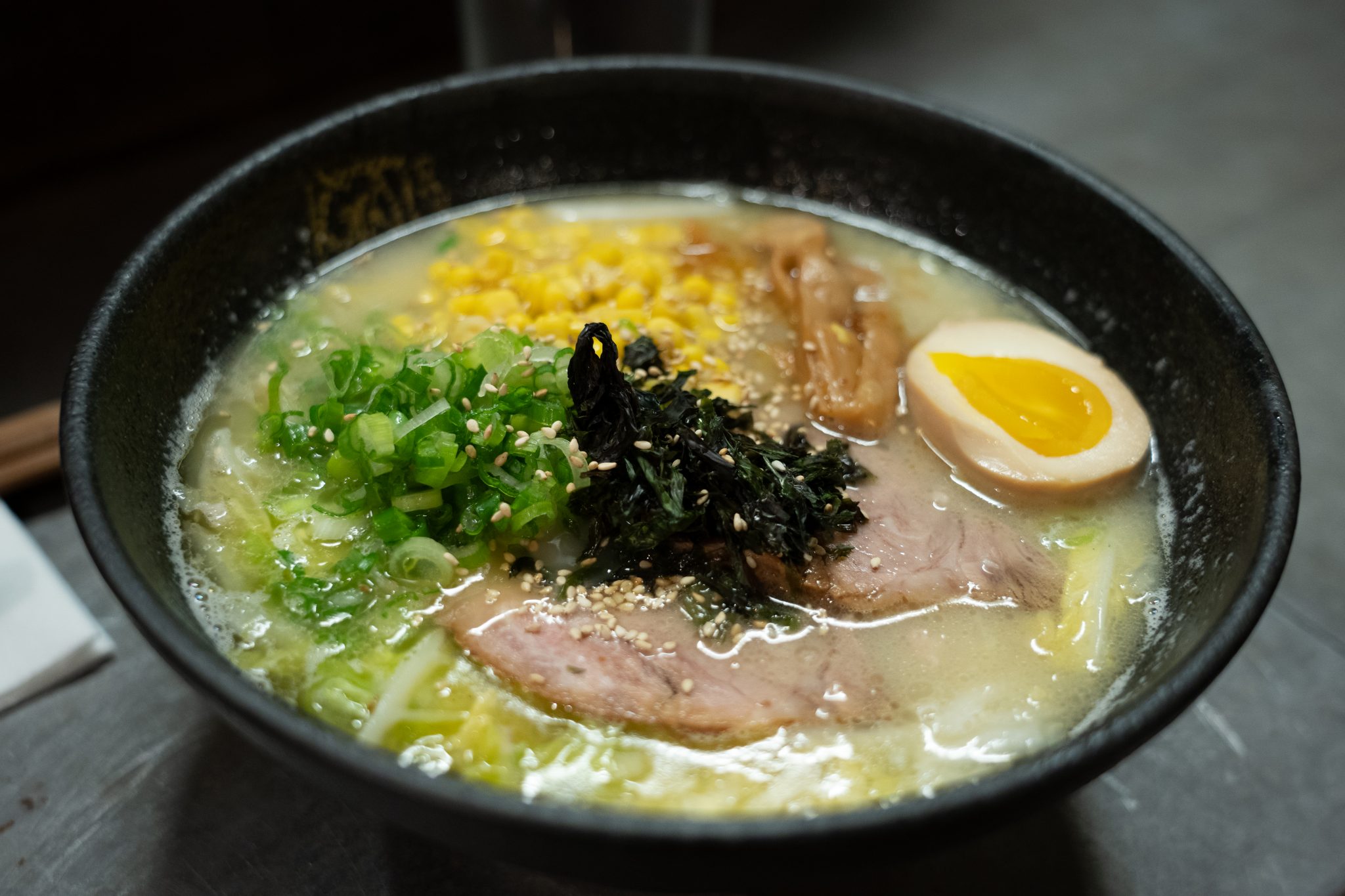 Now, the third part of ramen is the toppings. This is the fun part:
*Note: Chashu and Ajitsuke Tamago are not whole ingredients therefore their net carbs will depend entirely on its recipe. Traditionally, chashu and ajitsuke tamago are made with non-keto ingredients such as sugar, soy sauce, cooking rice wine, and sake thus Carb calculation would not be possible to list.
Most of the toppings above can be regarded as keto as they are relatively low in carbs (minus the Chashu, ajitsuke tamago, and corn). For the most part, keto allows some possibilities that really depends on your goals, the type of keto you follow (strict, lazy, dirty), and your daily carb intake. But if you are strict, then it's better to strip away as many processed ingredients as possible.
Today, using my recipe I've uncovered a way for all of us keto-holics to enjoy ramen. Sure, it's not exactly the same as the traditional way but we get the best of both worlds using my recipe.
Are Ramen Noodles Keto Friendly?
Finally, we can answer this question after explaining what traditional ramen is. As mentioned earlier, traditionally and seen in the majority of ramen restaurants throughout the world, ramen noodles are made with wheat flour which is a huge no-no in the keto diet. Fortunately, there are many types of noodles out there made with all kinds of ingredients. As mentioned prior, the ramen noodles (including my recipe) can be substituted for (1) Squash/Zucchini Noodles, (2) Shirataki Noodles, and lastly (3) Kelp Noodles. Out of all these, Shirataki Noodles are the best for this situation which takes us to the next question.
Then, how do I order Keto Ramen?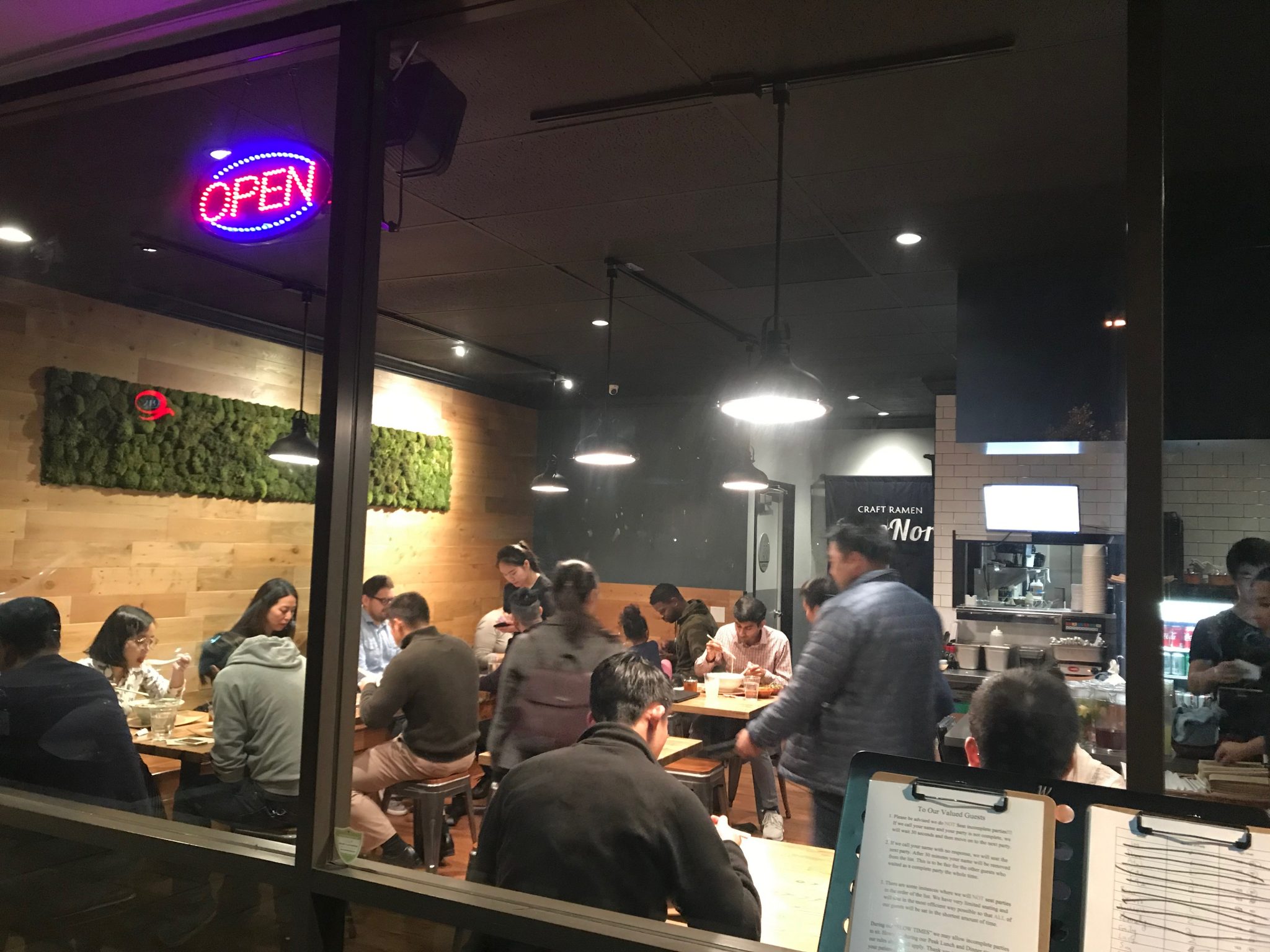 Your best bet is not ordering ramen at all at a restaurant if you're serious about keto as you don't really know what these restaurants put in their ramen. Who knows what other non-keto ingredients may be added in the kitchen where you can't see anything. Fortunately, if you're on a dirty keto or have a lenient policy, then what I suggest you could do is this:
Ask them to replace the noodles with vegetables.
Instead of chashu go for the egg instead.
Always go with tonkatsu. It's massively rich in pork fat. This should cover the fat requirements.
Skip the ramen altogether and order sides such as edamame, salad, and ask for just the tonkatsu broth on the side.
Just note that not all ramen places do this and you may get a strange look. Just wanted to give you a heads up and don't say I didn't warn you.
Are there any substitutions for the Soft Boiled Egg and Keto Chashu?
If you're even shorter on time, then you can certainly substitute these items for those that are already prepped ahead at your local grocery store. For instance, instead of making the soft boiled eggs, you can purchase hard boiled eggs and for keto chashu, you can purchase smoked uncured bacon. Sure you'll still have to cook it but there's no slicing involved which could cut some time off. They won't taste exactly the same as my recipe but if you're in a rush, you're in a rush!
How to Make Easy Keto Ramen Noodles: The Recipe
What You'll Need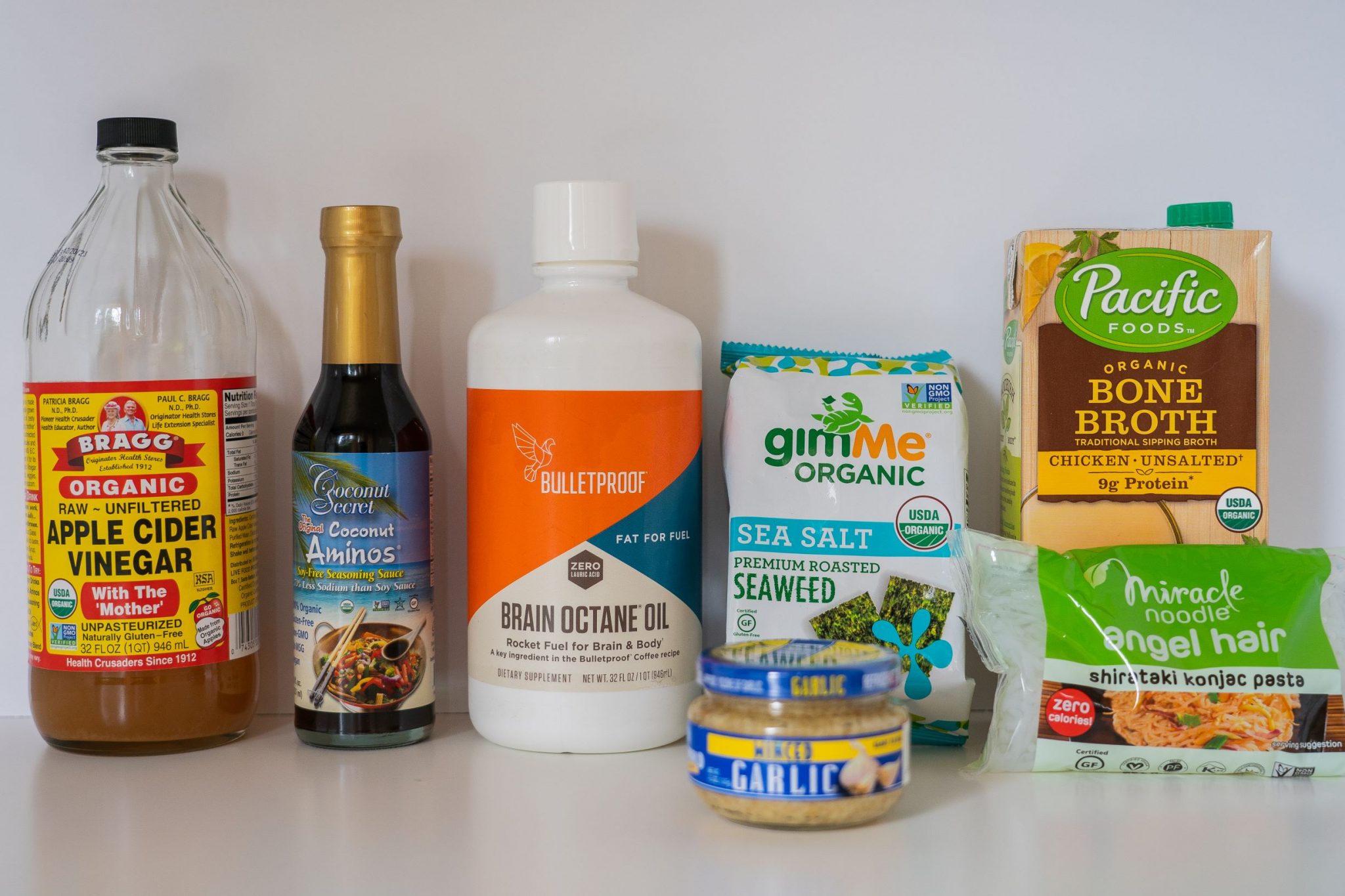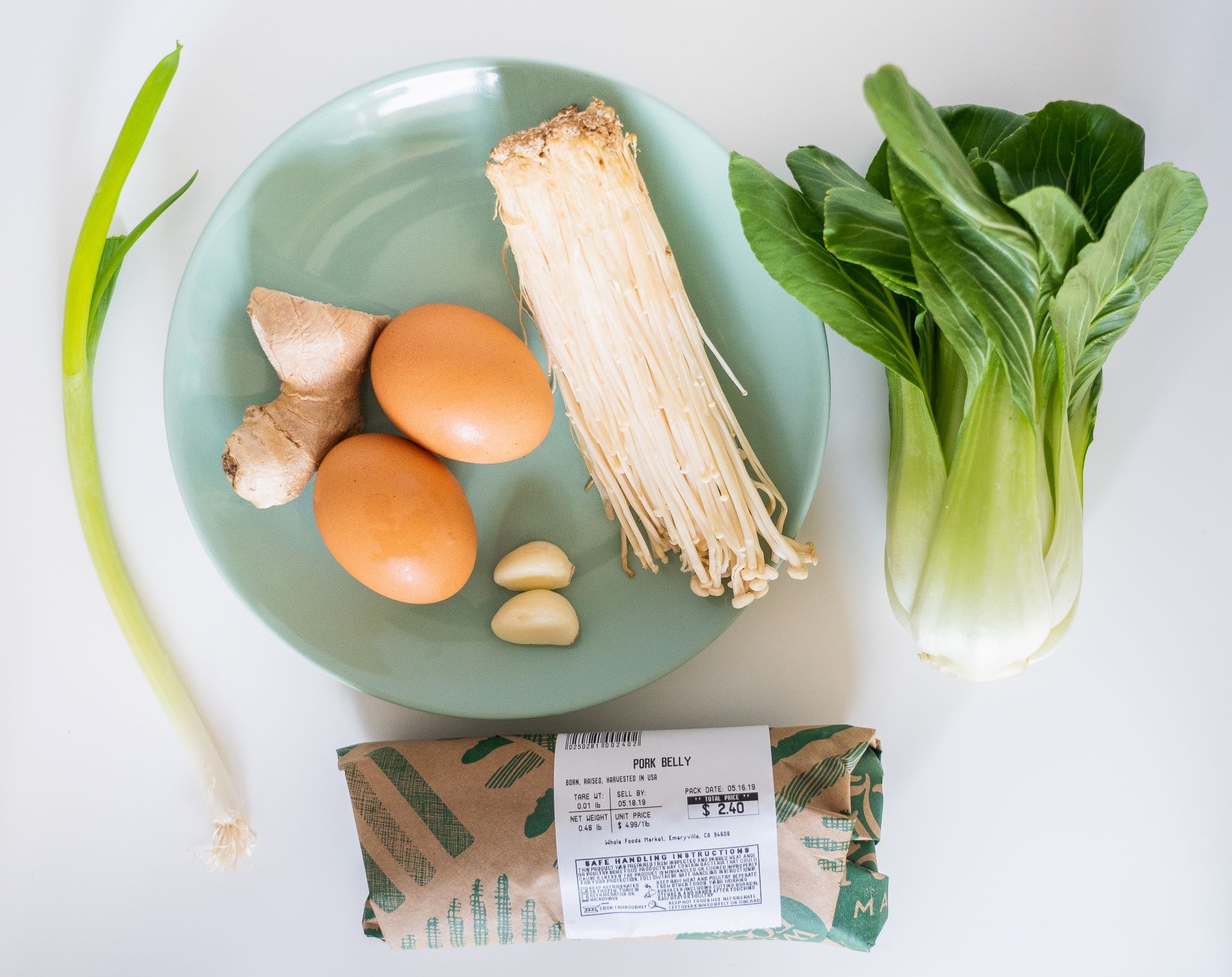 If you have any questions, leave a comment below or send me a message and I'll try my best to answer them. Anywho, most of the ingredients I purchase are from retailers that most should have access to such as Amazon, Wholes Food Market, Albertson's subsidiaries, Walmart, and Kroger.
The Pork Belly is convenient because it's sold at Wholes Food Market. I just buy half a pound which should be more than enough if you're making the keto ramen for 2 people. The only item here that maybe difficult to find if you're in a rural area is the enoki mushrooms. You can find these easily at an Asian Grocery store but if it's unavailable you can substitute it for Shiitake or Crimini mushrooms.
Easy Keto Ramen Noodles
This keto ramen is for anyone on the keto diet looking to shake things up a bit from the usual diet of eggs and avocados.
Ingredients
Instructions
Prep the broth
Gather ingredients and set up like so.

Crush 2 cloves of garlic and a knob of ginger. Chop off the scallion root end, cut off about 1.5 inch of the scallion stalk, and slice the rest. Dispose the root end, hold on to the green slices for the toppings part of recipe.

Pour 4 cups of Bone Broth into pot, then pour in coconut aminos. Put crushed garlic, scallion stalk, and crushed ginger in Bone Broth.

Heat pot on medium-high. Once it boils, lower temperature to low and let simmer until noodles and toppings are ready. Add salt to taste.
Soft Boiled Eggs
In another pot, put eggs in it. Fill pot up with cool water, add a pinch of salt (I used Pink Himalayan Salt), then place on stove top to boil. Once water comes to a rolling boil, shut off heat. Place lid on pot and let it sit for 5 minutes. Once 5 minutes is up, drain hot water and run cold water over the eggs. Fill pot with cold water to let it cool down (about 10 minutes). Once cooled, peel eggs and cut in half.
Blanch the veggies
Gather the Bok Choy and Enoki Mushrooms. Trim the Bok Choy stem off and chop off the root end of the enoki mushroom as pictured. Then, in rolling boiled water, put veggies in for 2 minutes. Remove and let cool. Your veggies are ready.
Prep the Shirataki Noodles
Remove shirataki noodles from package and let it freshen up in cool water for about 20 seconds.

Boil water in another pot. Once it comes to a rolling boil put shirataki noodles in for about 2 minutes and then transfer over to strainer. Run cold water over it to let it cool. Then place the noodles on a frying pan and let it dry over medium heat for about 2 minutes.

Pro tip: If you're great at multitasking you can combine the shirataki noodles and veggie blanching steps together instead of having to boil water twice.
"Keto Chashu"
Slice pork belly to about 1 cm each and gather ingredients like so.

Heat skillet or frying pan to medium high. In about 1.5 minutes, the pan is ready. Put in olive oil. Let oil warm (about 1 minute). Add in pork belly one slice at a time, turning once.

When both sides are brown (3-4 minutes); stir in coconut amino and apple cider vinegar. Stir so pork belly absorbs the flavors. Remove from heat and let dry on paper towel.

Pro tip: Be careful of oil splattering. Purchase a Splatter Guard to prevent any burns.
Style your Bowl!
You're now ready to make your bowl! Gather ingredients like so.

Grab a bowl. Place toppings (Keto Chashu, Nori, minced garlic, scallions, bok choi, enoki mushrooms, and soft boiled egg) on top of the shirataki noodles.

Ladle the broth onto the bowl.
Notes
Nutrition info is approximate using the sparkpeople.com recipe calculator, and the carb count does not count sugar alcohols. It is your responsibility to check the accuracy of all nutritional facts posted here, especially if you have a medical condition, in which case you should consult with your doctor before using any of the recipes.
Nutrition
Serving:
2
g
|
Calories:
606.9
kcal
|
Carbohydrates:
13.1
g
|
Protein:
31.7
g
|
Fat:
45.5
g
|
Saturated Fat:
22.9
g
|
Polyunsaturated Fat:
3.4
g
|
Monounsaturated Fat:
14.9
g
|
Cholesterol:
209.8
mg
|
Sodium:
694.3
mg
|
Potassium:
266
mg
|
Fiber:
3.1
g
|
Sugar:
4.9
g
Nutrition Facts
Easy Keto Ramen Noodles
Amount Per Serving (2 g)
Calories 606.9
Calories from Fat 410
% Daily Value*
Fat 45.5g70%
Monounsaturated Fat 14.9g
Cholesterol 209.8mg70%
Sodium 694.3mg30%
Potassium 266mg8%
Carbohydrates 13.1g4%
Protein 31.7g63%
* Percent Daily Values are based on a 2000 calorie diet.
MADE THIS RECIPE?
Lets see it! Tag @chowyoulater on Instagram and hashtag it #chowyoulater
LOOKING FOR UPDATES? Subscribe to my email list and/or follow me on Instagram, Pinterest, and Facebook.