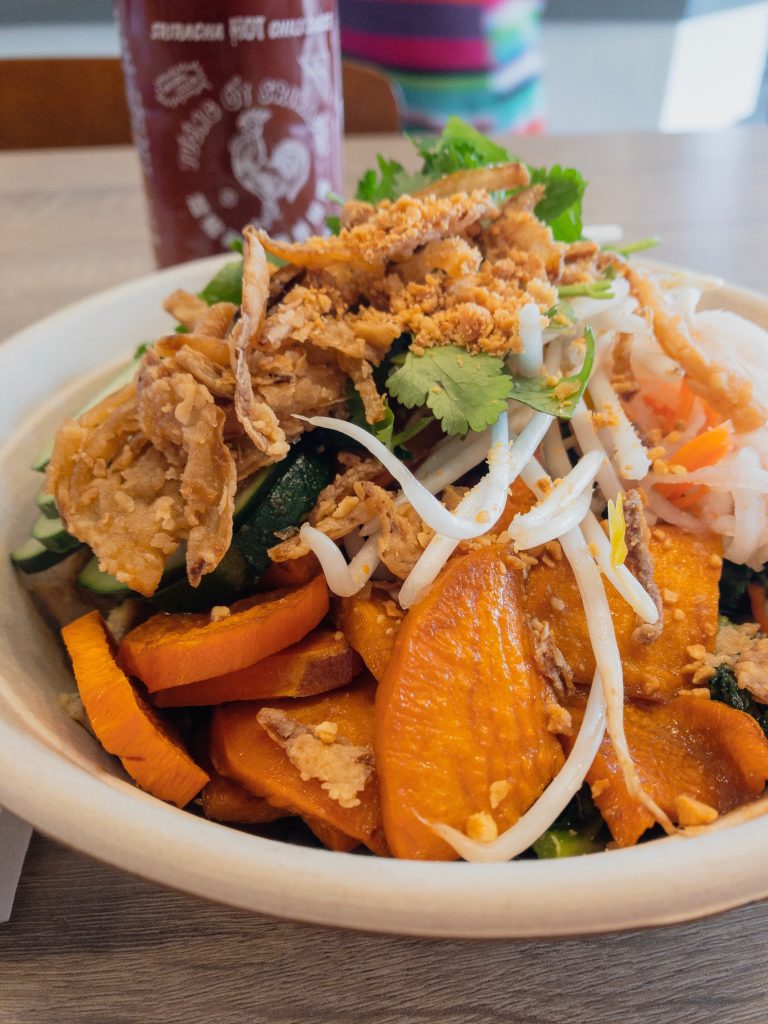 [4.49/5] In case you didn't know, I've been getting fat. Like real fat. All the times I've gone out to eat has taken a toll on me and I've been trying to find more healthy options. This doesn't mean I've stopped eating "unhealthy", it just means I am being more cautious of what I consume. Perhaps, healthy eating on weekdays and fatting out on weekends is the plan. Today is a weekday so let's discuss Srasa Kitchen.
Food (65%)
Taste to price 4.5/5
Quality to price 4.5/5
Portion to price 5/5
Average = 4.67
Service (20%)
Friendliness 3/5
Promptness 5/5
Average = 4
Cleanliness (15%)
Bathroom 4/5
Dining area 4.5/5
Kitchen area 4.5/5
Average = 4.33
Overall Score = [F(.65)]+[S(.20)]+C(.15)]
= [3.04]+[0.8]+[0.65]
= 4.49
The Pluses…
+ Let me get this off my chest, I'm probably killing them! I'm burning a huge hole into their COGS lol. I'm the customer that takes all the freebies (ie veggies and toppings) maximizing my dollar.
+ Frikken clean! Both the kitchen and the dining area. They do a really good job maintaining the restaurant. Kudos to the staff. If you told me they opened yesterday, I would believe you. That's how clean it is.
+ The ASSEMBLY PROCESS is efficient and fast! They're set up like Chipotle so you go in and pick what you want, then checkout.
+ MENU is easy to follow. If you're indecisive, then you won't have to worry. There's a few protein choices and if you're unsure about the veggies, get all of them! If you're even more unsure, go with one of the FIXED BOWLS coined "Inspired Bowls".
+ Very VEGETARIAN friendly. Not sure about Vegan.
The Negs…
– PARKING can be an issue if you come during peak hours. The parking lot is just too small for this strip to accommodate all the businesses.
– This is a CASHLESS BUSINESS. No cash is accepted here. Easy for the business, but can be an inconvenience for the customers.
– Restaurant HOURS. Be aware they're closed during the weekends. There's been plenty of times I've rolled up and found the closed signed staring at my face. And I stare back with the saddest of sad faces.
In Conclusion…
If you're like me looking for a healthy lunch then look no further. Srasa Kitchen delivers exactly that. Opening during the weekdays and closing on weekends, it's pretty clear who they're mainly marketing to, corporate workers nearby looking for some healthy, fast grub. They don't fail in this department. And in case you're wondering "Srasa" means fresh in the Cambodian language setting up their brand identity right from the get go. For me, as long as their food stays "Srasa" I'll keep coming back. This is one of the many reasons to come here.
#ChowYouLater
For more information on Srasa Kitchen you can visit their website at www.srasakitchen.com located at 225 E Middlefield Rd, Mountain View, CA 94043