Didn't know Chinese Takeout could be keto? Well, now you know that my recipe will show you how to make the best Keto General Tso's Chicken. Here I show you how to make this legendary dish. Easy and in under an hour. I also show you variants of General Tso's like Orange and Sesame Chicken.
Last updated: March 17, 2020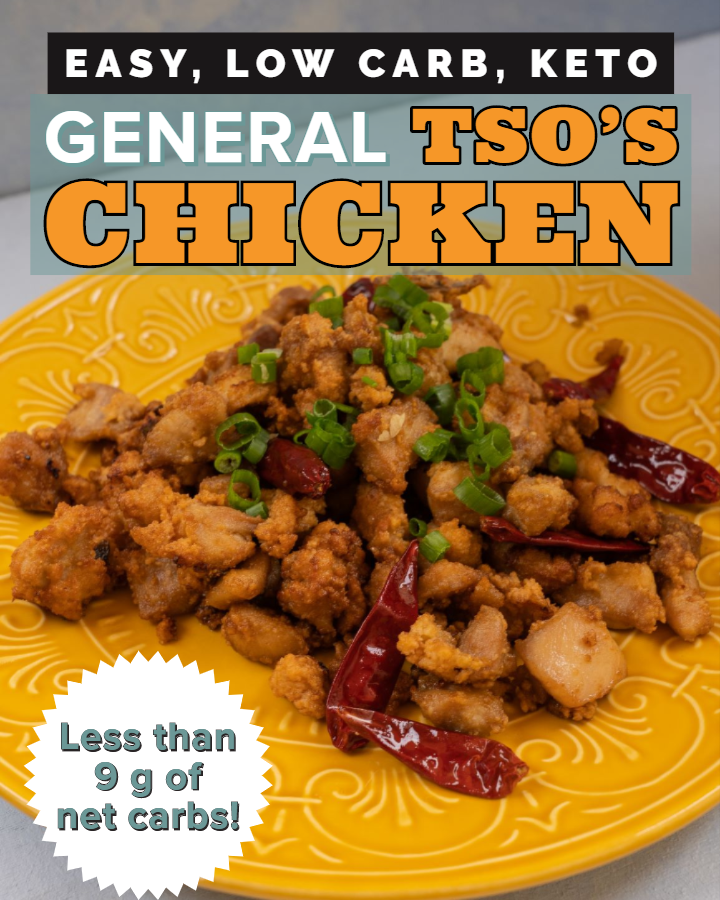 This post may contain affiliate links which means that if you choose to make a purchase, I will earn a commission. This commission comes at no additional cost to you as it helps support my page which is much appreciated!
Chinese Chicken Recipe Variations
Believe it or not, General Tso's was the original Chinese chicken recipe. Nobody really knows where it originated as it can be argued for weeks, but there would not be an orange chicken or a sesame one without General Tso's.
I tip my hat off to the creator of this dish as it spawned what was many of my late night meals during my college years when I recall switching back and forth between General Tso's, Orange, and Sesame Chicken depending on the day. I understand some times you crave for a something a little sweeter or maybe less spicy so below I'll show you how to cook each one as well as their subtle differences.
Not sure which ingredients are keto and low carb? Check out my Definitive Keto Shopping List.
What are the differences between General Tso's (GT), Orange, and Sesame Chicken?
Orange Chicken
– A little Sweeter than GT.
– More Orange Flavoring
– Orange Slice Garnish

Follow recipe, except:

– For Ingredients, add Orange to list.

– For the sauce, add 1.5 TSP of Monkfruit Sweetener instead of 1 TSP and use 1.5 TSP of Orange Extract instead of 1 TSP.

– Garnish with orange slices.
Sesame Chicken
– Sweeter than GT.
– More Sesame flavorings
– Not spicy.
– No Orange Flavors.

Follow recipe, except:

– For Ingredients, SWAP out the Chili Pepper for Sesame Seeds.

– For the Sauce, do not use the orange extract. Use 2.5 TBSP of sesame oil instead of 2 TBSP.

– Garnish with sesame seeds.
What You'll Need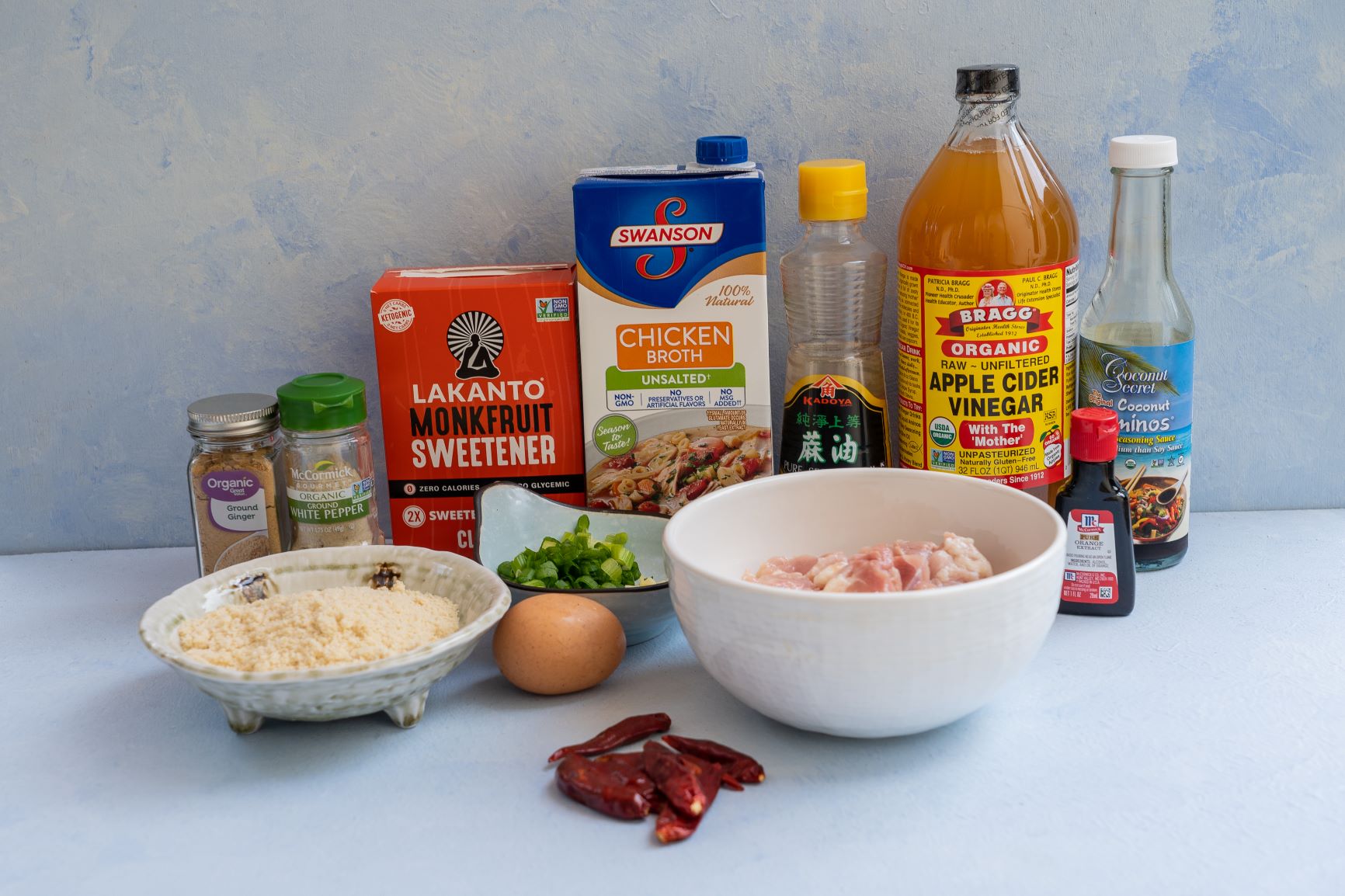 Keto General Tso's Chicken
Instructions
Recipe Preparation
Gather all your ingredients and cut the chicken into half an inch cubes. Chop scallions, and mince the garlic.

Heat about 2 cups of coconut oil to 375° F degrees. Use more if you're using a large pot.

Pro Tip: Fill the oil to about half of the pot. If you fill up too high, the oil may spill over.
Prepping the Chicken
In a large bowl, crack an egg open. Whisk the egg.

Place the chicken over the whisked egg. Mix the chicken well with the egg. Using your hands will make for a better dish.

Pour 1 cup of almond flour, white pepper, salt, and monkfruit sweetener over the chicken. Mix with hands. Again, mix it well so batter sticks to chicken.
Frying time!
The key is frying the chicken twice.

Throw the battered chicken onto the pot. For the first time, leave it in for about 2 minutes. Once that is up, strain the chicken to a plate with a sheet of towel. Let it rest for about a minute.

Pro tip: If you want to save the oil, strain the chicken on top of a bowl instead of a paper towel covered plate.

Second time frying. and throw it back into the coconut oil. This time fry it for another minute or until the batter has become golden brown. Move the chicken over to new plate with a sheet of towel remove any excess oil. The frying part is now done.
Time to make our Sauce!
Medium heat a wok or frying pan. Add about a tablespoon of oil. Throw in the garlic, scallion whites, and dried chili peppers. Let the aromatics infuse with the oil, about 1.5 minutes or when garlic is golden brown.

Pour in 3 tablespoons of Chicken Broth. Add in the orange extract, monkfruit sweetener, ground ginger, apple cider vinegar, coconut amino, and sesame oil. Mix together well. Turn the heat up for it to boil.

As sauce is boiling, pour in 2 tablespoon of almond flour. This will act as a thickening agent. It should thicken in about a minute. Sauce is ready.

Throw the chicken onto the sauce. Switch heat to Med-High. Stir and toss chicken well for about a minute. Your Keto General Tso's Chicken is now ready to eat!

Enjoy!

Optional: Add Steamed broccoli for a more complete meal.
Notes
Nutrition info is approximate using the sparkpeople.com recipe calculator, and the carb count does not count sugar alcohols. It is your responsibility to check the accuracy of all nutritional facts posted here, especially if you have a medical condition, in which case you should consult with your doctor before using any of the recipes.
Nutrition
Calories:
469
kcal
|
Carbohydrates:
12.3
g
|
Protein:
24.3
g
|
Fat:
37.5
g
|
Saturated Fat:
9.6
g
|
Polyunsaturated Fat:
7.3
g
|
Monounsaturated Fat:
19.1
g
|
Cholesterol:
136.5
mg
|
Sodium:
252.2
mg
|
Potassium:
274.4
mg
|
Fiber:
3.9
g
|
Sugar:
5.7
g
Nutrition Facts
Keto General Tso's Chicken
Amount Per Serving
Calories 469
Calories from Fat 338
% Daily Value*
Fat 37.5g58%
Monounsaturated Fat 19.1g
Cholesterol 136.5mg46%
Sodium 252.2mg11%
Potassium 274.4mg8%
Carbohydrates 12.3g4%
Protein 24.3g49%
* Percent Daily Values are based on a 2000 calorie diet.
MADE THIS RECIPE?
Lets see it! Tag @chowyoulater on Instagram or Twitter and hashtag it #chowyoulater
LOOKING FOR UPDATES? Subscribe to my email list and/or follow me on Instagram, Pinterest, and Facebook.