If you're reading this, chances are you're curious wanting to know ahead of time, on your way, or waiting in line at Panda Express. Have no fear as I've analyzed the menu items to give you the lowdown on what you can and cannot eat. This post goes in depth and lists out all of the Panda Express keto items.
Last updated: January 23, 2020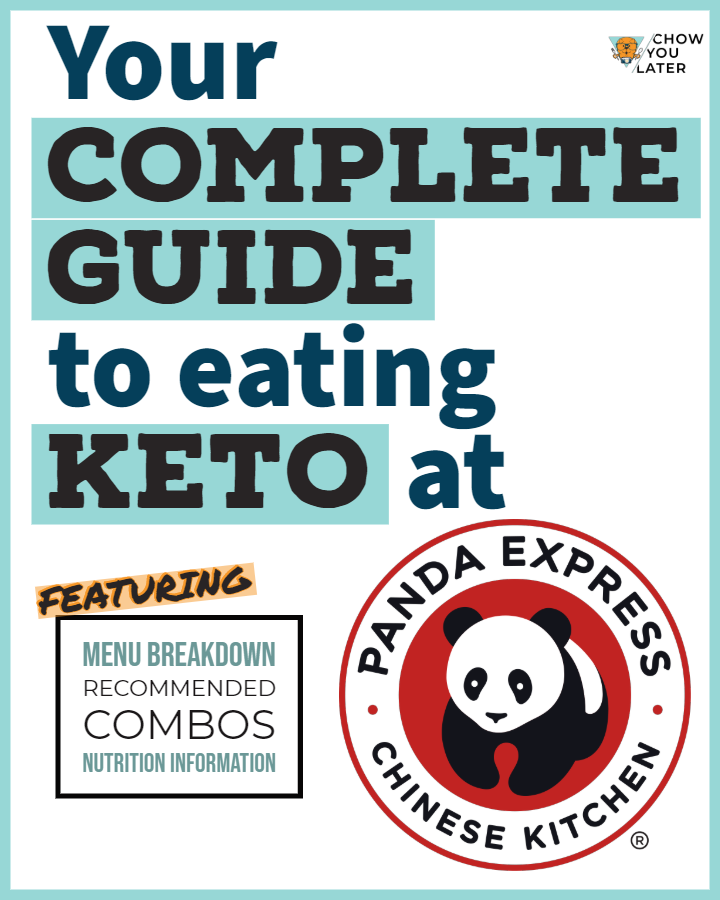 This post may contain affiliate links which means that if you choose to make a purchase, I will earn a commission. This commission comes at no additional cost to you as it helps support my page which is much appreciated!
Menu Overview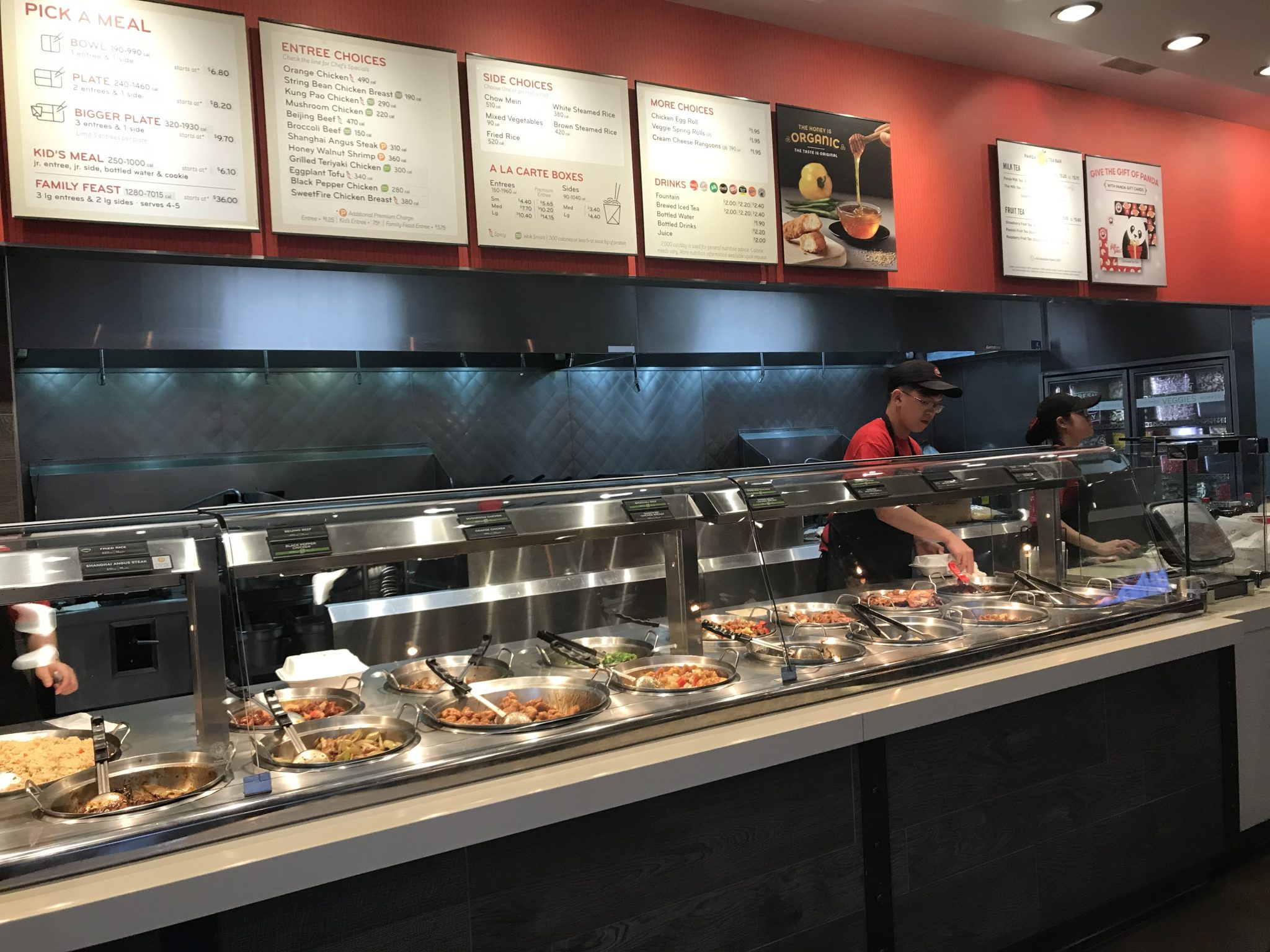 What I like about Panda Express is their easy to follow menu. Their biggest strength lies in their menu and process minimization. There are just 4 major categories of foods: Appetizers, Sides, Entrees, and Desserts. They also make it very easy to order in 4 steps:
Pick your Meal Size (Bowl, Plate, or Bigger Plate)
Pick your Sides
Pick your Entrees
Pick your Extras
Appetizers: Not Keto Friendly
I wonder why all the delicious stuff I love have to be an appetizer. Panda Express only has 4 Items which are Chicken Potsticker, Cream Cheese Crab Rangoon, Chicken Eggroll, and Vegetable Spring Roll. As you can imagine, none of these are keto friendly. Without out a doubt, you cannot have any Panda Express Appetizers.
Sides: Only One Keto Option
As you know with Asian food, rice and noodles make up a huge portion of the diet. Sides is where we find these items. Luckily, or maybe not so much (depending on how you look at it) there is just one side item we can order and that's the Super Greens which is made up of broccoli, kale, and cabbage.
Entrees: Surprisingly lots of options
Panda Express makes it really easy here. Look for the Smart Wok logo. This signifies that the food item has 300 calories and at least 9 grams of protein. Kudos to them because these entrees also happen to be the most keto friendly. They are:
Black Pepper Chicken
Kung Pao Chicken
Grilled Teriyaki Chicken
Mushroom Chicken
String Bean Chicken
Broccoli Beef
Desserts: No Bueno!
And as you can guess, what Chinese American restaurant would it be without fortune cookies. This is the category they live in and not surprisingly we can't have these on the keto diet. You won't need these cookies because I can already tell your fortune if you were to open and eat one of these babies.
Meal Sizes: "Just the bowl please"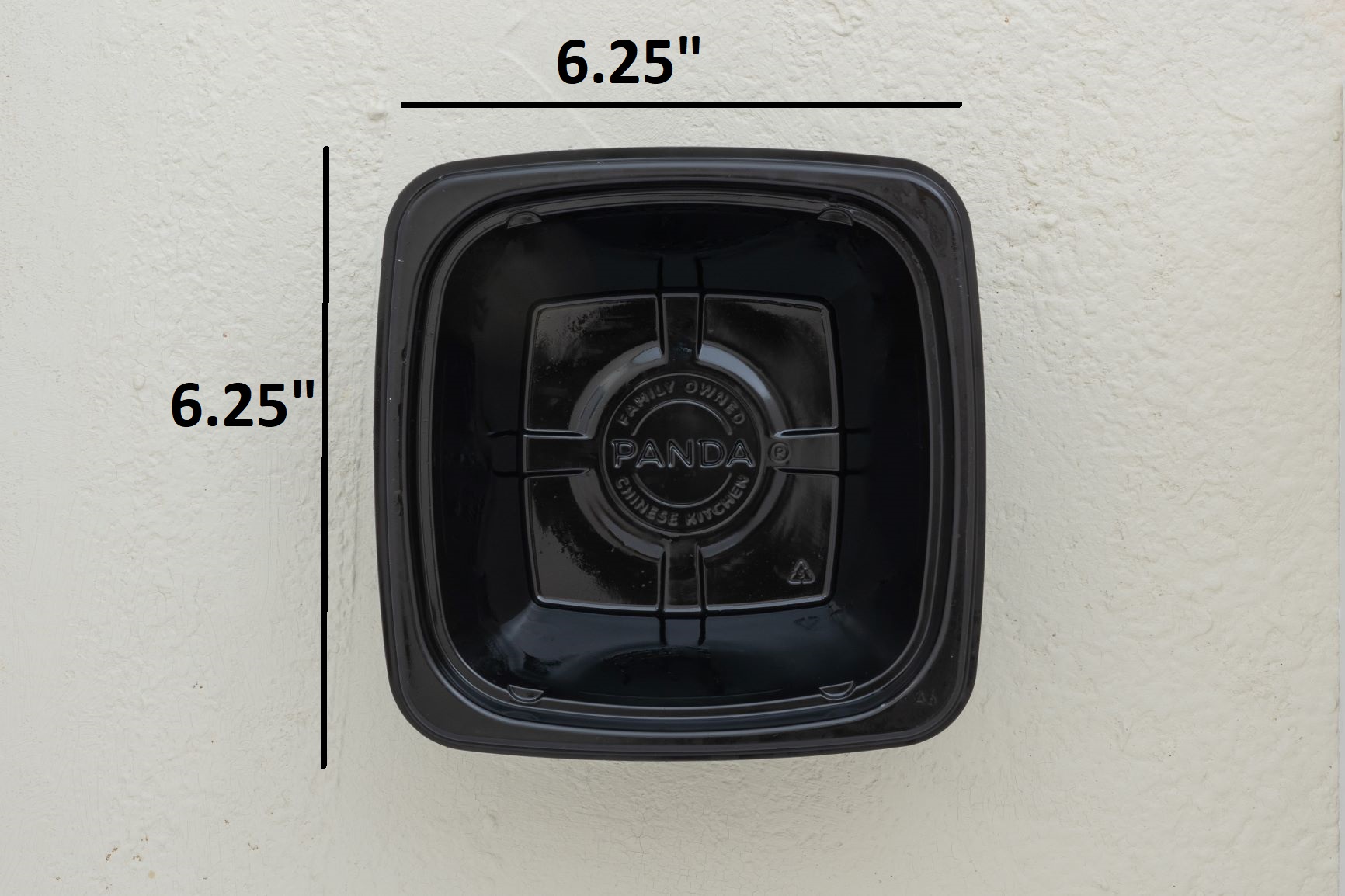 Unfortunately, anything larger than a Bowl is a no-go. Believe me, I sat there for hours trying to create a combo that would stay under 20 grams of net carbs and failed terribly.
A la Carte Sizes
Another option at Panda Express is ordering a la carte. In case you're wondering, I took the time to measure the a la carte takeout boxes. The one I order happened to be chicken teriyaki.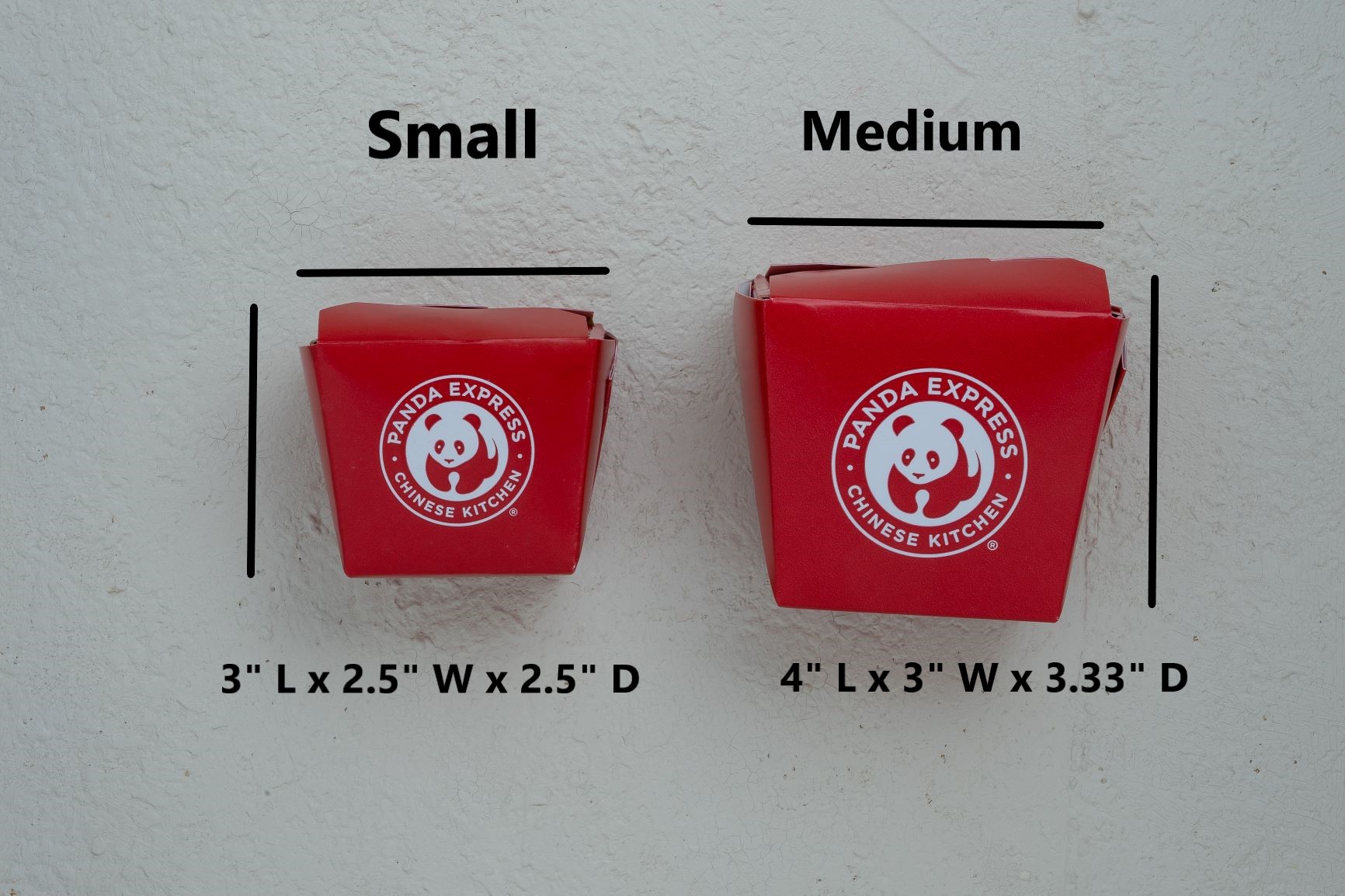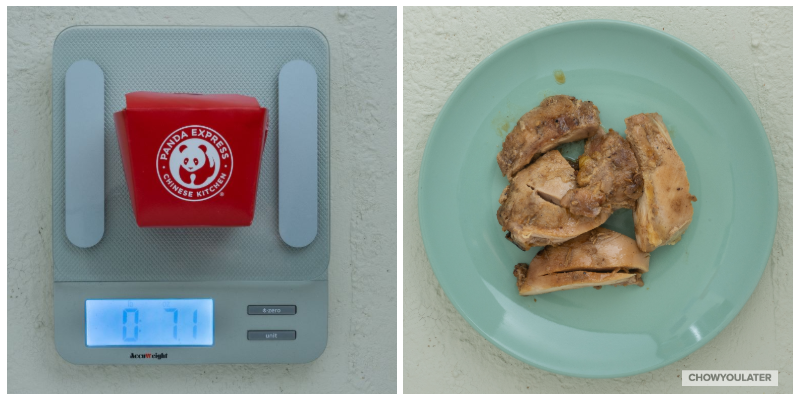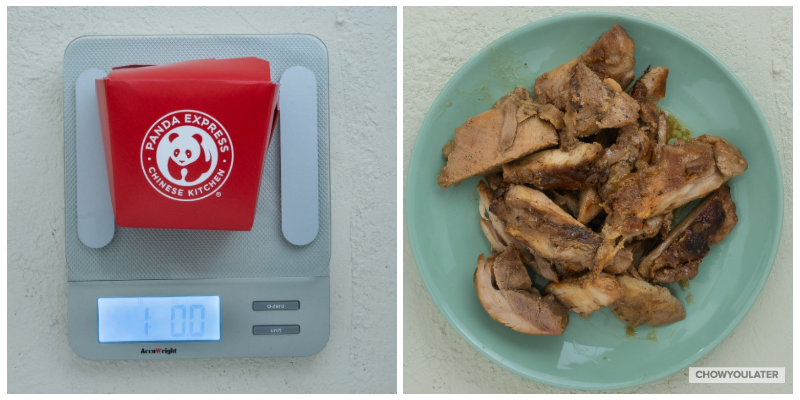 What I discovered is both the small and medium sized boxes are larger than the serving sizes. as 1 serving size of chicken teriyaki is at 6 ounces, a small at 7.1 oz, and medium at 16 oz. If we do the math, one serving size is about 1.33 grams of net carbs (8 g. of net carbs divided by 6 oz serving size) which would mean the small would be at about 9.44 grams of net carbs (1.33 x 7.1 oz) and a medium at 21.28 (1.33 x 16 oz). Essentially this means, a small a la carte chicken terikyaki is ok as a snack since it falls under 20 grams of net carbs. Just be sure to exclude the teriyaki sauce.
Let's recap (Do's and Don'ts):
Do's
– Only order Super Greens as a side

– Order a "Bowl" sized Meal to stay in ketosis

– Look for the Wok Smart logo:
Panda Express denotes these as food items with 300 calories and at least 9 grams of protein

– Chili Sauce and Hot Mustard are OK

Do Not's
– Orange Chicken, Honey Sesame Chicken, Sweetfire Chicken, Beijjing Beef, and Honey Walnut Shrimp are NOT Keto

– Do Not order any appetizers or desserts. None of those are keto either.

– Do Not order any "Plate" or "Bigger Plate" sized Meals

– If you're on a strict keto diet, then you might as well turn the other way towards the exit.

– There are no Gluten Free Keto options besides the Super Greens so do not visit if you're sensitive to gluten

What are the healthiest and keto meals at Panda Express?
Let's get right into it. Here's a list ranked from least net carbs to most bowls you can look forward to while getting a Panda Express keto meal.
Bowl Combinations
1. Teriyaki Chicken Bowl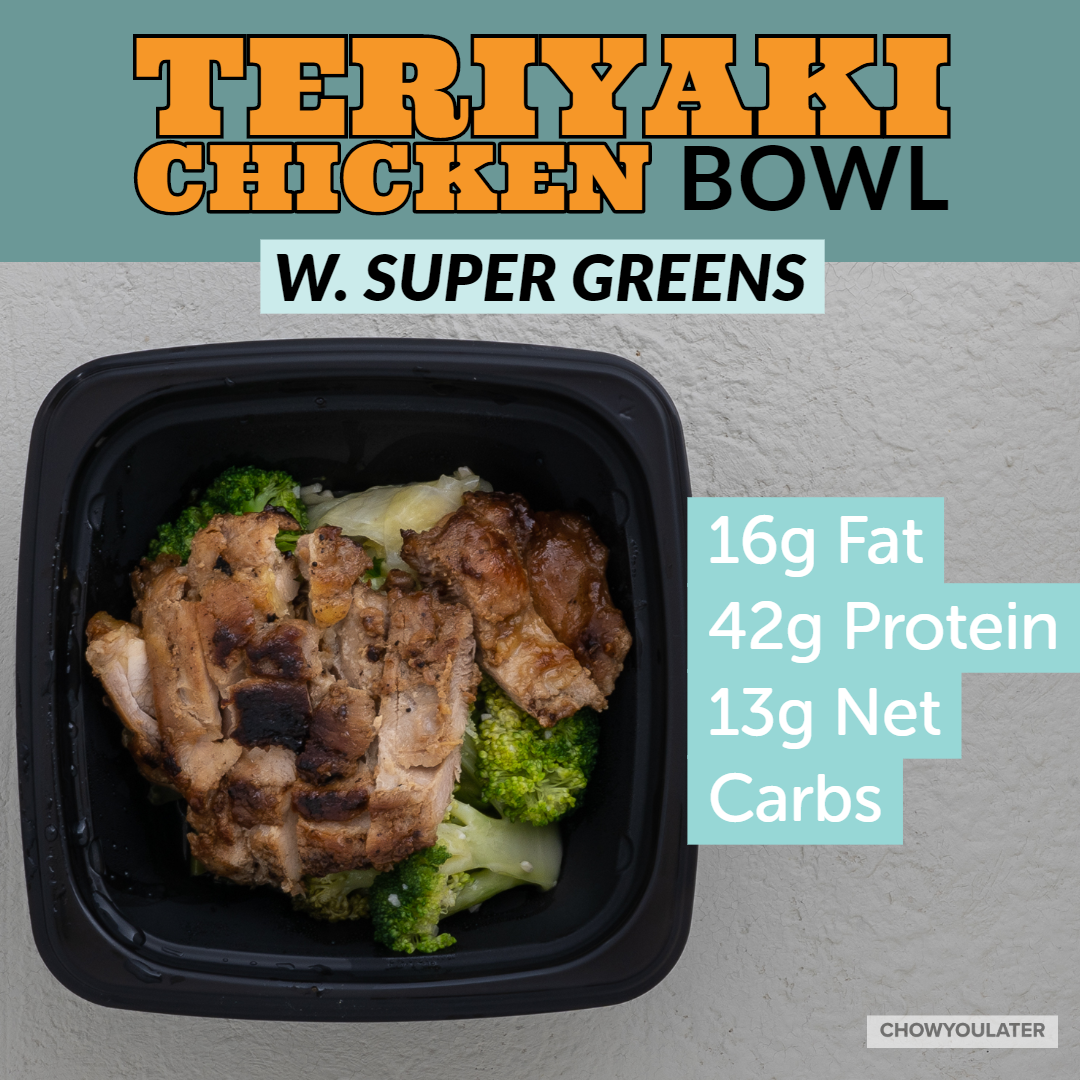 The chicken teriyaki bowl is actually my favorite. This one isn't too sweet and I really enjoy the chicken flavor on this one. Surprisingly this one had the least amount of net carbs and the highest in protein. Do you see 42 grams of protein in there? I was quite shocked but it's not necessarily a bad thing. This one's the value pick for sure. What I like to do is take it home and add some carb free hot sauce over it.
2. Mushroom Chicken Bowl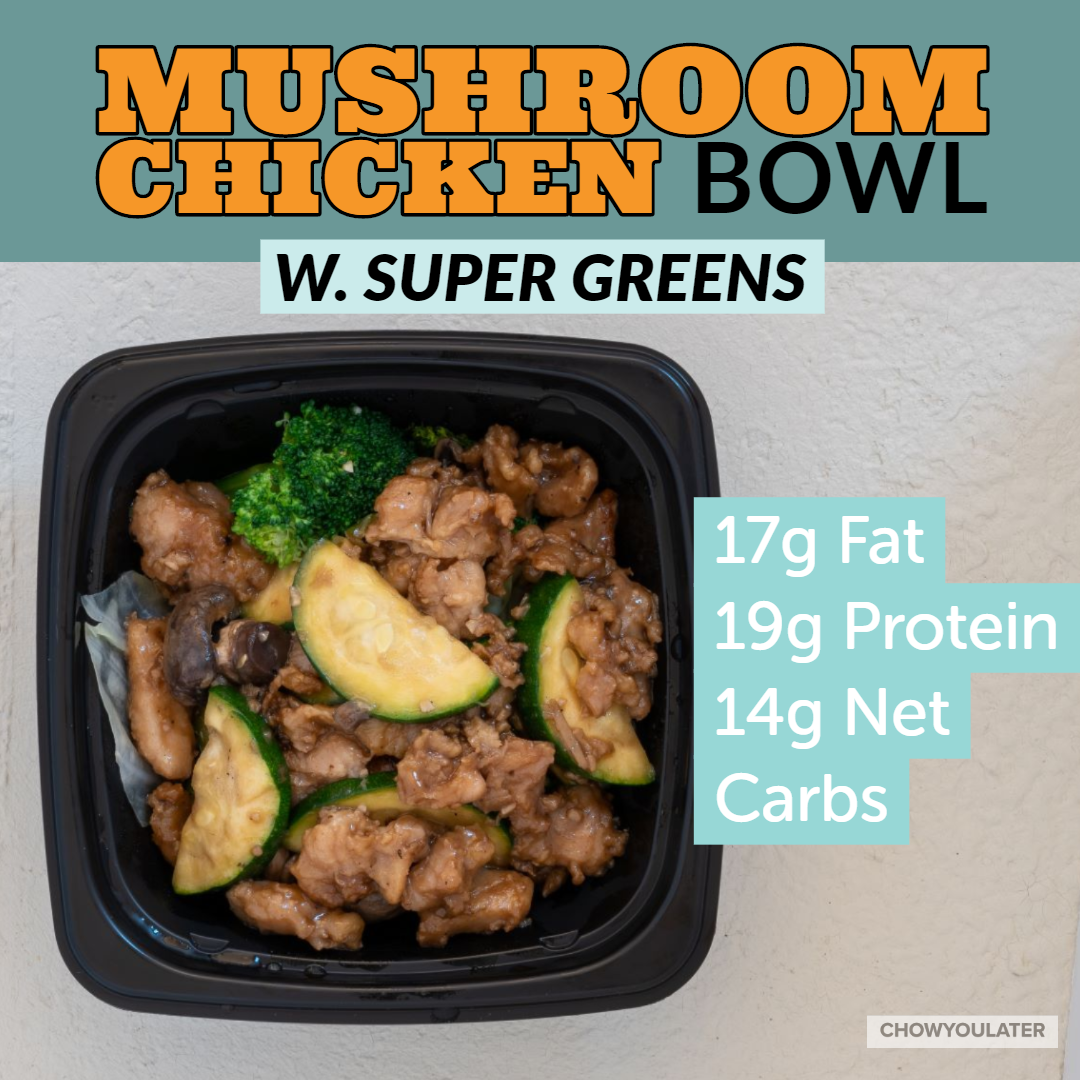 The Mushroom Chicken is actually my second favorite. The seasonings aren't too strong and the veggies balances the chicken quite nicely. My only complaint is for more chicken!
3. String Bean Chicken Bowl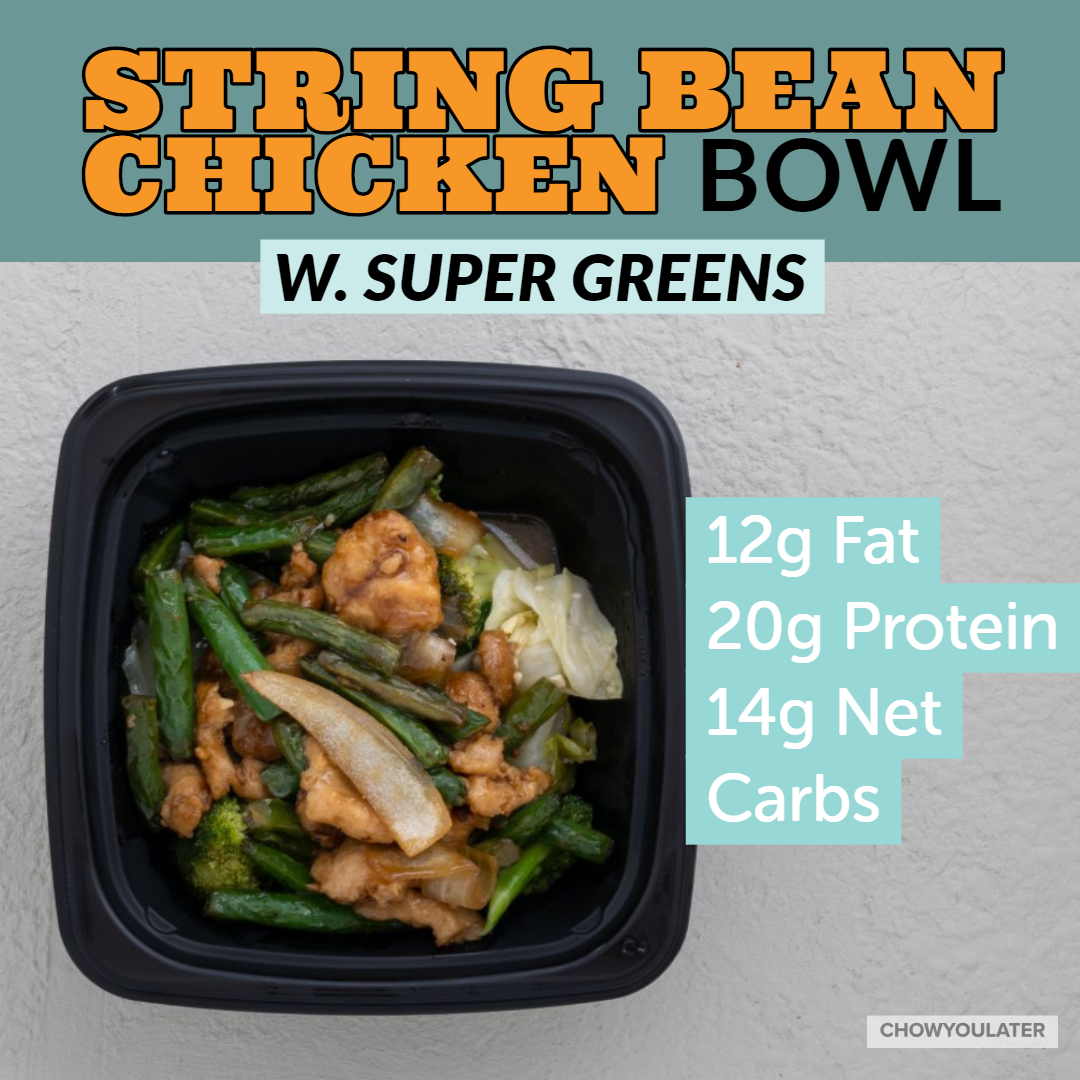 This bowl is quite standard. I'm not really a fan of string beans or green beans but will eat it if it's in front of me. This one is just OK in my book.
4. Broccoli Beef Bowl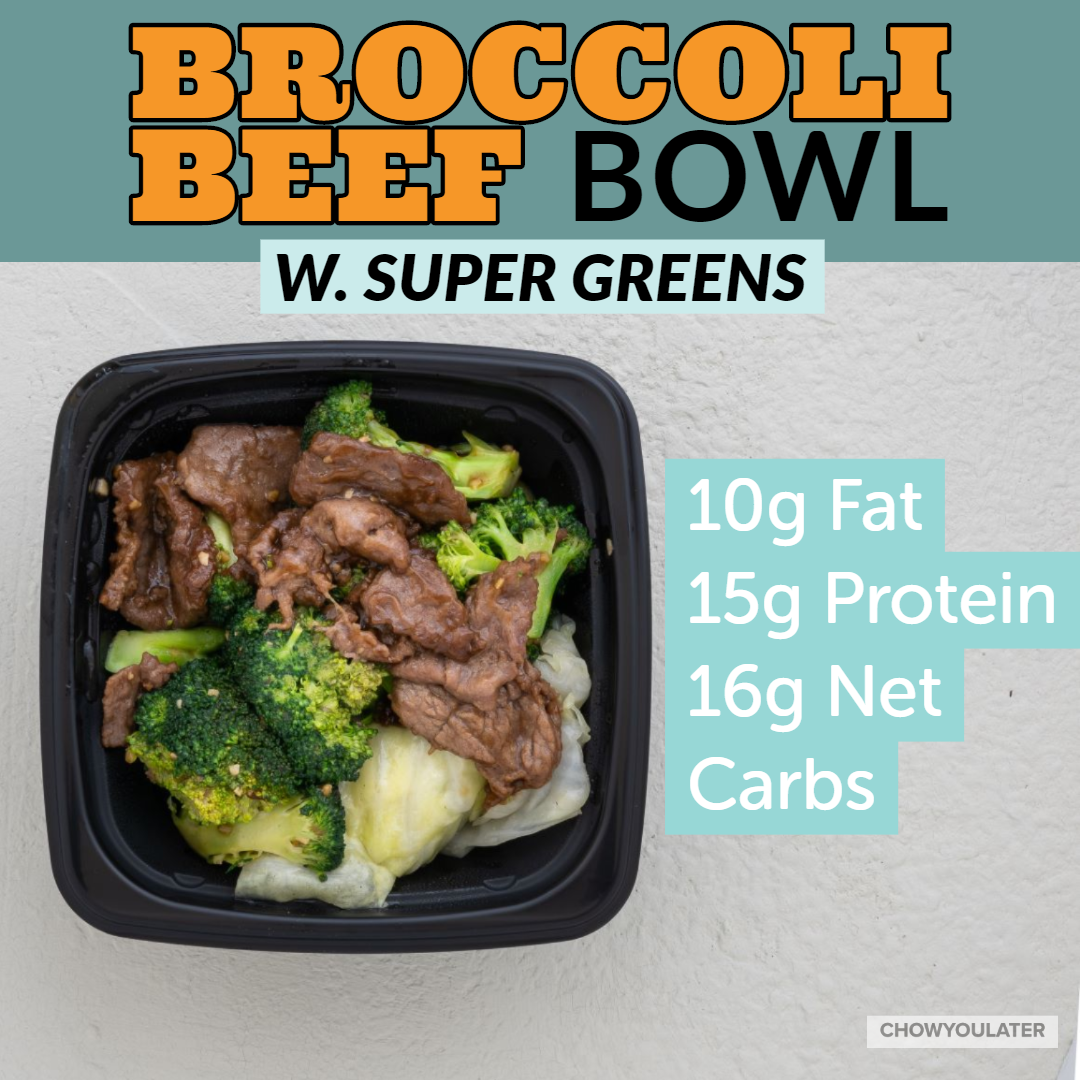 If you love broccoli and beef then this one is for you. Because the broccoli comes with the beef and the super greens already has broccoli in it, I wanted to warn you this bowl is broccoli heavy. In addition, note how low the fat is. The Broccoli Beef has the lowest fat content out of all the keto bowls.
5. Kung Pao Chicken Bowl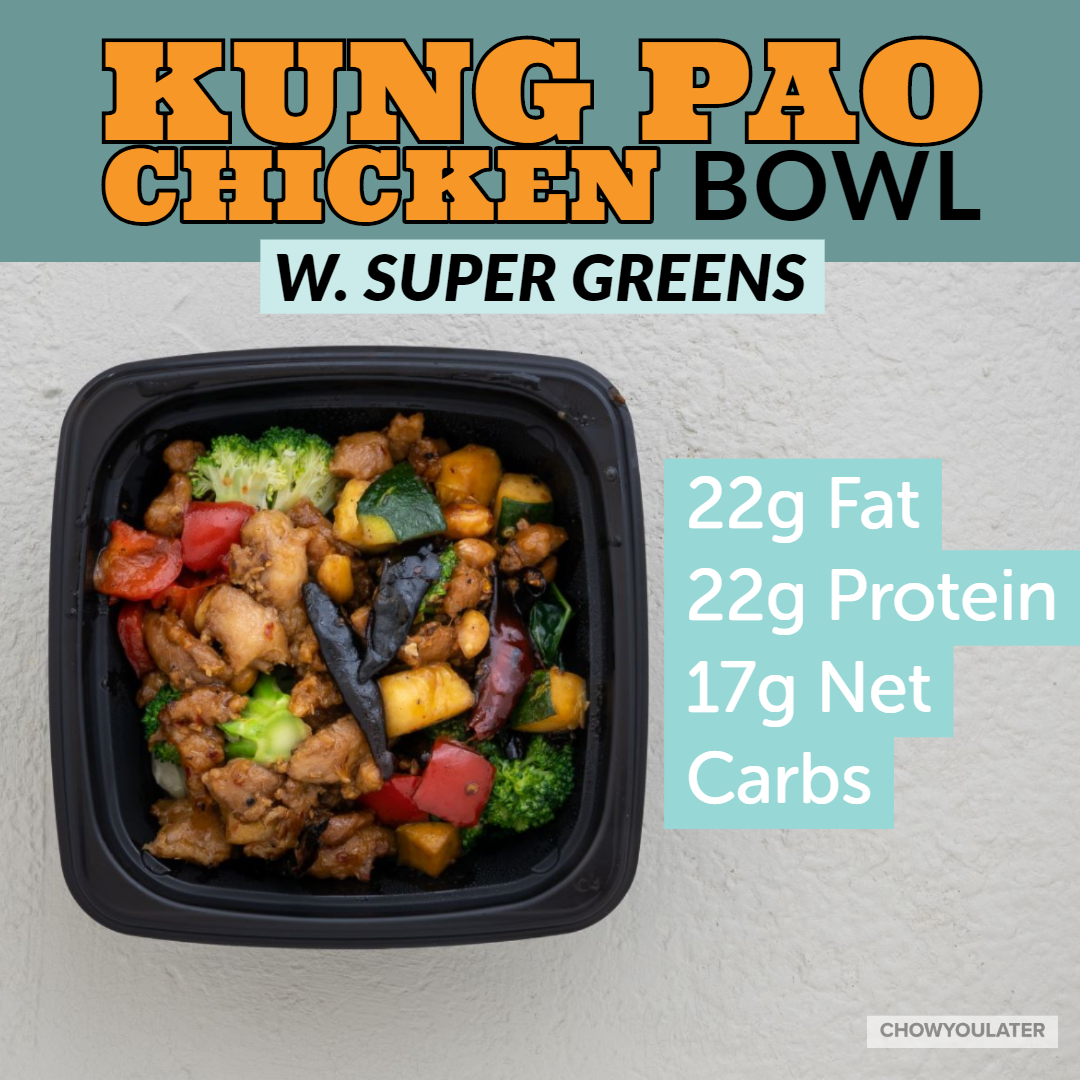 We're getting higher in the carb count at 17 grams. Just wanted to point that out. It's most likely coming from the Bell Peppers in the kung pao chicken. The good news is the high fat content at 22 grams. I'm really OK with this bowl combo. What I do admire is its variety as it packs the most ingredients: Bell Pepper, zuchini, broccoli, chicken, chili pepper, and nuts.
6. Black Pepper Chicken Bowl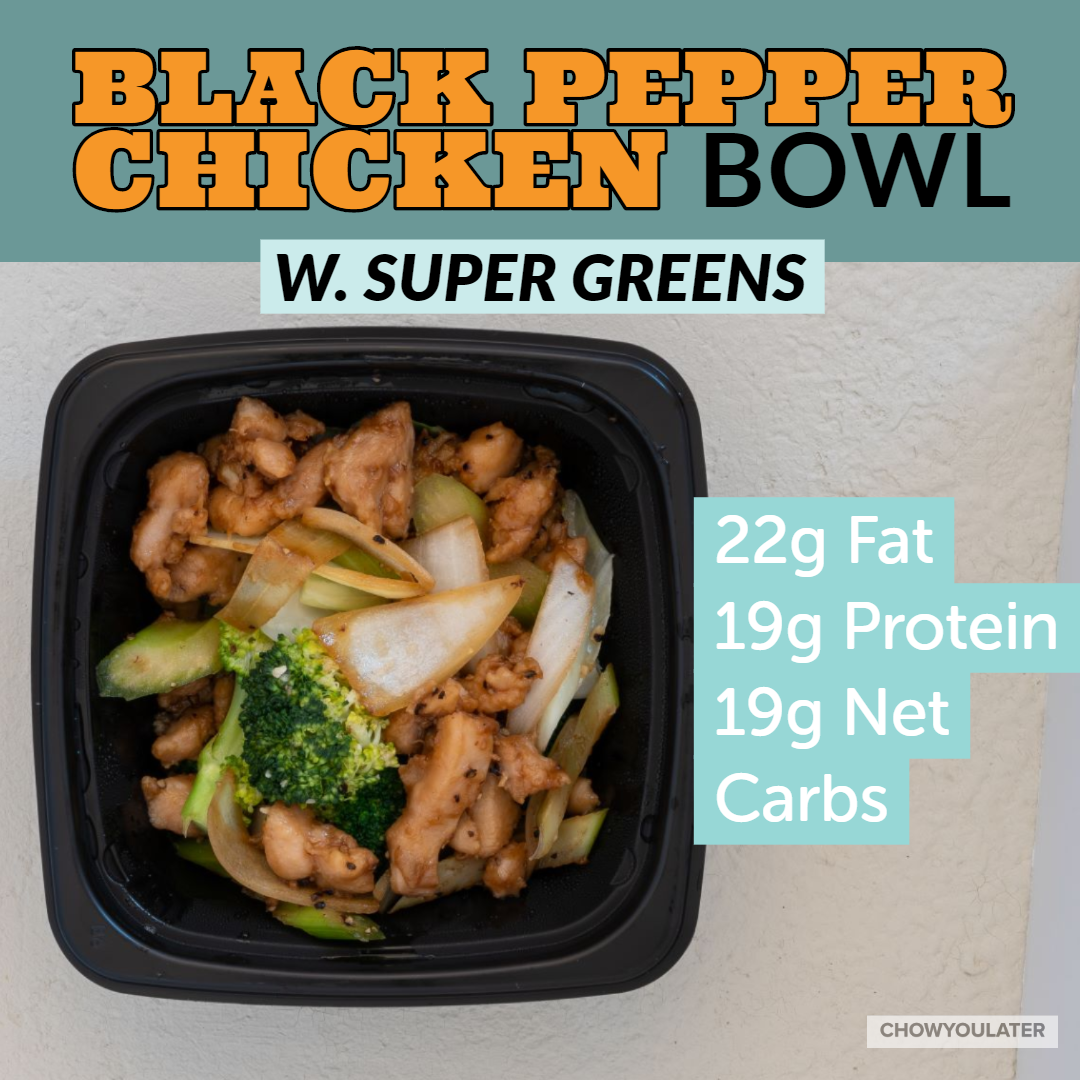 Too bad this one's the highest in net carbs at 19 grams because it's my third favorite. I like this one a lot. The celery and onion surprisingly works well together and the chicken meat is so soft and tender. I like the gravy too. A tad sweet which is probably why it's so high in carbs. The sauce and onion is most likely what drove up the net carb count.
Vegetarian/Vegan Option: Ehhhh
This is not really a great option for vegetarians but they do have Eggplant Tofu which at one serving is already at 20 net carbs. If you want to have one meal a day, then that's the one to get.
Keto Panda Express Infographic

If you want to make your own
If you don't like any of the combinations I recommended, my feelings won't get hurt. Here's a list of everything at Panda Express's menu under or equal to 20 grams of net carbs. Keep in mind of the serving size and the net carbs. For instance, the Eggplant Tofu dish at a serving size of 6.1 ounces is already at 20 net carbs which may not be worth it if you plan on eating more than one meal that day.
Feel free to mix and match the keto friendly items however you like. If you're able to find a combo I didn't think of please share! Let me know and I can update my list as well as credit you.
Other Tips & Tricks to Stay in Keto
You didn't hear this from me but bring your own carb free sauces such as MCT Oil, and Frank's Hot Sauce.
Order food to go. When you get home, you can add your own keto friendly staple items such as shirataki noodles. Imagine taking home a bowl and having it with a side of carb free noodles. Wouldn't that make a more complete meal? I think so.
How about making your own keto Panda Express food? They're actually not difficult to cook. Check out my recipes for Keto General Tso's Chicken and Cauliflower Fried Rice.
Frequently Asked Questions
Here are the answers to some of the most asked questions on the web.
What can I eat at Panda Express on keto?
There's not many keto friendly options but to keep the answer short and simple: super greens, Black Pepper Chicken, Kung Pao Chicken, Grilled Teriyaki Chicken, Mushroom Chicken, String Bean Chicken, and Broccoli Beef are low enough in carbs to order. I advise checking the nutrition table and to check out my recommended Panda Express Keto meals list.
Is Panda Express Good for keto diet?
The answer depends on whether you're following a strict or dirty keto diet. If you're trying to be strict, the answer is no Panda Express is not good for the keto diet as conventional meats, gluten heavy dishes, and high sugar count foods make up the bulk of the menu. It's also difficult to accurately track the macro-nutrients of each dish as it will depend entirely on the server portioning your food.
However, if you're on following a dirty keto diet and practicing Intermittent Fasting, then Panda Express can be good as there are a few items to keep you under 20 grams of net carbs. Make sure to check the nutrition table to see what items are carb heavy. You can also check out my recommended list.
FOUND MY POST HELPFUL?
The best thing you can do is share it, tag and follow me at my other social media handles: @chowyoulater on Instagram or Twitter.
LOOKING FOR UPDATES? Subscribe to my email list and/or follow me on Instagram, Pinterest, and Facebook.