So you found yourself craving for sushi and you're kind of at a lost for words. There's not much information. You're at a sushi restaurant parking lot scrambling for the menu trying to figure out the carbs. If not that, you're at the Whole Foods trying to decide whether to purchase the sushi special or not. Here, I go over everything you can order at the sushi restaurant to keep you in ketosis and losing weight.
Last updated: January 23, 2020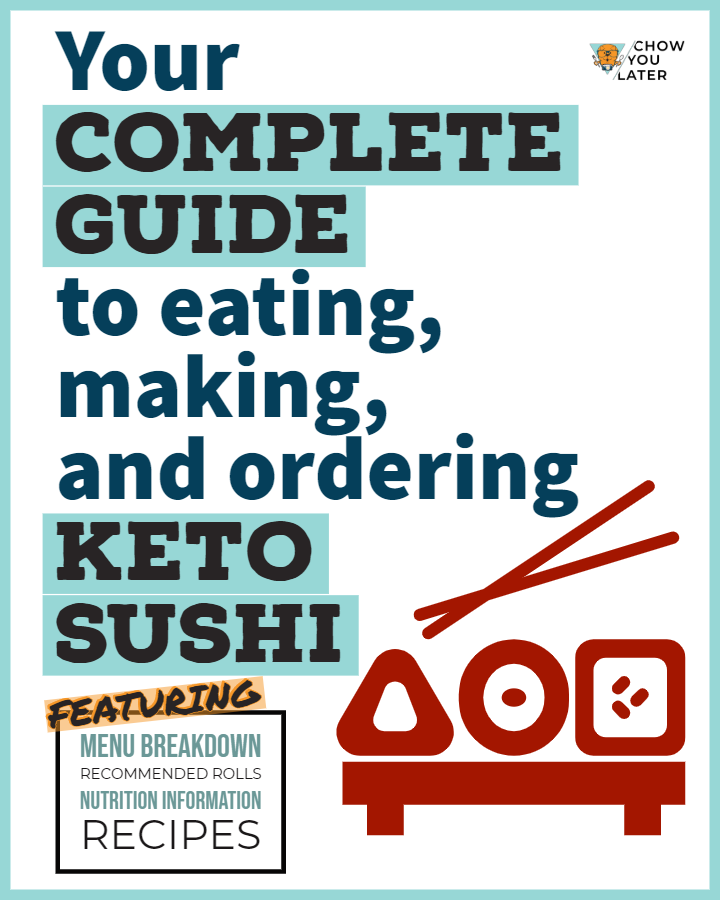 This post may contain affiliate links which means that if you choose to make a purchase, I will earn a commission. This commission comes at no additional cost to you as it helps support my page which is much appreciated!
Can you eat sushi on keto? Is sushi keto friendly?
First let's get the elephant in the room out of the way. Can you eat sushi on a keto diet? The simple answer is yes, you can have sushi on a keto diet but you can't just order everything on the menu. You will have to be aware of the ingredients and understand the different types available in most sushi restaurants in the US. After that, let's go into the most common ingredients found in sushi and whether they're keto or not.
The Main Types of Sushi
For simplicity purposes, there are four main types of sushi you will see at a sushi restaurant:
Maki
Nigiri
Sashimi
Chirashi
Let's go over each one quickly.
1. Maki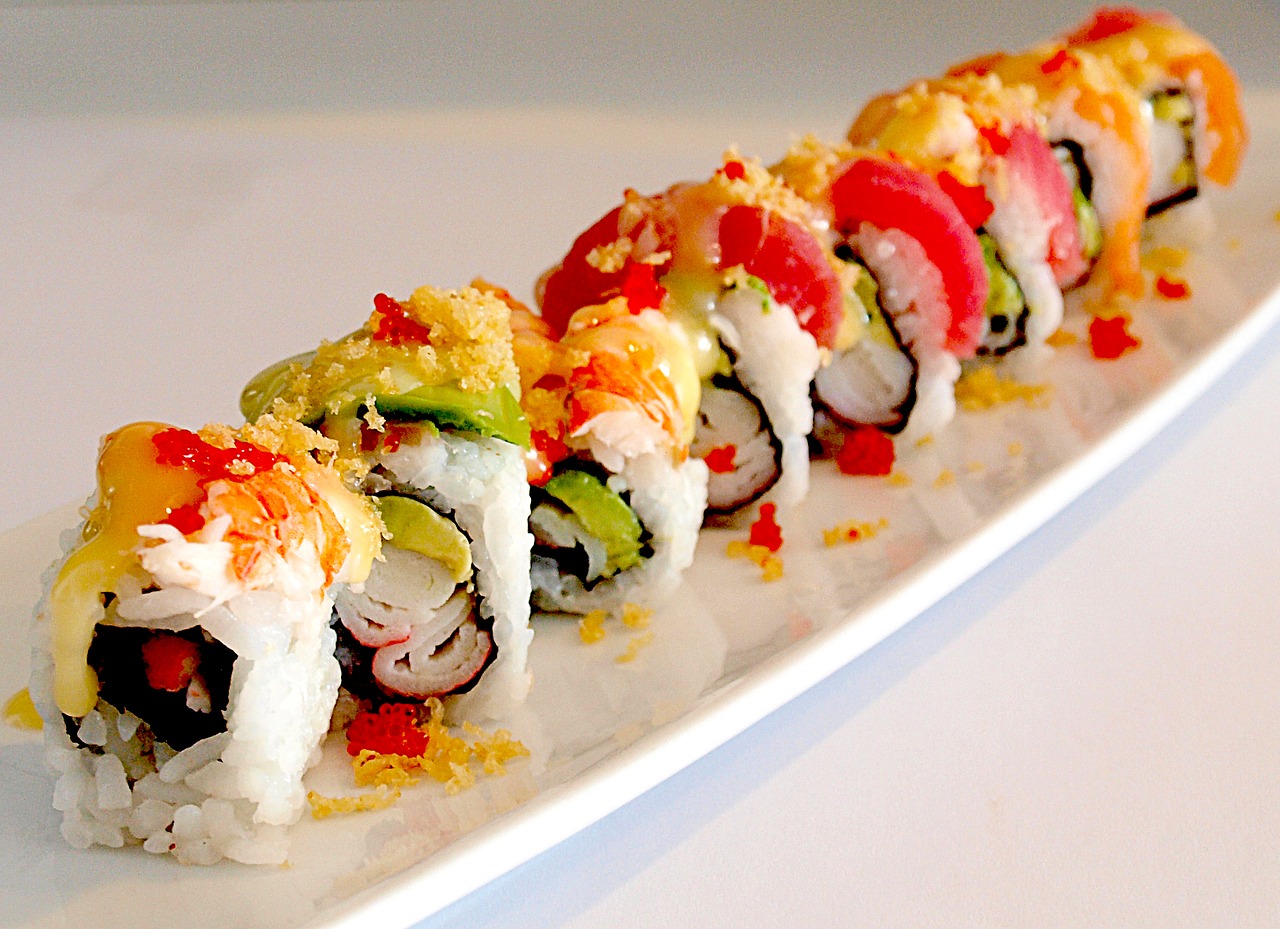 Maki sushi or "Rolled Sushi" in Japanese are by far the most popular and commonly synonymous with the word "sushi" in the US. It's like when people say pasta, most non-westerners will think spaghetti even though there are lots of types. You've seen them everywhere, at the food court in the mall, your favorite grocery stores, and even at gas stations. Essentially, they're layers of sushi rice and seaweed wrapped around protein or vegetables and can have toppings and sauces on top.
Maki rolls can get pretty crazy as they can be made in any type of combination of sauces, tempura, and wrap. It can also be as simple as literally 3 ingredients of rice, seaweed, and protein.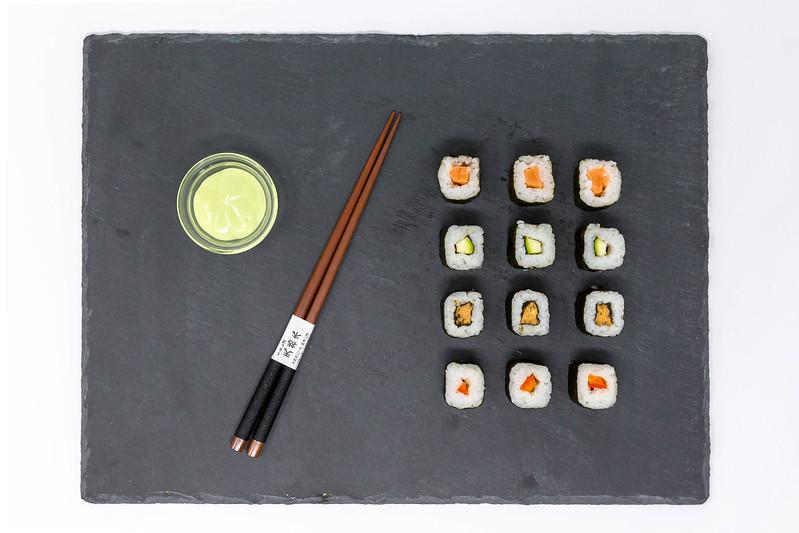 As a matter of fact, the above maki roll picture is more commonly served in Japan than the ones we're used to such as the California, Rainbow, Spider rolls.
2. Nigiri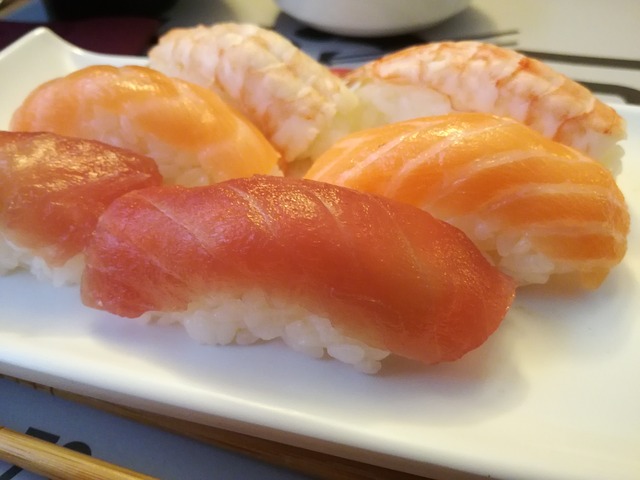 Second most popular are nigiri or "hand pressed" sushi. You'll find these too at supermarkets, food courts, and gas stations. These are essentially sushi rice hand shaped into small pellets with a slice of protein on top. Sometimes underneath the protein, there is a drop of wasabi to give it an extra kick. And sometimes, they may have a thin band of seaweed to hold together the ingredients.
3. Sashimi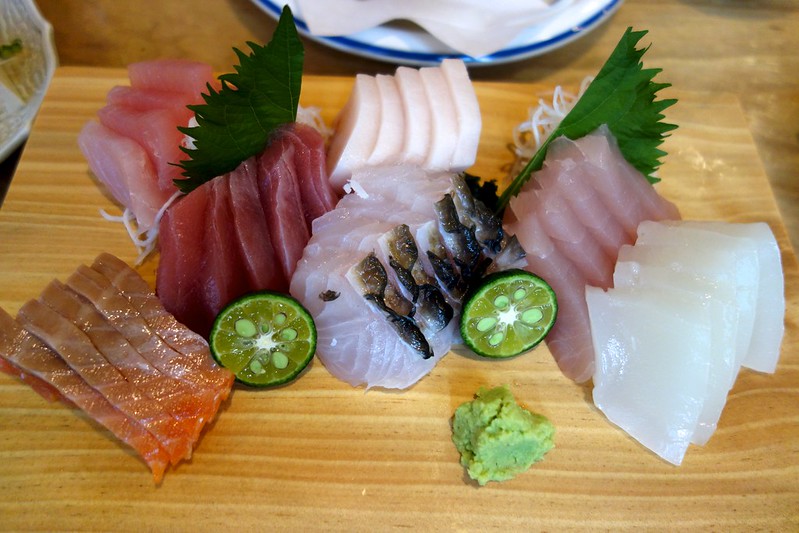 The third type is common but not that popular with most folks. I think it has to do with the idea that sashimi or "pierced body" in Japanese is literally that, just slices of filleted fish. No rice, and no seaweed, just raw fish. For me personally, I think it's delicious. To each their own, I guess.
4. Chirashi
Chirashi or "scattered sushi" in Japanese is fairly common but you probably won't find it outside a sushi restaurant as they are not that popular. Similar to poke, they're essentially slices of various seafoods topped on a bowl of sushi rice.
What Sushi Ingredients are Keto Friendly?
Now that we're familiar with the different types of sushi, let's go over the most common type of ingredients and answer whether each one is keto or not. I've provided a chart below: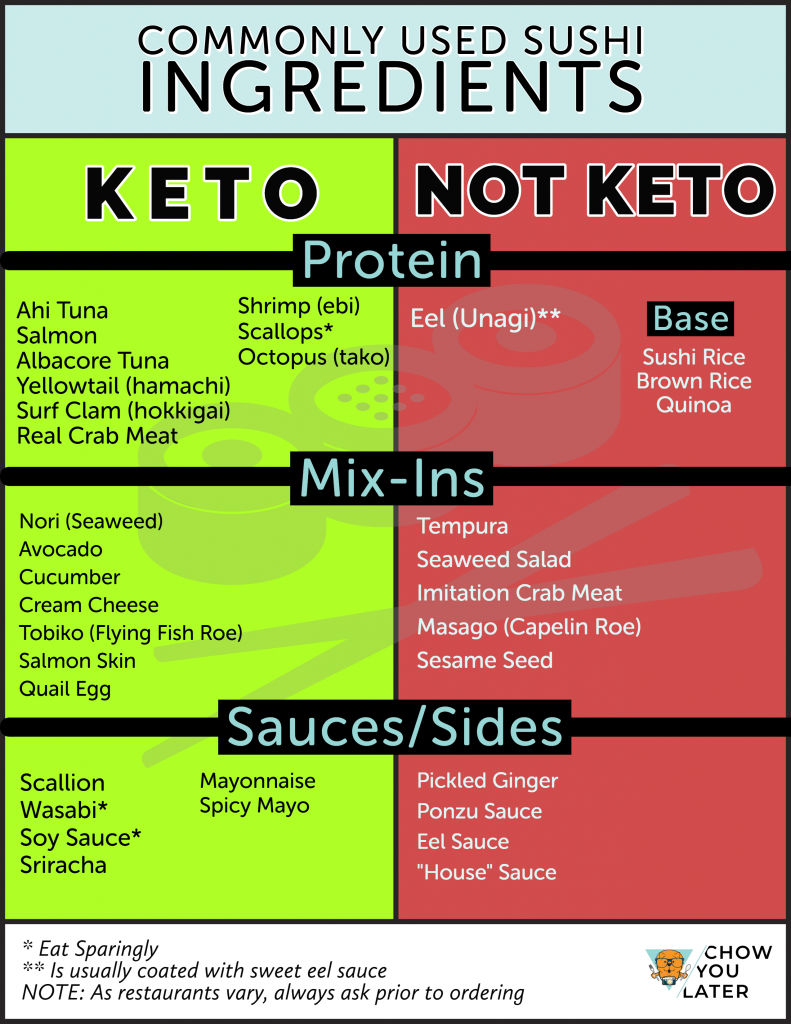 Protein
Virtually all proteins are keto friendly. The only ones you want to watch out for are:
Imitation Crab Meat
Shell Fish
Eel (unagi)
Any "spicy" tuna/salmon
The imitated crab meats are in fact, not made with crab meat but loaded with starch and other carb heavy fillers. Another one you should watch out for are shell fish like scallop. These tend to carry a little more carbs, therefore eat sparingly or just don't order them altogether. Lastly, the eel is usually coated with sweet eel sauce which I would avoid entirely. Lastly, you never really know what restaurants do in the kitchen so whenever you order "spicy" tuna or salmon make sure to ask them if there's any sugar added to them. Typically the spicy sauce used is a mix of Sriracha and Japanese Mayonnaise (Kewpie) which is keto but you should always ask, just in case.
Base
This one is easy. Sushi Rice is absolutely not keto friendly especially when you factor in the the added ingredients of mirin, a sweet cooking rice wine, and rice vinegar poured and mixed in once the rice is cooked. In case you're wondering, they're added to the rice for extra stickiness and tarty flavor.
Sauces
1 tablespoon of SOY SAUCE = 1 gram of carb
1 teaspoon of WASABI/SRIRACHA = 1 gram of carb
Sauces are always tricky because you just don't know what the restaurant does with them. I almost, always just stick to Sriracha, Soy Sauce, and Wasabi because I don't want to risk getting out of ketosis. Keep in mind that these sauces contain carbs so be mindful of consumption.
Want to know what other ingredients are keto? Check out my Definitive Keto Shopping List.
What are some keto sushi options?
The easiest and most immediate keto sushi option is ordering sashimi.
There are a few keto sushi options out there. If you're at a restaurant the fool proof thing to do is order Sashimi but there are some modifications you can ask your server to make since sushi is extremely customize-able much like a sandwich is at a deli. Here are some keto friendly sushi options you can anticipate prior to ordering any sushi:
Sashimi
Cucumber Roll (Naruto Maki)
No Rice Sushi

No Rice Hand Roll (temaki)

Maki Roll with Cauliflower substitution

Skinny Rolls made with Soy Wrapper
Then there's the option of going out of your way to find keto sushi. If that's the case, some places like Wegman's offer Skinny sushi. Make sure to check they're made of soy wrappers and not rice paper. And lastly, if you're crafty you can make your own by removing all the high carb ingredients. In this section, I go over your options in more depth.
Sashimi
As you can see, from the different types of sushi the most obvious keto friendly type is sashimi. Without any rice and just purely protein it's quite a no brainer.
If you're ever in doubt, sashimi is hands down the best and only option. 99.9% of the time, sushi restaurants will have these ready as they're literally the main ingredient in most, if not all, sushi. As a matter of fact, if they don't they can't really be called a sushi restaurant and one should run out of there as soon as possible.
Cucumber Roll (aka Naruto Maki)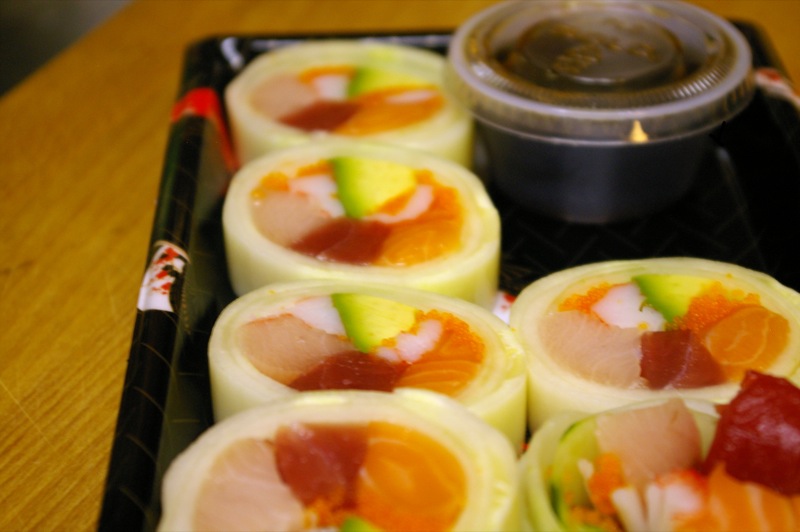 The cucumber roll, or Naruto Maki is a popular one. Not all restaurants will have them so make sure to check their menu, call ahead of time, or search the term on their yelp page. What is it you may ask? It's exactly what you would think, it is a roll wrapped in cucumber rather than seaweed and rice. There are no rules as to how they're served. Sometimes, the restaurant will have their version but you can make your own, just tell the server how you'd like it.
The cucumber rolls are called naruto because the cucumber resembles a swirl or a 'whirlpool' which is often associated with the fish cake and the city (of the same name) famous for their whirpools.
The cucumber roll is a great choice and most sushi restaurants should be able to make this one. If they're unsure, you can show them any of these pictures and the sushi chef should know how to make it. Just remember to have them exclude the imitation crab meat. Another substitution if you don't like cucumber is using smoked salmon or raw salmon for a wrap.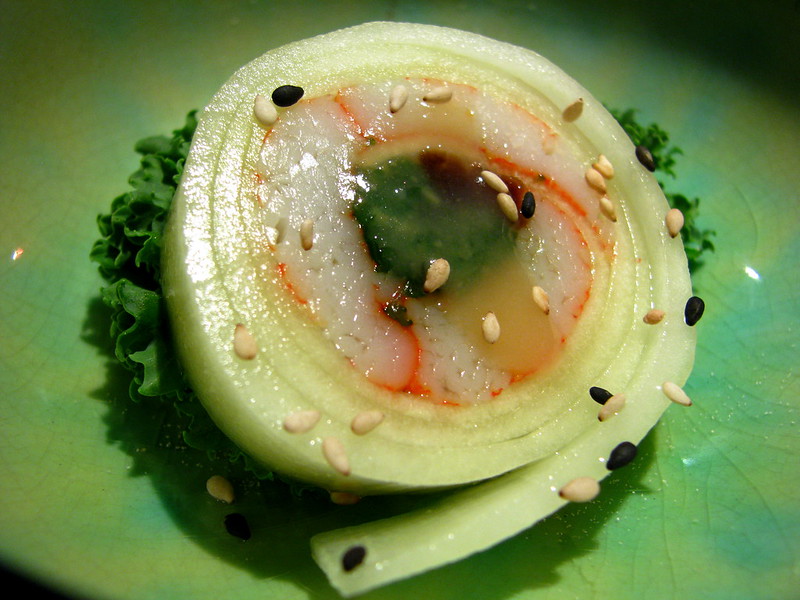 No Rice Sushi Roll
Another option is going no rice at all. You can have no rice in either maki roll or even a hand roll (temaki). You can ask them not to include any rice or substitute it for cream cheese. I've even heard some places offering sushi with a cauliflower rice option.
A word on that. Many places will not have the cauliflower rice option but it doesn't hurt to ask especially when many restaurants are willing to get an edge over their competitors. For example, in the past we've seen accommodations made with vegetable rolls for vegetarians, and cooked chicken for those weary of raw fish.
Skinny Rolls (w. Soy Wrapper)
So there are actually a few types of skinny rolls. The most common I've seen are ones made with rice paper. You want to avoid that. The key here is finding them made with soy. These soy wrappers are amazing because they only carry 1 gram of carb per sheet compared to rice paper at 75 grams. If the restaurant has soy wrappers as an option, they deserve an applause. It's not entirely common but will make your keto life much easier.
If you want to skip the restaurant and make your own, you can easily purchase them on amazon. See below.
I want to Make my Own Keto Sushi
First you deserve a pat on the back. That's awesome. Good for you! Here I will share you some videos I found that has been extremely helpful in making sushi keto, inspiration, and general how to's.
How to make Keto Sushi with Cauliflower
How to use Soy Wrapper
Bacon Sushi
Frequently Asked Questions (FAQs)
I get it. You're a busy person and time is not on your side. My post is huge and goes into more details than you'd like. You're a TL;DR-er. This section are for those looking for a quick, short answer to some of the web's frequently asked questions about keto sushi. If you want more details, scroll up for the longer version.
Is sushi keto?
Maki and Sashimi. You can have sashimi which is the fish by itself without any rice, tempura, or dressings. The rolls you often see (ie California rolls, Philadelphia Rolls, Rainbow Rolls are surprise, surprise an American creation) are called maki rolls which are not keto, but the good news is they can be modified since most places are made to order. That is, unless you're getting them prepackaged.
Is seaweed OK for Keto?
If we're referring to the paper like sheets (nori) used to wrap the sushi maki rolls, then those are OK for keto as they contain zero grams of net carbs making it extremely keto friendly. On the other hand, if we're referring to seaweed salad, then these are 100% not OK for keto. A major ingredient may be seaweed but the dressing is not. Often times, these salads are drenched in sugar sauces and rice vinegar. Always check the nutrition label or ask your server.
Is shrimp a keto?
Yes, shrimp is keto as they only contain about 1 gram of carbohydrates for every 3 ounces.
Low carb sushi at restaurants
If you don't want to make any modifications to your order, then sashimi is hands your best option as these are literally just slices of fish. For a side, you can order miso soup. Just make sure to ask them if they're free of any grains and sugar. If you don't mind modifying your order, you can find more information at "What are some keto sushi options?".
What else can I order besides sushi at a sushi restaurant on keto?
You can order miso soup as long as there's no grains and added sugar. You can ask them. Some Japanese restaurants also offer toriyaki or chicken skewers as an appetizer. Most of them are lightly salted making it pretty keto friendly. Another idea is getting the beef or chicken teriyaki and having them exclude the teriyaki sauce and rice. Instead use soy sauce and have them supplement with steamed veggies.
Will sushi kick you out of ketosis?
Absolutely. As long as you go over 20 grams of net carbs then you will. You can get kicked out of ketosis eating anything, not just sushi. Generally, you want to stay away from sushi rice, tempura, imitation crab meat, and always ask what's in the sauces. Stick to sashimi. For more information check out "What Sushi Ingredients are keto friendly?"
FOUND MY POST HELPFUL?
The best thing you can do is share it, tag and follow me at my other social media handles: @chowyoulater on Instagram or Twitter.
LOOKING FOR UPDATES? Subscribe to my email list and/or follow me on Instagram, Pinterest, and Facebook.