Just when you thought there were no other variances you could cook with keto pasta, you can stop right there. I have just the thing for you, it's my Keto Spaghetti Carbonara. This dish is quick and only calls for five main ingredients. In this article, I show you how to make this classic Italian favorite, keto style.
Last updated: March 17, 2020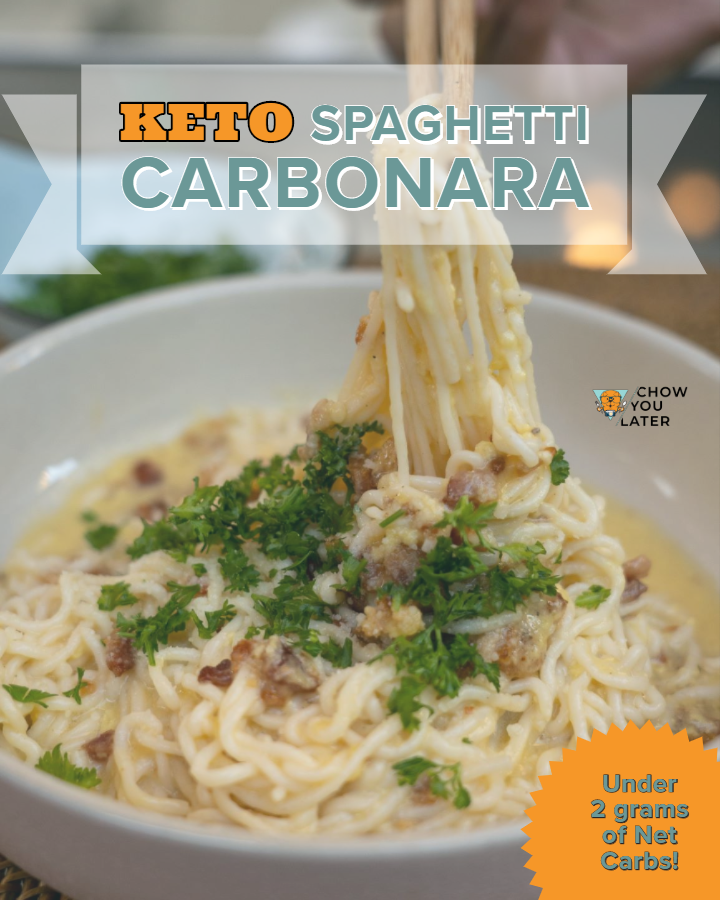 Some of the links above are affiliate links, which means that if you choose to make a purchase, I will earn a commission. This commission comes at no additional cost to you. It helps support my page.
You never know where inspiration can be found. I was at this small little gold rush town in California and was recommended to try their Carbonara. Seeing that I never had it before and was in an experimental mood, I decided to take the plunge.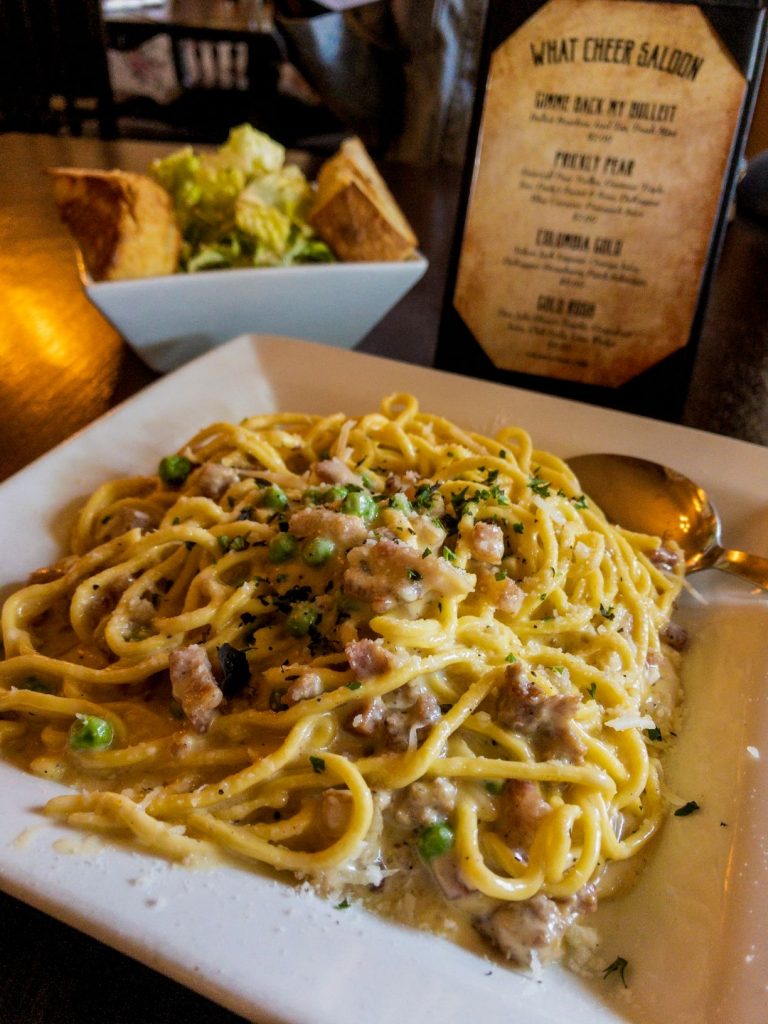 Little did I know, I had no idea I was about to be blown away how delicious this simple plate was. Since then, I've made it a mission to make my own version I can eat without feeling guilty because having conventional pasta every day is not going to help any weightloss goals.
Just 5 Main Ingredients
Carbonara, the name actually means charcoal in Italian most likely referring to the coal workers of the time and area of Rome. Nobody really knows the true origins of these Carbonara noodles or who invented the popular entree but it's a common belief that the noodles were made by coal workers. It was simply a quick and inexpensive dish to make. Another version of the origin was that it was invented by Renato Gualandi. Whatever the case maybe I'm glad this dish was invented for generations to enjoy.
The original dish only really requires 5 main ingredients that make this dish shine. They are:
Spaghetti
Black Pepper
Free Range Egg
Bacon (or traditionally guanciale)
Pecorino Romano Cheese
Anything after that are really extras which leads me to my next point. There are many variances to this dish just due to its simplicity it can be adjusted to your personal tastes buds. If you like it spicy, you can add pepper flakes and even Tobasco sauce. Peas are also another common added ingredient as you saw with my time at the City Hotel Restaurant.
What is Carbonara Sauce?
Carbonara Sauce is a mixture of fresh free-range eggs, grated Pecorino Romano cheese, and freshly ground black peppers. That's it. Simple on the surface but this combination brings out the natural flavors of each ingredient. The saying "less is more" cannot be any truer. This sauce is whisked together and poured on top of the pasta. The trick is to keep the pasta hot enough (indirect heat) that the sauce does not overcook. This means shutting off the burner at the very moment al dente is reached and then stirring the sauce in a few rounds to cook it. By doing this, the sauce becomes creamier as the yolk and cheese work in unison.
Does Pasta Carbonara have raw Egg?
Pasta Carbonara requires raw eggs to make the carbonara but the egg is lightly cooked. It's easy to think the egg is raw since the egg does not touch any direct heat but the answer is no. The egg is lightly cooked by the indirect heat from the hot spaghetti. It's no different from an egg being cooked sunnyside up but be aware that kids under 5 should not consume these types of dishes.
Why these Shirataki Spaghetti?
I prefer these tofu shirataki noodles/spaghetti from House Brands mainly because they come closest to conventional spaghetti. The best thing about them is their lack of a fishy odor which has turned many off. The coloring helps too. Texture-wise, it comes close. For any pasta related-dishes I'll always recommend this specific brand for their catering towards the western market. A distant runner up (in case, you're unable to find the House Brand) are the Skinny Pasta series. These are good too, but the coloring of the noodles itself is a little off.
If you enjoy Shirataki Noodles, check out my other shirataki noodle recipes:
How to Make Keto Pasta Carbonara
Things You'll Need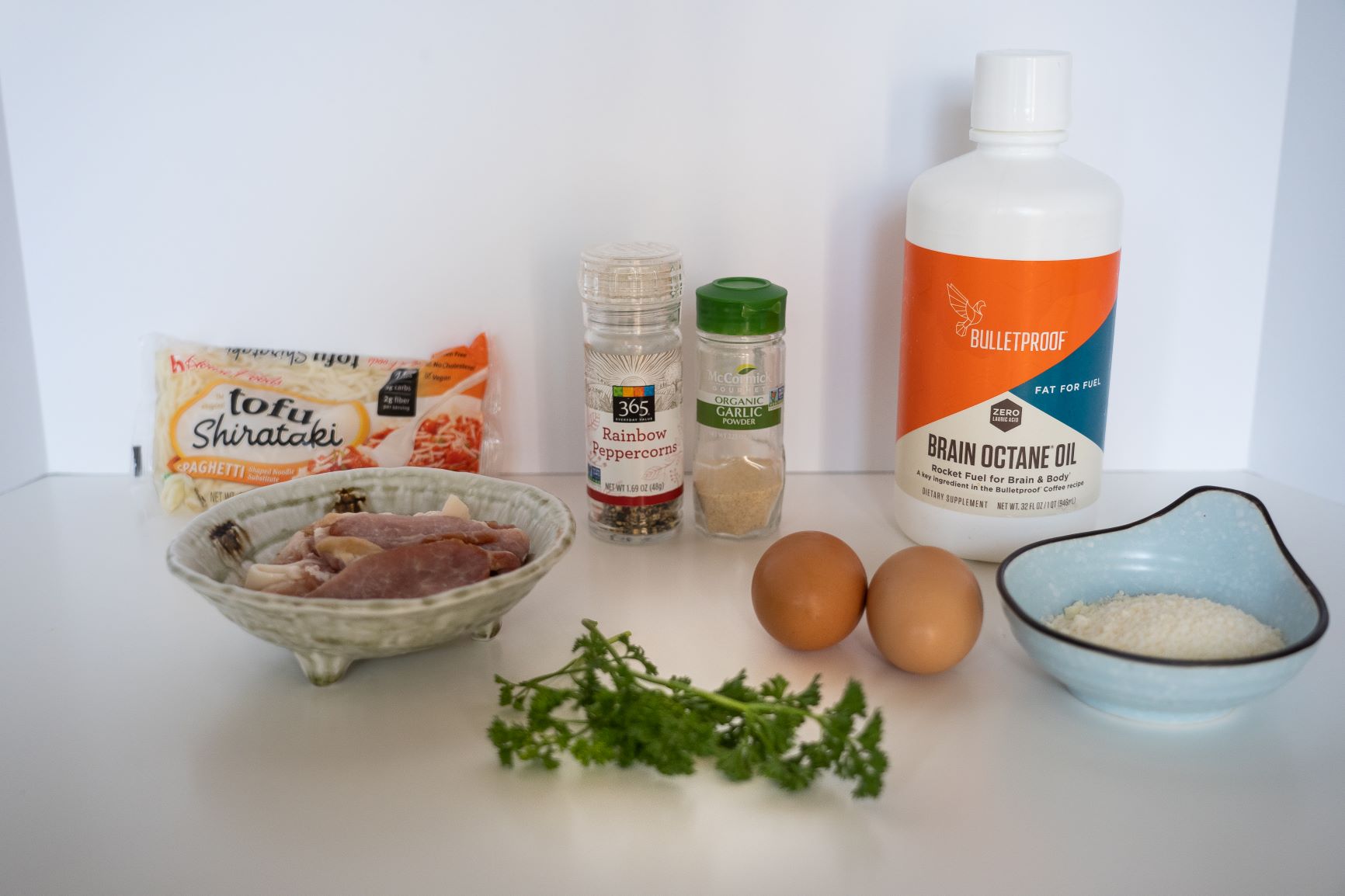 Easy Keto Pasta Carbonara
Need a quick easy keto dinner with just 5 main ingredients? Well, you're in the right place. My keto carbonara will have you full in no time.
Ingredients
Carbonara Sauce
120

grams

Bacon

(even better if you have guanciale or pancetta)

1/4

cup

Grated Pecorino Romano

(Parmesan as substitute is ok)

1/2

tspn

Garlic powder

(optional)

1

whole

Egg Yolk

(for added creamy texture)

1

whole

Egg
Instructions
Cook Shirataki Noodles
Follow the package instructions. If not, I can show you how to cook shirataki noodles.Note: I found that one package may not be enough for noodle lovers. If you love noodles I suggest getting two packages or 4 servings of shirataki noodles for 2 people.
Gather all the ingredients
Roughy chop the bacon and the parsley.
Prep the Sauce
In medium heat, warm a frying pan. Pour a teaspoon of olive oil and add the bacon in. Let the fat render.

Meanwhile, as the bacon is cooking crack 2 eggs. For the second egg, use only the yolk. This will give the carbonara a creamier texture. Combine it with Pecorino Romano, 1/2 teaspoon of garlic powder, and black pepper to taste. Whisk for about 2 minutes or until the desired creamy texture is achieved.
Combining Spaghetti and Carbonara Sauce
*** This part is very important. If you don't follow this part properly, you run the risk of overcooking the sauce which will give you scrambled eggs.

Once the bacon is cooked from the first step, remove the cooked bacon. Add the shirataki noodles to warm it up. Stir for about a minute until hot, then turn off the heat. Pour the Carbonara Sauce over spaghetti and stir until sauce becomes glossy and creamy (about a minute and a half). Retrieve the bacon and mix in.
Garnish
Top with Parsley, more picorno romano (if you like), and black pepper to taste. Add tablepoon of MCT oil for added fat.
Notes
Nutrition info is approximate using the sparkpeople.com recipe calculator, and the carb count does not count sugar alcohols. It is your responsibility to check the accuracy of all nutritional facts posted here, especially if you have a medical condition, in which case you should consult with your doctor before using any of the recipes.
Nutrition
Calories:
529.1
kcal
|
Carbohydrates:
3.6
g
|
Protein:
31.6
g
|
Fat:
41.4
g
|
Saturated Fat:
18.9
g
|
Polyunsaturated Fat:
1
g
|
Monounsaturated Fat:
3.5
g
|
Cholesterol:
265
mg
|
Sodium:
1135.6
mg
|
Potassium:
54.1
mg
|
Fiber:
2.1
g
|
Sugar:
0.2
g
Nutrition Facts
Easy Keto Pasta Carbonara
Amount Per Serving
Calories 529.1
Calories from Fat 373
% Daily Value*
Fat 41.4g64%
Cholesterol 265mg88%
Sodium 1135.6mg49%
Potassium 54.1mg2%
Carbohydrates 3.6g1%
Protein 31.6g63%
* Percent Daily Values are based on a 2000 calorie diet.
MADE THIS RECIPE?
Lets see it! Tag @chowyoulater on Instagram or Twitter and hashtag it #chowyoulater
LOOKING FOR UPDATES? Subscribe to my email list and/or follow me on Instagram, Pinterest, and Facebook.