For many, pho is a classic staple of a diet. With health benefits like joint health and inflammation reduction it's easy to see why pho is a popular choice. It can be enjoyed for all occasions and meals. From the aroma to the broth, pho has a very distinct profile which can quickly get you hooked. The bad news is it's not very keto-friendly because of the rice noodles. Luckily in my recipe, it won't matter because I'll show you my easy low carb keto pho recipe.
Last updated: March 16, 2020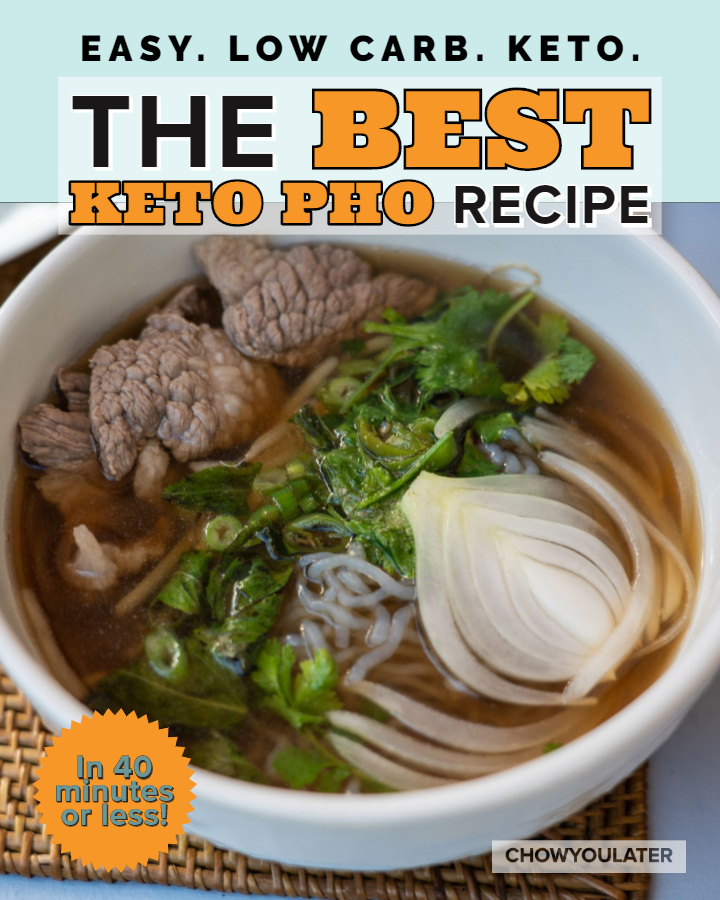 This post may contain affiliate links which means that if you choose to make a purchase, I will earn a commission. This commission comes at no additional cost to you as it helps support my page which is much appreciated!
Is pho without noodles keto friendly?
I get this question a lot. "Pho is rich in fat because of all the fat in the beef broth and meat so it must be keto if one orders it without the noodles right?" That's the logic that tends to go around and there's no easy way to answer because it really depends on your carb consumption for the whole day. I think the question needs to be reframed. What you really want to know are what the keto options are at a pho restaurant.
To get into the ketosis state, one needs to keep their net carbs under 20 grams. So if you're only eating pho without noodles the whole day then sure, it should be fine because the only other ingredients with carbs are the fish sauce, bean sprouts, lime, onions, sriracha, and hoisin sauce. The one you want to avoid indefinitely is the hoisin sauce since it has 20 grams of sugar in a 2 table spoon serving size. To summarize, pho without noodles should be keto friendly as long as it fits your macros but stay away from the Hoisin Sauce.
Does pho broth have sugar?
Generally speaking, yes pho broth does have some sugar. It's mainly coming from the fish sauce and it also depends on the chef therefore I strongly recommend making your own pho. Jump to my recipe to see how.
Does pho broth have carbs?
This question ties together with the previous one. Since pho broth has sugar, pho broth does have carbs. The broth is mainly coming from fish sauce and any other ingredients the chef may put in. We won't really know unless we're in the kitchen watching their every move therefore I suggest making your own which is quite easy. Jump to my recipe to see how.
What meats can I use for keto beef pho?
Traditionally, pho is a very complex making up of a variety of spices and toppings. For my recipe, I took the liberty of minimization, and excluded a lot of different toppings for the sake of simplicity. If you want to go wild, I don't blame you and don't let me stop you from really making it your own. You can easily throw in any of these meats:
Flank
Brisket
Brisket Fat
Tendon
Beef Balls
Beef Tripe
What kind of noodles are keto friendly?
In this recipe, I'll be using shirataki noodles. They have almost literally zero carbs in it making it the ideal noodle for pho. I found shirataki noodles to be the closest thing to the real thing so I stick to it but you're more than welcome to using noodles made out of cabbage. That works too. You simply shred the cabbage and throw it in hot water to let it soften up.
If you want to see what else you can do with shirataki noodles, check out my Shirataki Noodles Page.
Why packaged bone broth?
The intent of my keto pho recipe is really to make it as simple as possible while maintaining some authenticity. You can easily make your own broth but that would mean hours of simmering. There's nothing wrong with that, it just takes a lot of time. With readily made bone broth, you can have a bowl of pho under 40 minutes or less depending on how crafty you are in the kitchen. The one I recommend is Kettle and Fire but you can get any bone broth you'd like. My reasoning is simply because it tastes better. Compared to other ones I've had, Kettle and Fire carries a cleaner taste.
What Fish Sauce do you recommend for Keto Pho?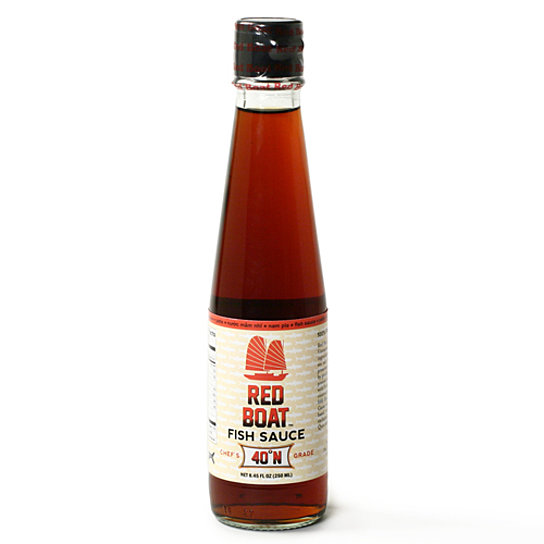 I always recommend Red Boat Fish Sauce which is safest within the keto community. They boast having only two ingredients: freshly caught wild anchovies and sea salt. I've heard Costco carries them so you may want to check for them there. I've also seen them at Wholes Food Market. If not, you can always order at Amazon.
How to make Low Carb Keto Pho
What You'll Need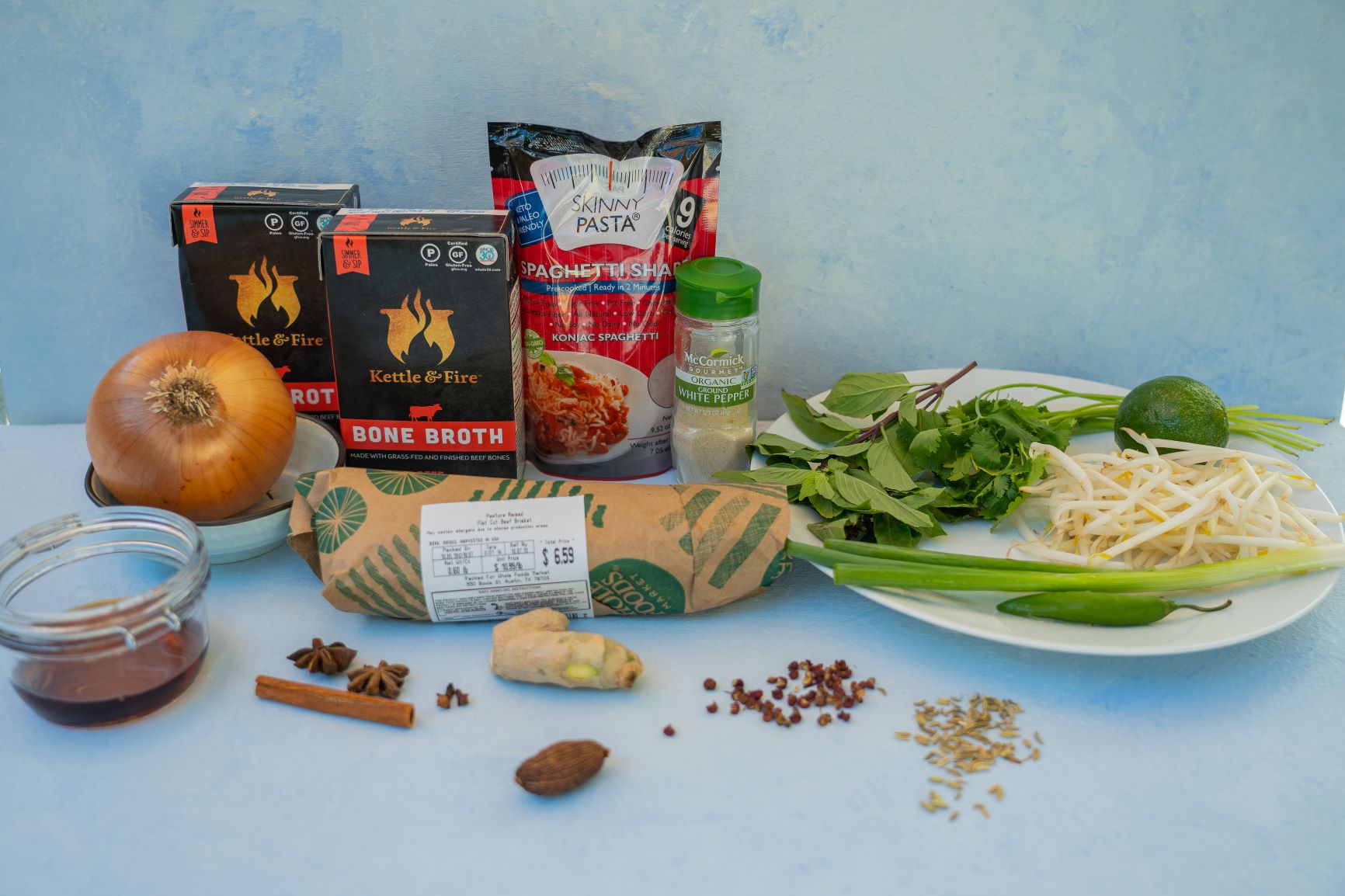 Easy Keto Pho
Ingredients
Toppings
5

oz

Brisket

You can also use chuck

1

whole

Lime

¾

cup

Bean Sprouts

If you don't like your bean sprouts crunchy, blanche them beforehand

1

bunch

Thai Basil Leaves

1

stalk

Scallion

1

TBSP

MCT Oil

1

bunch

Cilantro

(optional)

Ground White Pepper

(optional)

5-6

Thin slices of Onion

(optional)

1

Chili Pepper

or Jalapeno (optional)
Instructions
Gather all the ingredients.
Chop the onion in half. Take one half and cut into two quarters. Cut the ginger into thin slices. Chop scallions, lime, and chili pepper.

*** This step is entirely OPTIONAL. Using the other half of the onion, cut the onion into thin slices. These will be used for a topping at the end. Move them to a bowl of cold water and cool them in the fridge.
Spices and Aromatics
You want to release the fragrances of the spices. To do that we will char a quarter of the onion, slices of ginger, cinnamon stick, star anise, clove, star anise, cardamon, fennel seeds, peppercorn. Heat in medium high heat for about 3-4 minutes.

You want it to be toasted like so.

If you feel you've burnt the onion too much no worries. You can scrape off the black charred parts with the edge of your knife.
Prepping the Broth
Open the two bone broth package and pour contents into pot.

Move the brisket over to the pot. I personally like to slice mine into thin pieces before cooking but you can also cut it after it's been cooked.

Transfer the toasted spices to the broth. simmer them in the pot of bone broth for a half hour. After a half hour, the broth is ready and you can remove the spices and aromatics for a clear broth.

Pro tip: It's easier if you transfer the spices over to a a cheesecloth or a tea infuser ball and drop it in that way. I have neither tools and I don't mind using a strainer so I just move all the spices over into the pot like the picture.
Cook the Shirataki Noodles using a different pot
Follow the package instructions. If not, I can show you how to cook shirataki noodles.

Note: I found that one package may not be enough for noodle lovers. If you love noodles I suggest getting two packages or 4 servings of shirataki noodles for 2 people.
Style Your Bowl!
You're now ready to make your bowl! Grab a bowl.

Distribute the cooked Shirataki Noodles evenly to two bowls. Place toppings (beansprouts, scallions, mint, peppers, brisket) on top of the shirataki noodles however you like. Pour in MCT Oil for added fat content.

Ladle the broth onto the bowl.
Nutrition
Calories:
385
kcal
|
Carbohydrates:
18.3
g
|
Protein:
25.9
g
|
Fat:
24.1
g
|
Saturated Fat:
16.4
g
|
Polyunsaturated Fat:
1.1
g
|
Monounsaturated Fat:
4.8
g
|
Cholesterol:
65.9
mg
|
Sodium:
136.9
mg
|
Potassium:
453.4
mg
|
Fiber:
8.6
g
|
Sugar:
5.3
g
Nutrition Facts
Easy Keto Pho
Amount Per Serving
Calories 385
Calories from Fat 217
% Daily Value*
Fat 24.1g37%
Cholesterol 65.9mg22%
Sodium 136.9mg6%
Potassium 453.4mg13%
Carbohydrates 18.3g6%
Protein 25.9g52%
* Percent Daily Values are based on a 2000 calorie diet.
MADE THIS RECIPE?
Lets see it! Tag @chowyoulater on Instagram or Twitter and hashtag it #chowyoulater
LOOKING FOR UPDATES? Subscribe to my email list and/or follow me on Instagram, Pinterest, and Facebook.