Craving for something a little different? Something that will have your taste buds wanting more? Well, now is your chance to cook my personal favorite Korean Chicken Gizzard Recipe. This tough, chewy organ is one of the most underrated and underappreciated meats to have and after making my recipe you'll see why.
Last updated: March 16, 2020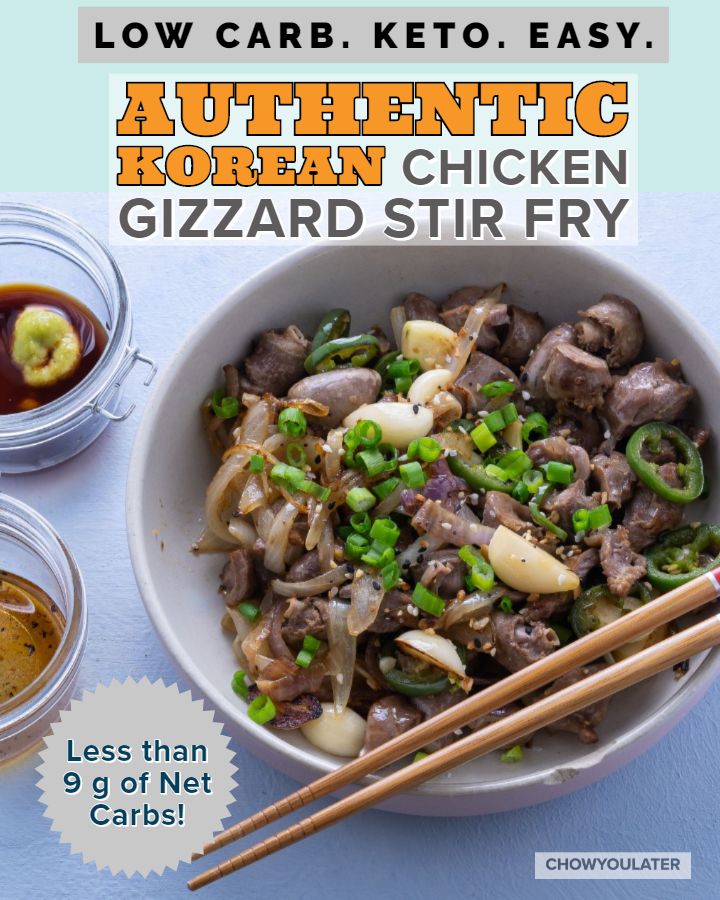 This post may contain affiliate links which means that if you choose to make a purchase, I will earn a commission. This commission comes at no additional cost to you as it helps support my page which is much appreciated!
All it takes is a memorable dish at a Korean Restaurant for me to be inspired to make my own copy cat version. It was a night out with friends therefore drinking was involved. After a few shots of soju, we were getting hungry and ordered the Dak-dong-jib (닭똥집볶음). I had no idea what I was in for and when it came out I had to take a bite immediately. Little did I know, the chicken gizzard and soju is a legendary pairing in Korea and ever since then, I aspired to make my own.
I've been cooking this recipe for over 3 years now and it never gets old. I really enjoy this recipe and giving credit where it's due I wouldn't have been able to make it without finding it first from Korean Cuisine. I made some adjustments but the majority of the recipe has stayed the same. If you're really into Korean dishes, check out the website as there are many along with useful tips.
Why Chicken Gizzard and Hearts?
My Chicken Gizzard Korean recipe may be one introduced recently to my life, but my days of chicken gizzard stir fry's are not. It dates back to when I was a child, I remember my parents would stir fry the combination of chicken gizzard and hearts together with green beans. Yeah it may not be Dak-dong-jib but it is close to home for me. As a matter of fact, I actually prefer to have them together as it adds another texture to the stir fry where the chewiness of the gizzard compliments the tenderness of the hearts. If you're not a fan of chicken hearts feel free to omit that part and make 1 cup of chicken gizzard instead.
Where to buy chicken gizzard and hearts?
Most American markets should sell them but if you're really having trouble, you can always find them at your local Asian markets for sure. I got mine at Nijiya Market, a local Japanese chain, but they will carry these at H Mart, 99 Ranch, and any other Asian Grocer. Just make sure to clean them up as I found some places do a better job than others.
How to cook chicken gizzard and hearts
The first thing you need to know is you should try to remove any sediment, debris, membrane, and impurities before cooking it. For me, I run a quick visual inspection. Usually at the Japanese market it's already cleaned but you want to remove the yellow membrane and anything that doesn't look normal. For more a step by step instructions, check out wikiHow's article on how to clean chicken gizzards.
You want to clean the chicken gizzard and hearts before cooking.
In order to clean, you should cut them in bite size pieces first, then add the gizzards in cold water. You can use baking soda or flour to scrub the gizzards and hearts clean. Rinse a few times or until the water is clear is when you know they're ready for stir frying, deep fried, air frying, baking, braising, barbecuing, slow cooking, etc. In our case, we will be stir frying.
Optional: If you want to be even more careful, boil the gizzard and hearts to remove any impurities. Fill a pot with water, throw in a pinch of salt, and bring to a boil. Then add in the chicken gizzard and let it boil between 5-7 minutes. Rinse it out with cold water and now they're ready to be stir fried to a golden brown color. This whole process should take about 20 minutes or less.
What You'll Need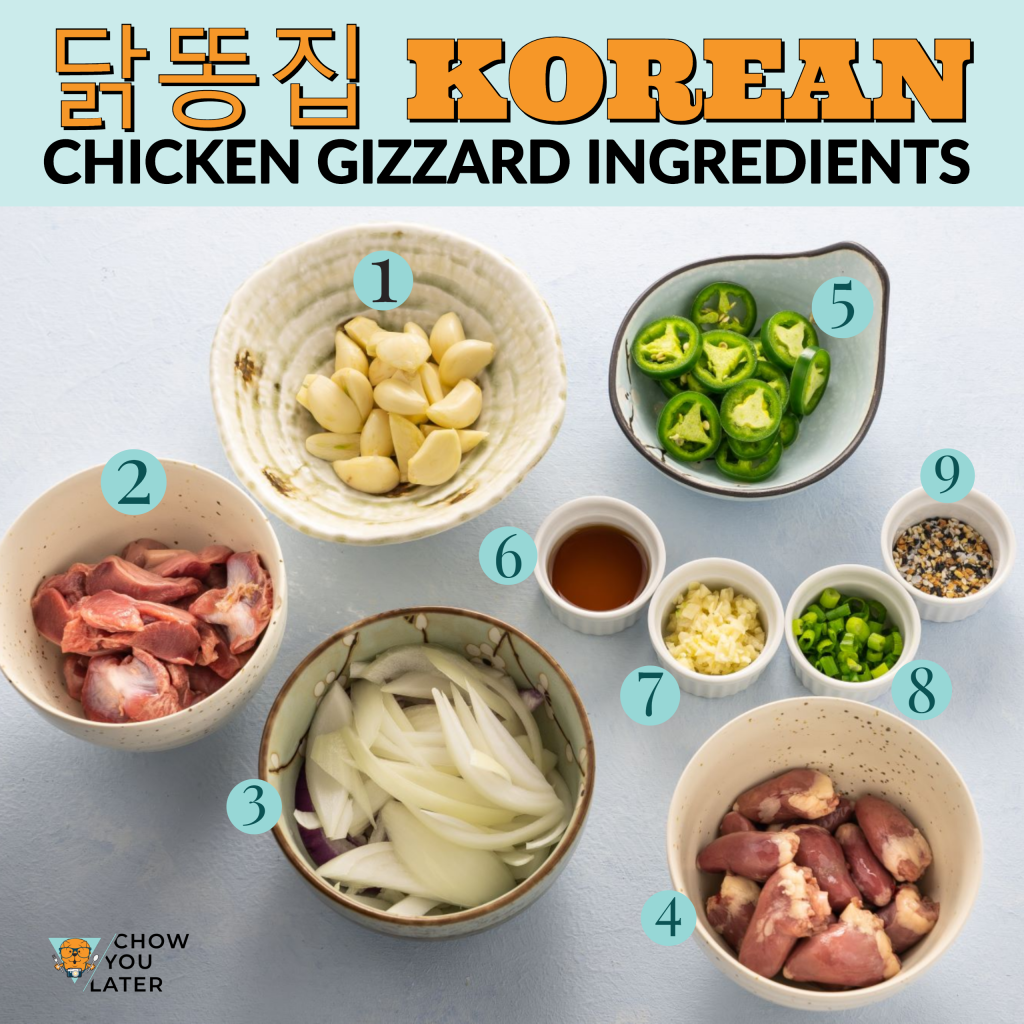 Garlic
Chicken Gizzard
Onion
Chicken Heart
Jalapeno
Minced Garlic (Garlic Powder can be substituted)
Scallions
Looking for other dishes to pair with your Chicken Gizzard Stir Fry? Check out my Cauliflower Fried Rice.
Gizzard Sauces: Choose Wisely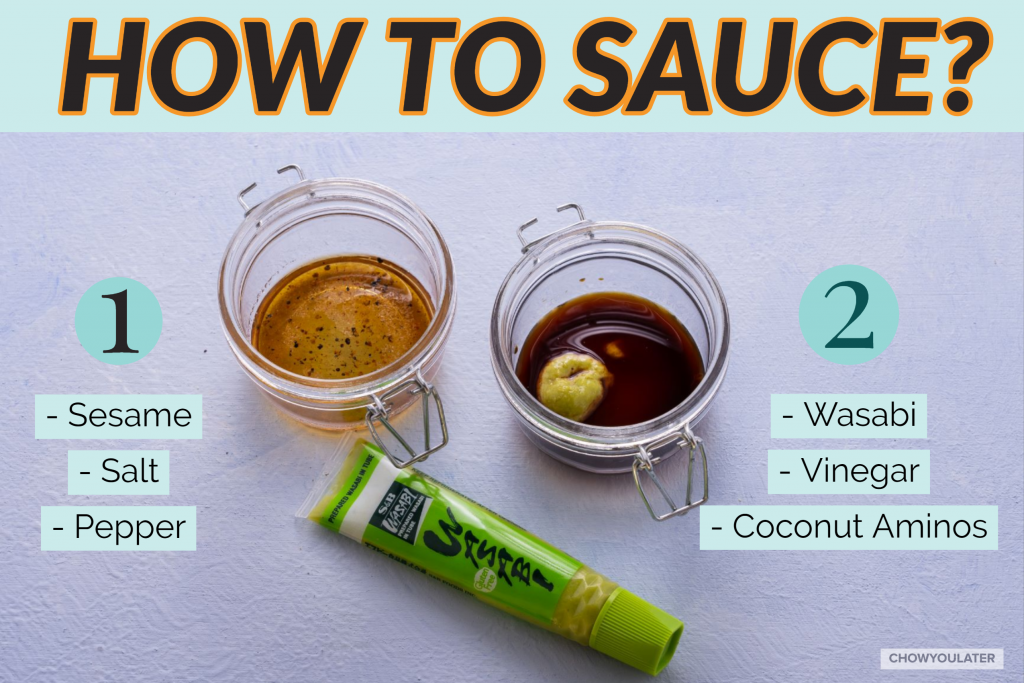 Just kidding. You can do both if you like. It really depends on your personal preference. For me, I tend to side with the wasabi mix. It adds a little extra kick but the good old, sesame oil mix isn't bad either. You can even eat it with your favorite hot sauce such as Sriracha, Tabasco, or Frank's Hot Sauce.
Korean Chicken Gizzard Stir Fry (Dak Ddong Jjip)
Korean Chicken Gizzard Stir Fry (Dak Ddong Jjip)
Dare to be different? This recipe uses chicken gizzard and hearts. Even better is that they're keto and low in carbs.
Equipment
Soup Pot (for boiling)

Frying Pan or Wok
Ingredients
Protein & Veggies
5

oz

Chicken Gizzard

5

oz

Chicken Heart

½

whole

Onion

10

whole

Garlic Cloves

1

whole

Jalapeno
Chicken Marinate
1

tbsp

Garlic, minced

Garlic Powder can be substituted

1

tbsp

Sesame Oil
Instructions
Cleaning the Chicken
Cut the gizzard and hearts into bite sized pieces. Remove any membrane.

Add gizzards and hearts to a bowl. Fill it up with cold water. Mix with 2 tablespoons of baking soda or flour and scrub any sediments and dirt off. Rinse a few times or until water is clear.

In a pot, fill it up with water. Add a pinch of salt and turn heat high. Bring to a boil. Once water comes to a rolling boil, add the chicken gizzard and hearts. Boil between 5-7 minutes. Then strain chicken and run in cold for a few minutes to cool it down.
Marinate the Chicken
Now that the chicken gizzard and hearts are cleaned and partly cooked, we will marinate them. Move the gizzard and hearts to a bowl, pour 1 tbsp of sesame oil and minced garlic over the gizzard and hearts. Add in a pinch of salt and black pepper. Mix together. Let it set to absorb the flavors.
It's Stir Frying Time!
In a frying pan or wok, heat it to medium. Let it warm up (about 2 minutes). Pour in 1 tbsp of cooking oil, add in the veggies: Minced Garlic, Garlic Cloves, Jalapenos, and Onions. Let it cook for about 3 minutes or when onion begins to brown. Stir occasionally.

Add the marinated chicken gizzard and hearts. Increase heat to medium-high. Stir in with the veggies and cook for another 2-3 minutes or when chicken becomes golden brown and crispy. Then your stir fry is ready.

Note: If you like your meats and veggies a little charred, then you can increase the heat to high. If you dislike burnt parts, then you can reduce heat.
Toppings
Transfer the stir fry to a plate. Distribute chopped scallions and Everything Bagel Seasoning evenly over stir fry.
Notes
Nutrition info is approximate using the sparkpeople.com recipe calculator, and the carb count does not count sugar alcohols. It is your responsibility to check the accuracy of all nutritional facts posted here, especially if you have a medical condition, in which case you should consult with your doctor before using any of the recipes.
Nutrition
Calories:
341.3
kcal
|
Carbohydrates:
9.3
g
|
Protein:
24.2
g
|
Fat:
20.6
g
|
Saturated Fat:
4.2
g
|
Polyunsaturated Fat:
6.2
g
|
Monounsaturated Fat:
8.7
g
|
Cholesterol:
189.3
mg
|
Sodium:
447.8
mg
|
Potassium:
327.4
mg
|
Fiber:
1
g
|
Sugar:
1.6
g
Nutrition Facts
Korean Chicken Gizzard Stir Fry (Dak Ddong Jjip)
Amount Per Serving
Calories 341.3
Calories from Fat 185
% Daily Value*
Fat 20.6g32%
Cholesterol 189.3mg63%
Sodium 447.8mg19%
Potassium 327.4mg9%
Carbohydrates 9.3g3%
Protein 24.2g48%
* Percent Daily Values are based on a 2000 calorie diet.
LOOKING FOR UPDATES? Subscribe to my email list and/or follow me on Instagram, Pinterest, and Facebook.