Keto snacks. Aside from nuts, berries, and pork rinds there's not much of them. I feel the pain and here I've got the solution to stir things up a bit. My Italian Keto Sausage Balls recipe will do the trick! These are perfect for Netflix binging or as an appetizer prior to the main entree. Ya'll have to check it out!
Last updated: March 17, 2020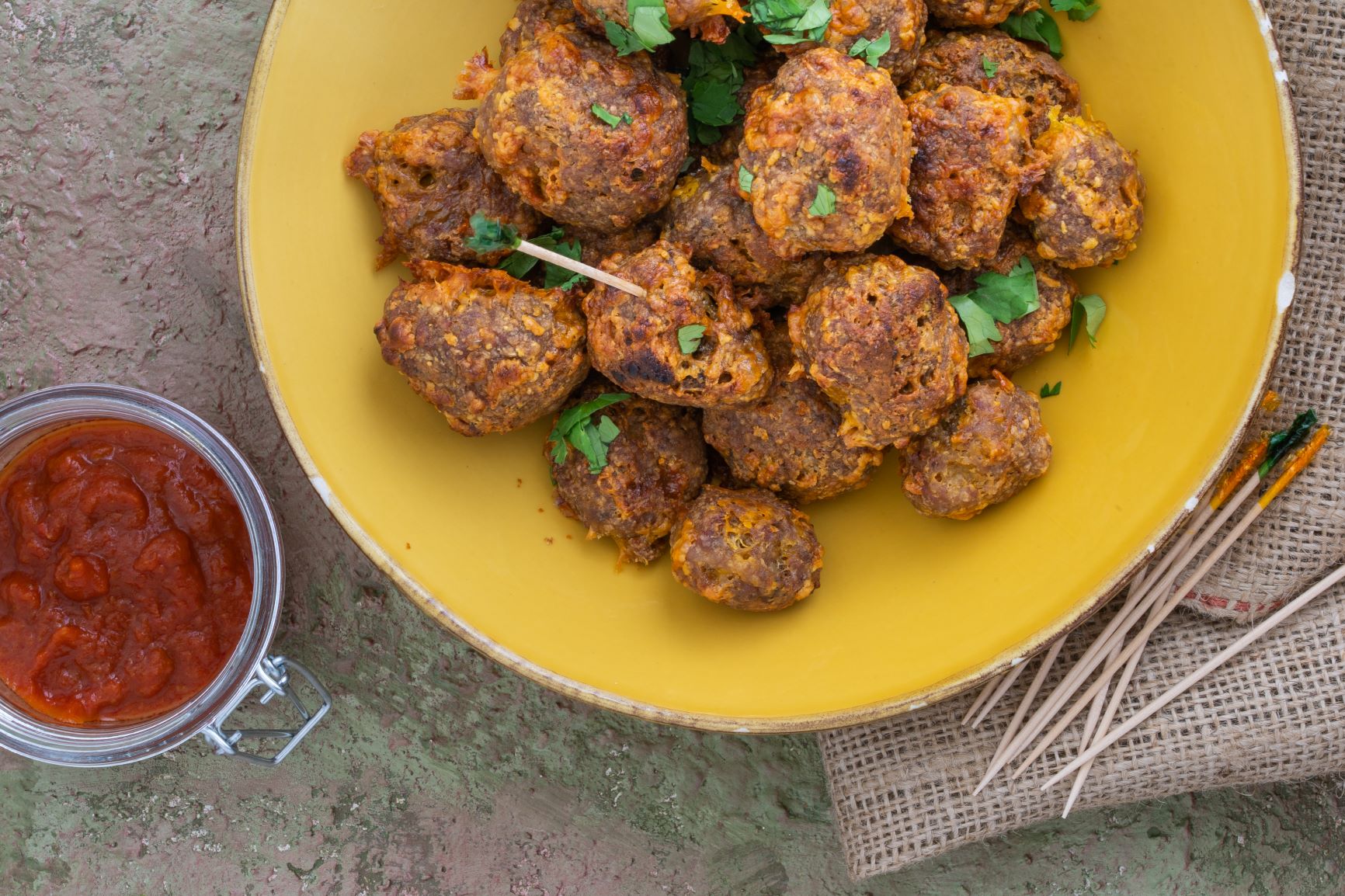 This post may contain affiliate links which means that if you choose to make a purchase, I will earn a commission. This commission comes at no additional cost to you as it helps support my page which is much appreciated!
How do you serve them?
As mentioned, these keto sausage cheeseballs can be served in almost any situation making them very versatile for any time of the day. They can be served as an appetizer, watching your favorite sports team, or even as a snack on the go since they hold up pretty well the next day.
As an appetizer, I recommend it to come before to a keto pasta dish or roasted chicken served with a light, crisp salad to balance things off.
Toppings and Dipping Sauce for Keto Sausage Balls
I'm a huge herbs guy. I always like adding some kind of herbs to my dishes as it adds another layer to the flavor. With that said, I recommend it with basil or parsley. The addition of these two will take the keto sausage balls to another level.
As for the dipping sauce, I can't think of a better match than tomato sauce. I happened to have some Rao's Pizza Sauce leftover in the fridge and once I tried it with the sausage balls I couldn't imagine pairing it with anything else! It reminded me of mozzarella sticks and marinara sauce. I haven't tried with other sauces but it's not uncommon to have them with ranch dressing, low carb honey mustard, or buffalo wing sauce.
What else goes well with sports? Check out my Keto Pizza Recipe!
What You'll Need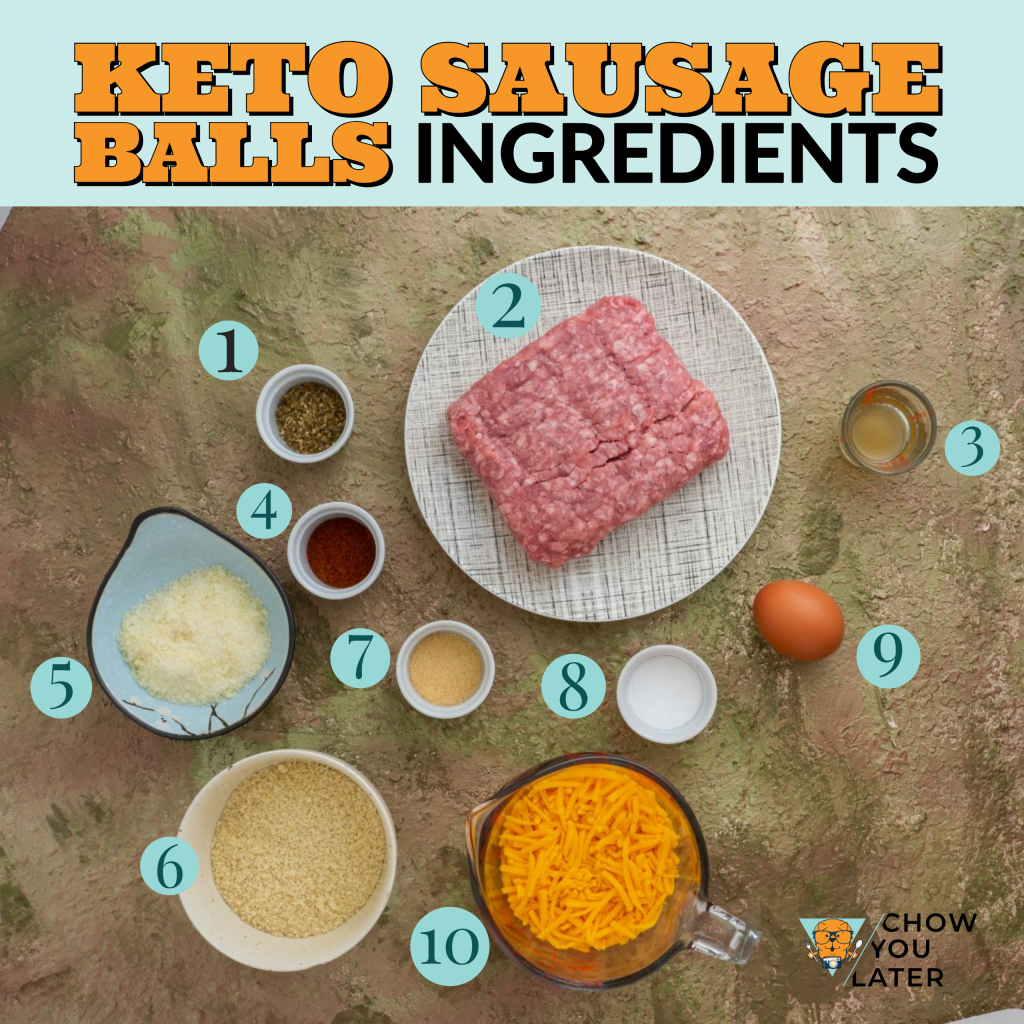 Oregano
Ground Pork
Apple Cider Vinegar
Paprika
Parmesan Cheese
Almond Flour
Garlic Powder
Baking Powder
Egg
Cheddar Cheese
Some Tips
You can choose either parchment paper or aluminum foil. Both have their pros and cons. If you go with parchment, the sausage balls will not stick but won't be as crispy. With the aluminium foil, they will be more crispy but will stick to the foil.

A trick to remove the balls from the foil easier, is to wait for the cheese surrounding the balls to cool down. It will be easier to remove then.

If you want it to be more cheesy, you can easily make keto sausage balls with cream cheese using this existing recipe. Just add 6 ounces of cream cheese on top of the 2 cups of cheddar cheese and 2 oz of parmesan.
If you're not a fan of the keto sausage balls almond flour combo, you can use coconut flour in place. Keep in mind these flours have different properties so if you're going to sub in the coconut flour, do:

Use 1/3 cups of coconut flour instead of 1 cup of almond flour.
Use 2 eggs instead of 1 egg.
Coconut Flour tends to absorb liquids so add a quarter cup of water to the recipe. If you find, it's still dry add more water.
Spicy Italian Sausage Keto Balls
Quick and easy sausage balls for the keto-er trying to lose weight!
Equipment
Oven

Oven Pan

Icecream Scoop (Optional)

Basting Brush (Optional)
Ingredients
Protein
1

lb

Ground Pork

2

cups

Sharp Cheddar Cheese

2

oz

Parmesan Cheese
Instructions
Preheat oven to 350 F°. Line Oven Pan with aluminium foil or parchment paper. Brush olive oil onto pan.
Mixing it all up and Forming Balls
Move the ground pork to a large bowl and crack an egg over it. Then add in the almond flour, cheddar cheese, parmesan cheese, baking powder, garlic powder, oregano, paprika, Apple Cider Vinegar, salt, and pepper.

Your bowl should look like below once everything has been added.

Mix everything them up with your hands by kneading, sculpting, squeezing.

Pro Tip: Use gloves if you don't want to get your hands dirty.

Once mixed, it should look like below.

Grab about 2 tablespoons full of the mix and roll into the size of a gold ball. Depending on the size of the sausage balls, this recipe yielded me about 26 pieces. Place them neatly on the oven pan.

Note: You can use an icecream scoop but I just used my hands.
Oven Time
Once all of the balls have been placed on the oven pan, move the pan over to the oven. Bake for about 10 minutes and flip them over, then bake for another 10 minutes. After about 20 minutes, balls are ready for plating.

Pro Tip: If you want them more crispy, switch oven to broil and leave in oven for another 2 minutes.
Toppings and Dips
You can garnish with parsley or serve just the way it is. A dipping sauce I like is with low carb tomato sauce. Enjoy!
Notes
Nutrition info is approximate using the sparkpeople.com recipe calculator, and the carb count does not count sugar alcohols. It is your responsibility to check the accuracy of all nutritional facts posted here, especially if you have a medical condition, in which case you should consult with your doctor before using any of the recipes.
Nutrition
Serving:
5
pieces
|
Calories:
480.8
kcal
|
Carbohydrates:
4.8
g
|
Protein:
28.6
g
|
Fat:
40.2
g
|
Saturated Fat:
7.9
g
|
Polyunsaturated Fat:
4
g
|
Monounsaturated Fat:
13.4
g
|
Cholesterol:
125.4
mg
|
Sodium:
344.4
mg
|
Potassium:
567.2
mg
|
Fiber:
2.3
g
|
Sugar:
0.8
g
Nutrition Facts
Spicy Italian Sausage Keto Balls
Amount Per Serving (5 pieces)
Calories 480.8
Calories from Fat 362
% Daily Value*
Fat 40.2g62%
Monounsaturated Fat 13.4g
Cholesterol 125.4mg42%
Sodium 344.4mg15%
Potassium 567.2mg16%
Carbohydrates 4.8g2%
Protein 28.6g57%
* Percent Daily Values are based on a 2000 calorie diet.
MADE THIS RECIPE?
Lets see it! Tag @chowyoulater on Instagram or Twitter and hashtag it #chowyoulater
LOOKING FOR UPDATES? Subscribe to my email list and/or follow me on Instagram, Pinterest, and Facebook.