When you've run out of keto recipes or meals has become boring, here's a keto sardine recipe that will instantly change up the routine. The best part is, a lot of these items are already lying around the pantry. It's quick, easy, and under 5 gram of net carbs!!! This one's perfect for dinner on any hot day.
Last updated: June 29, 2020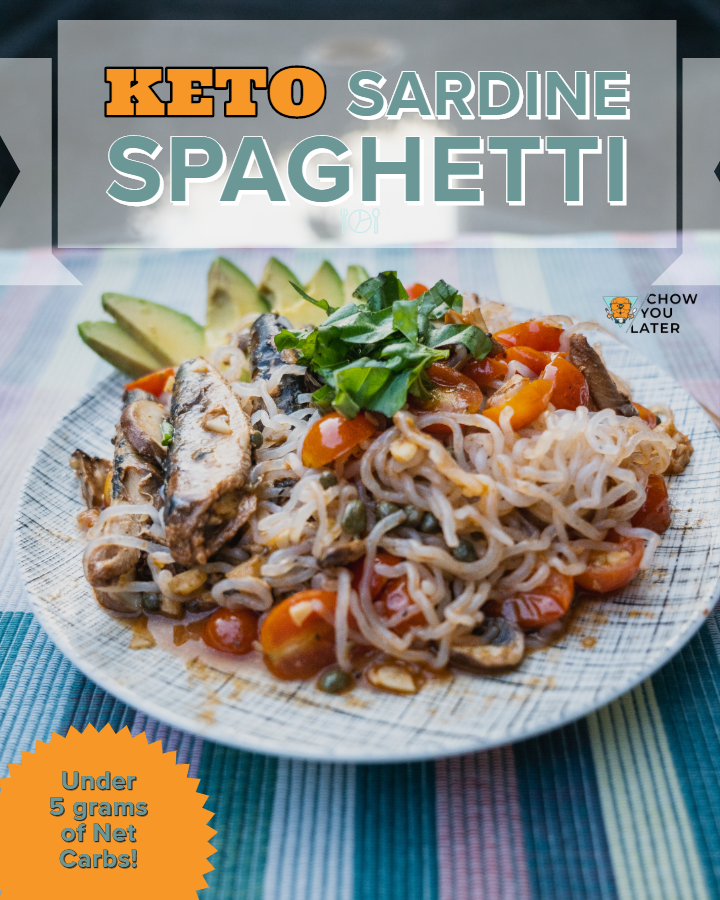 This post may contain affiliate links which means that if you choose to make a purchase, I will earn a commission. This commission comes at no additional cost to you as it helps support my page which is much appreciated!
Quick Links
Why Canned Sardines?
Sardines carry a distinct flavor I've found to compliment pasta very well. How often do you see sardines served in tomato sauce? Quite often actually. Tuna is another common fish most use but my only concern with it is its lack of fat. If you're on a more conventional diet, then Tuna would be the fish of choice but here we're trying to get in our fat and carbs. Sardines, have those nutrients we're looking for. The ones I've used, Wild Planet Sardines in Marinara Sauce, has 12 grams of fat and 21 grams of protein.
Are Sardines Keto Friendly?
With that said, sardines are very much keto friendly. Much more friendlier than tuna and any other variety. If you check out my Keto Diet Grocery List, you'll find canned Sardines are one of the better options for going on keto since it boasts a high level of fat.
Want to see other keto friendly ingredients? Check out my Keto Grocery Shopping Guide.
Can Canned Sardines be cooked?
In actuality, the sardines in the cans are already cooked. You can eat these as they are but most would prefer to have them heated. However, always make sure you read the labels as there are always exceptions. Because they've been cooked, my recipe does not need them to stay in the frying pan for a long period of time. Just a few minutes will do.
Keto Sardines in oil or water?
Since canned sardines are all just about the same in price range. If you're on a budget, you might as well get the sardines in oil since, again, there are higher levels of fat. It also saves you some change and more in the long run. This way, you won't have to supplement the oil in other ways. Case and point, when we compare:
In this event, you will see that having the sardines in oil adds an extra 3 grams of fat!
Why Shirataki Noodles?
The objective of keto is having a low carb diet. Since that is the name of the game, the recipe was created in mind to keep carbs as low as possible. I've had my fair share of these konjac noodles and these are the closest I've found to spaghetti. I can't imagine using any other low carb substitute (such as zucchini noodles) as they do not carry the same texture and consistency. The closest I've found to actual spaghetti has been shirataki noodles and the best part is they carry no carbs!
Want to get rid of the smell of Shirataki Noodles? Check out how to cook Shirataki Noodles.
How to make Keto Sardine Pasta
Things you'll need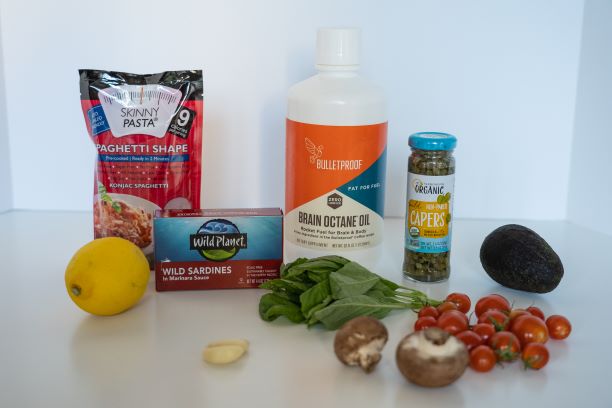 Keto Sardine Pasta
This keto sardine recipe is great for when you need something quick and easy with ingredients lying around the house.
Ingredients
Instructions
Cook Shirataki Noodles
Follow the package instructions. If not, I can show you how to cook shirataki noodles.Note: I found that one package may not be enough for noodle lovers. If you love noodles I suggest getting two packages or 4 servings of shirataki noodles for 2 people.
Gather all the Ingredients
Slice the Crimini Mushrooms. Mince the Garlic. Halve the cherry tomatoes. Chop the basils. Drain the capers.
Prep the Sauce
In medium heat, warm the frying pan. After a minute, drizzle about a teaspoon of oil. Add minced garlic and cherry tomatoes. Cook tomatoes for about 2 minutes or until the skin softens and wrinkles.

Move veggies to the side. Add in Sardines, mushrooms, and capers. Let it heat up and break apart. Mix with veggies.

Add Shirataki Noodles. Stir for about a minute. Keto Sardines Pasta is now ready.

Pour MCT oil for additional fat. Garnish with Basil and/or chili pepper flakes as desired. Place avocado slices on side of plate. Squeeze lemon wedges as desired
Notes
Nutrition info is approximate using the sparkpeople.com recipe calculator, and the carb count does not count sugar alcohols. It is your responsibility to check the accuracy of all nutritional facts posted here, especially if you have a medical condition, in which case you should consult with your doctor before using any of the recipes.
Nutrition
Calories:
253.7
kcal
|
Carbohydrates:
9.4
g
|
Protein:
13
g
|
Fat:
19.8
g
|
Saturated Fat:
9.7
g
|
Polyunsaturated Fat:
0.9
g
|
Monounsaturated Fat:
4.2
g
|
Cholesterol:
30
mg
|
Sodium:
377.5
mg
|
Potassium:
335.2
mg
|
Fiber:
5.6
g
|
Sugar:
1.3
g
Nutrition Facts
Keto Sardine Pasta
Amount Per Serving
Calories 253.7
Calories from Fat 178
% Daily Value*
Fat 19.8g30%
Cholesterol 30mg10%
Sodium 377.5mg16%
Potassium 335.2mg10%
Carbohydrates 9.4g3%
Protein 13g26%
* Percent Daily Values are based on a 2000 calorie diet.
MADE THIS RECIPE?
Lets see it! Tag @chowyoulater on Instagram or Twitter and hashtag it #chowyoulater
LOOKING FOR UPDATES? Subscribe to my email list and/or follow me on Instagram, Pinterest, and Facebook.