So your Instagram is seeing lots of hits and follows. Congratulations! You deserve a pat on the back for that. Everyone loves your drool-inducing pictures and you've developed a pretty good following. The next logical step is meeting others just like yourself and working with local and national restaurants. Zipkick is the answer you've been looking for.
Last updated: May 3, 2020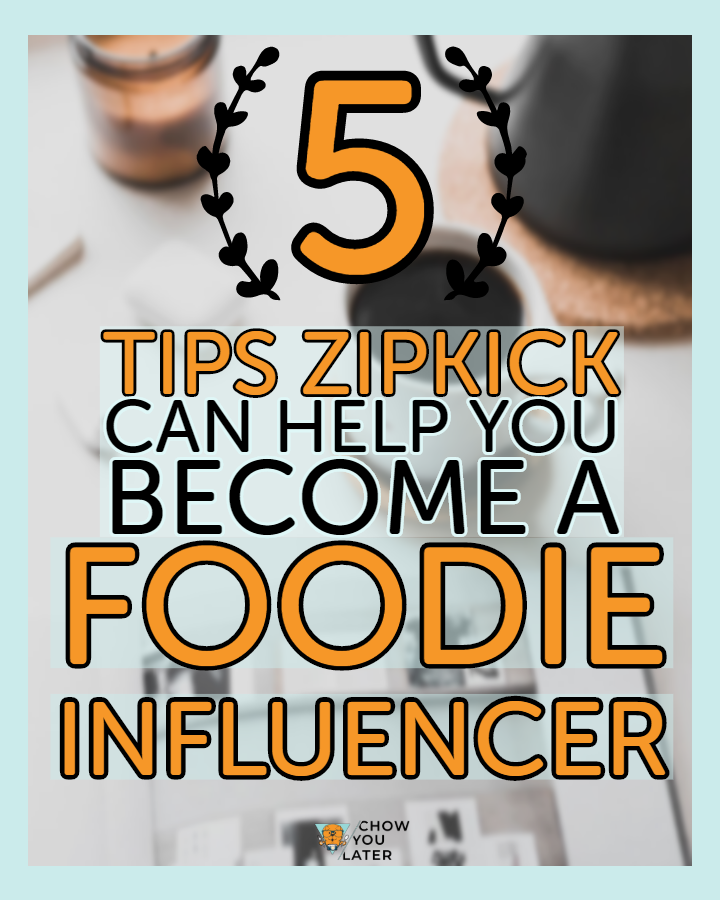 Before we go on ahead, I have a special guest today I've reached out to help me with your food influencing endeavors. The best person I've found is my friend, Emman Damian, from the Philipines specifically from Makati City which is part of Manila.
He runs an award-winning restaurant review blog where he gets to meet, greet, and dine at some of the best restaurants in the Philipines. Sounds like a dream job 🙂 He's also a Zipkick Ambasaddor who knows a few things about being a Foodie Influencer. If you want more information about him, visit his blog at The Tennis Foodie. With that said, let's answer a few questions about the exciting opportunities at Zipkick and how it can help your Foodie Instagram account. In this post, Emman and I will be going back and forth conversation style.
What is Zipkick?
"In my own words, it's a platform that curates great photos and reviews from foodies around the world. Majority of the members are from US but other countries are well represented too. I established the group in the Philippines. I hope it grows soon. [Being a Zipkick influencer is] someone who imbibes the values of Zipkick. A foodie that shares his or her authentic reviews and feedback on brands and restaurants around his/her city." – Emman
"Emman is absolutely right. I want to add that Zipkick bridges the gap between foodie influencers and both local restaurant owners and national businesses. It's a wonderful way to get involved with the foodie community. With Zipkick, you get the middle person who introduces you to countless networking events." – Rich
How do I become a Zipkick Foodie Influencer?
"You have to apply through a referral link or direct link via the website. It's simple. The instructions are easy to follow." – Emman
"Yes, the application is very simple and straight forward. All you really need is an active Instagram account. By active, I mean a quality account that posts often with a decent following. From my experience, if you put in a referral code it can expedite the process a little faster. My code is RU3 and Emman's is ED3. Feel free to use our codes." – Rich
How to use Zipkick?
"Once your application has been accepted you will begin seeing Brand Opportunities or campaigns emailed to you. These campaigns will be Zipkick partnered companies (such as McDonalds, UberEats, and many other local establishments) who may have a grand opening, new food menu/item, or just want their name out there. Typically, the way it works is the restaurant or food manufacturer gives you a freebie or invites you to events. In return, you post about their product on Instagram. More about that later." – Rich
"It's very active right now on Instagram. I think the app is under revamp now. You can also use the app to link your reviews." – Emman
How does Zipkick work?
"It's basically a community where you share your insights and honest feedback regarding some restaurants or food brands you handled. It will be shared via the app or through Instagram. You get to showcase your work to the foodie community worldwide." – Emman
"Once you receive an email to register with the Brand Opportunity campaign, you will be debriefed with logistics such as deadlines, addresses, objectives of the project, etc which looks like this: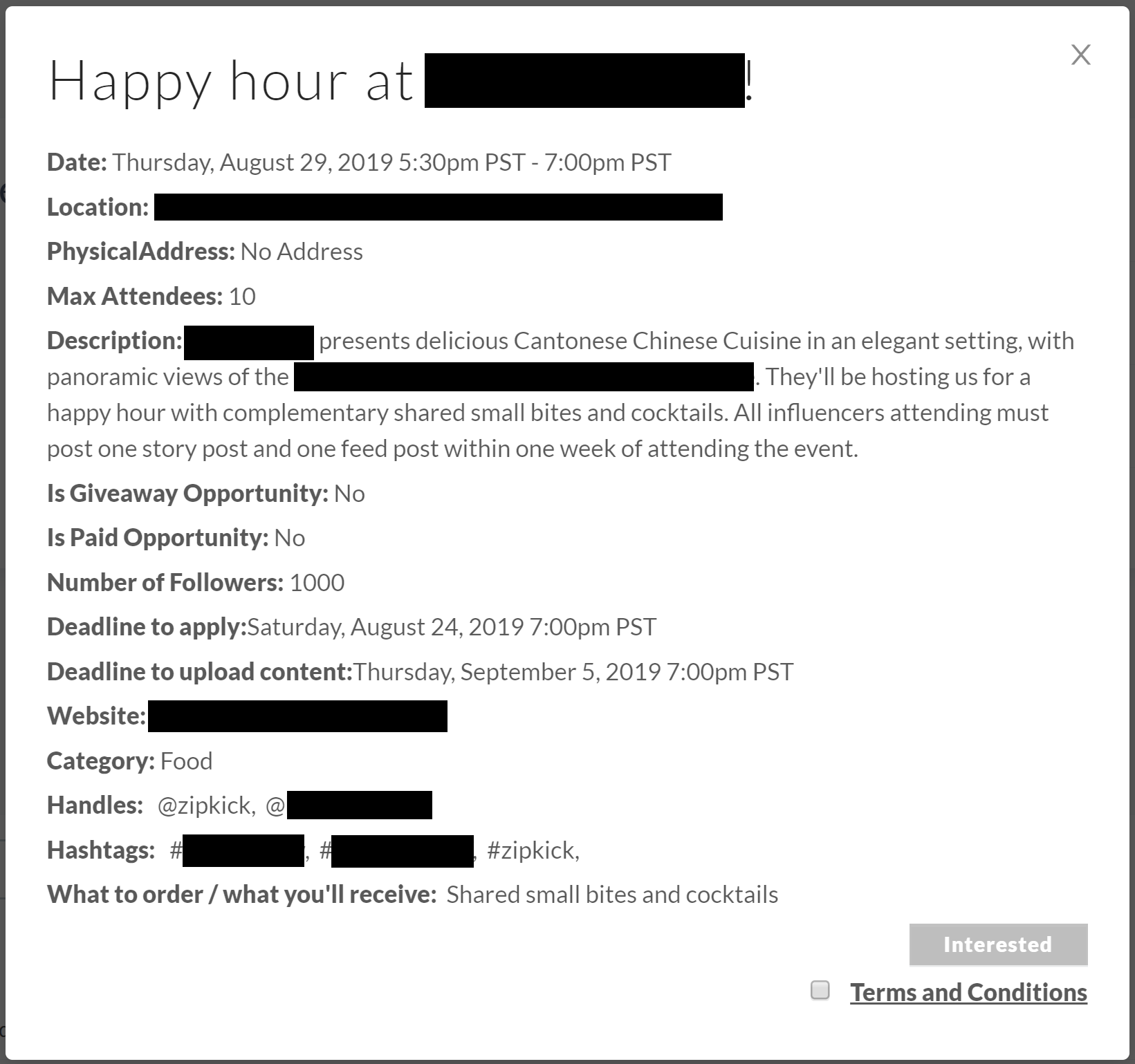 If interested, check off the Terms and Conditions and click the Interested button. Your registration is then sent and you should hear back within a few hours of your status. It's pretty fun." – Rich
Do I have to be a Zipkick Foodie Influencer to Participate in the Campaigns?
"Yes! It's a fun community. You can share your yummy posts to other members. You get to collaborate with them too. I met a lot of people through this platform. It's a good way to look for opportunities too." – Emman
"The only way to participate in these events is to be a Zipkick influencer so yes, you have to join in order to reap the rewards. There are so many reasons to join, I can't think of why you shouldn't." – Rich
How much does Zipkick cost?
"It does not cost anything. It's a membership only platform so make sure you apply for it. My pro tip is to just work on your IG feed. Post yummy and authentic photos. It should do the trick." – Emman
"Ditto that. Zipkick costs nothing to join. It's totally free." – Rich
How I can meet other Foodie Influencers through Zipkick?
"Earlier, I mentioned a brand opportunity campaign. There are going to be some local events such as a restaurant grand opening. If you are selected to go, then you will get a chance to meet other Zipkickers. My pro tip is to take lots of photos, enjoy the complimentary foods, and have the time of your life. If your schedule is hectic, then another option is through Engagement Groups found on Zipkick's website upon log in. This feature allows you to interact and find other Zipkickers online." – Rich
I just started, is Zipkick right for me?
"The beauty of Zipkick is the number of resources available. As mentioned earlier, there is the Engagement Groups where others can help you develop your Instagram account and boost your engagement rate. Then there's also a roadmap of badges to earn which makes it perfect for newbies. Emman can go over a little more on how Zipkick has helped him early on." – Rich
"Zipkick is right for you because it's a great community of food photographers, stylists, foodies and other food enthusiasts. It helps you share your gastronomic experiences and creative juices. The platform helped me reach my goals and linked me to different opportunities." – Emman
Why would I want to earn badges and become a Zipkick ambassador? What are the perks?
"Having a Zipkick badge as influencer or ambassador cements your credibility as a Trusted Foodie. It also enables you to work on projects that are available. You get to meet great people too." – Emman
Let's summarize what we learned
In summary, Zipkick can help with your foodie influencer endeavors by:
Matching you up with both local businesses and national brands.
Networking you with local foodies and others around the world.
Helping you develop your Instagram Account with Engagement Pods.
Developing your Foodie Influencer milestones with a roadmap of achievements to reach or badges to earn.
Allowing opportunities to become a Zipkick Ambassador of your own network and agency by referring foodies, freelancers, and brands.
That's pretty much it! If you have other questions please send me a message or leave a comment below and either Emman or I will get back to you. If your question is commonly asked, we can update the blog post to counter anything we missed.
Found my article helpful? You should definitely check out How I Got 2000 followers fast because there are more components involved. And if you want to support my page, do subscribe and follow me on my social media handles at Instagram, Twitter, Facebook.