Whether you're watching a football game or just plain hungry, chicken wings makes a great snack to have. Here I show you how to make buffalo keto chicken wings as well as answer some of the web's most asked questions in relation to keto diet and chicken wings.
Last updated: March 17, 2020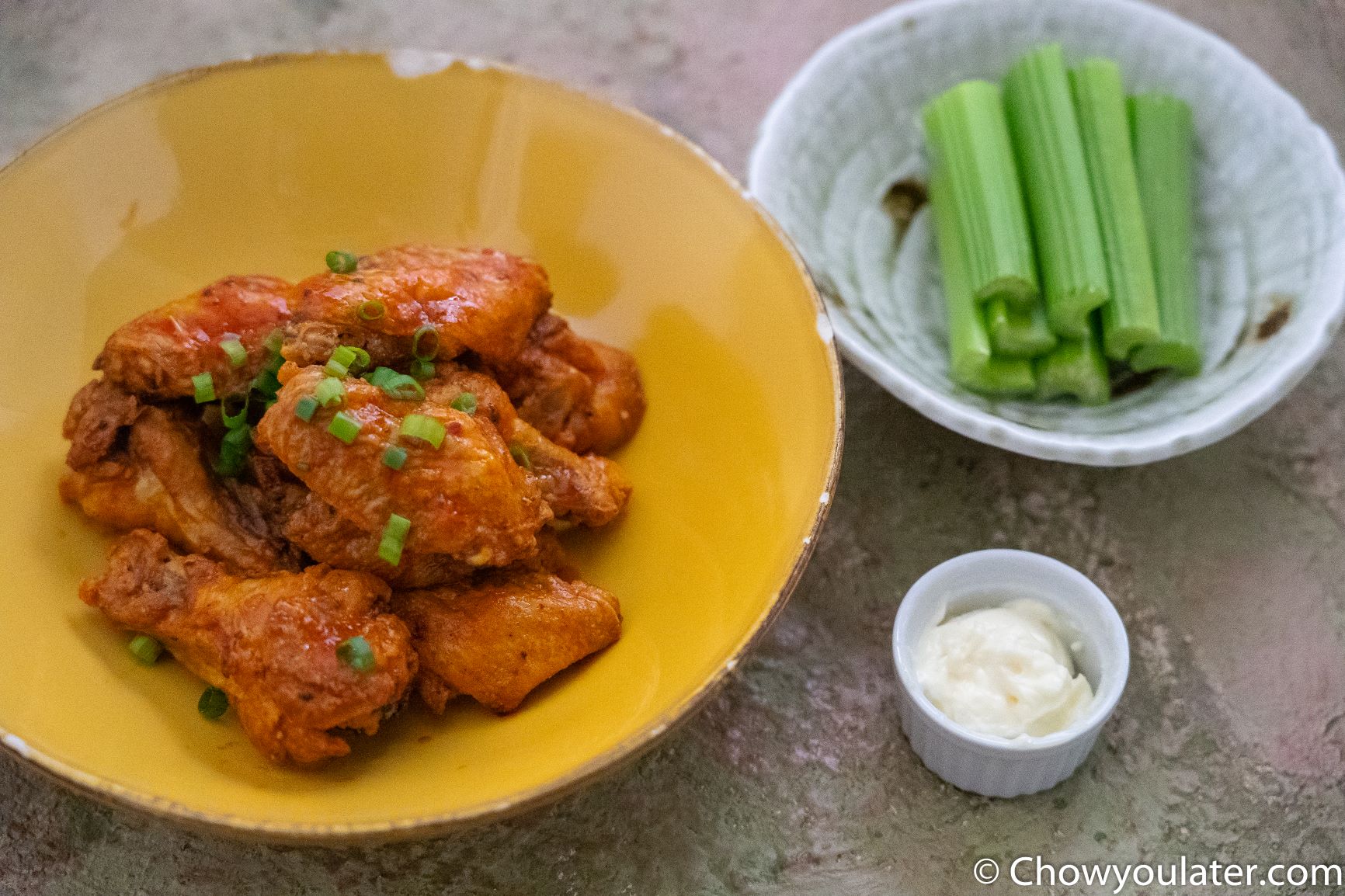 This post may contain affiliate links which means that if you choose to make a purchase, I will earn a commission. This commission comes at no additional cost to you as it helps support my page which is much appreciated!
Are chicken wings OK on keto?
Chicken Wings can be prepared in a variety of ways. It will depend on how they are made. If it's cooked with just dry seasonings then, yes it is OK for keto since most seasonings have no carbs. If they are breaded or deep fried, chances are they are not OK for keto since they tend to carry much higher carbs found in the breaded and flour ingredients used in the frying process. In addition, most sauces are not OK for keto with some exceptions such as hot sauce. If it's sweet, it's probably not keto. Always ask your server or cook just in case.
Check out my how to make buffalo chicken dip keto instructions.
Are Buffalo chicken wings Keto?
Traditionally, Buffalo Chicken Wings are unbreaded and fried in oil. Afterwards, they are tossed in a mix of hot sauce and butter. Since this is the case, buffalo chicken wings are very keto friendly as none of those ingredients are high in carbs. Add some blue cheese and it becomes even more keto friendly as it becomes richer in fat. Always check with the cook if the wings had any sugar added to it as some recipes call for it.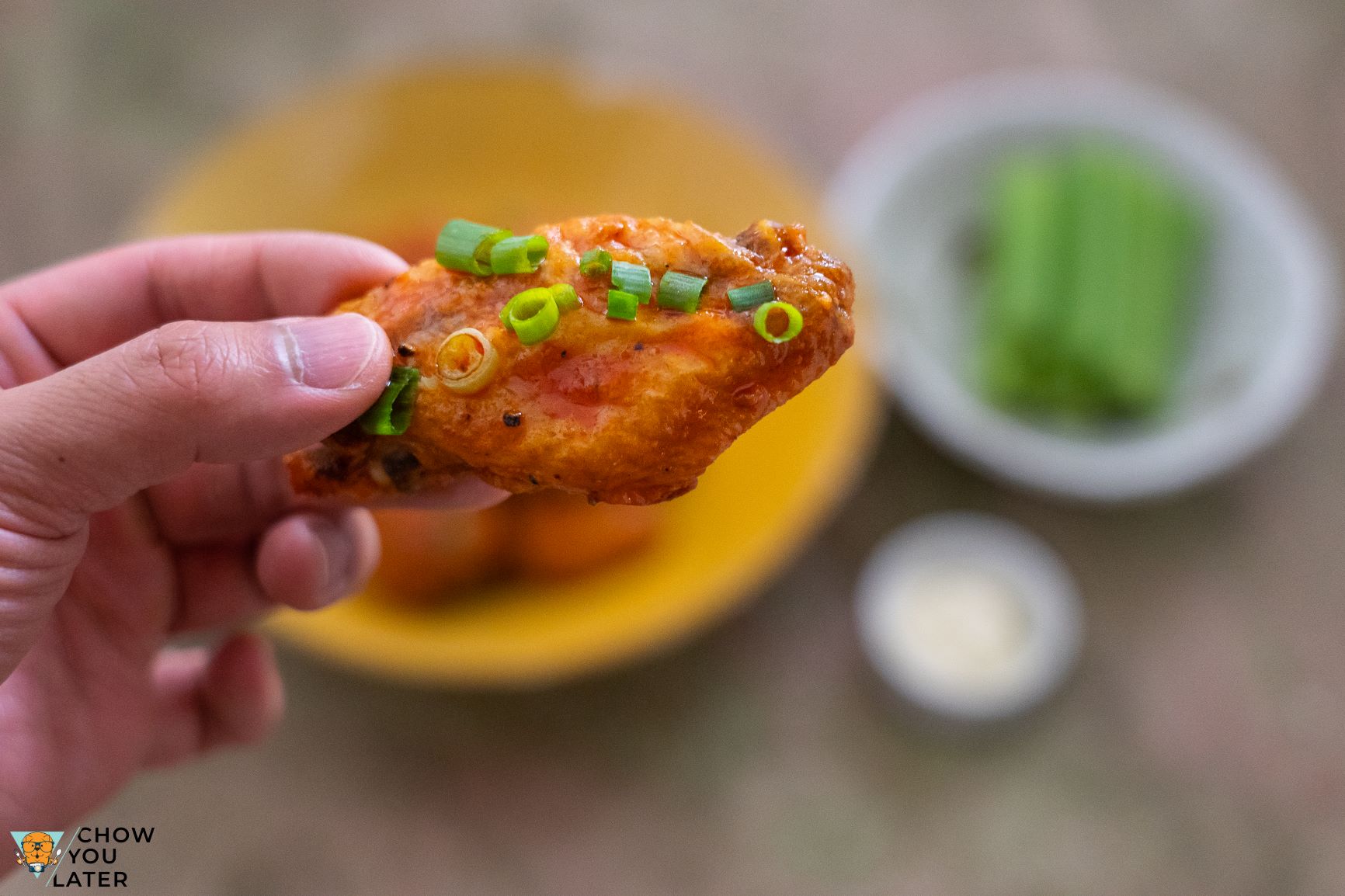 Are chicken wings carb free? How many carbs are in chicken wings?
Yes, by itself Chicken Wings are carb free.
There are zero carbs in chicken wings but only if the chicken wings are by itself, as in, free of any sauces, batter, or seasonings then yes chicken wings are carb free.
If you want to know what else are carb free, check out my Keto Grocery List Guide.
How to cut the chicken wings?
The great thing about the grocery store are the options you have. You can either purchase party wings or chicken wings. For the former, the wings have already been cut and sectioned off, but for the latter, we would have to cut the wings ourselves. It's actually pretty easy and it will save you some money.
What you want to do is cut the chicken wings into 3 sections known as the drumette, wingette (flat), and flapper. Typically for the buffalo wing style, the flapper isn't used (I would save these for another recipe as they make great stock). If you feel the joint at each connecting point of the wing, you'll notice two round bumps. The gap between these bumps is where you want to make your cut.
Here's a video I found very helpful.
How else can I prepare keto chicken wings?
The beauty about my recipe is you can literally swap out the buffalo sauce with anything else you like. In otherwords, instead of tossing the chicken wings in buffalo sauce, you can toss it in keto friendly BBQ Sauce, Thai chili, Spicy Garlic, etc. Just make sure to check the nutrition information to make sure they're low carb and that it fits your daily macronutrients.
How to make Keto Buffalo Wings
What You'll Need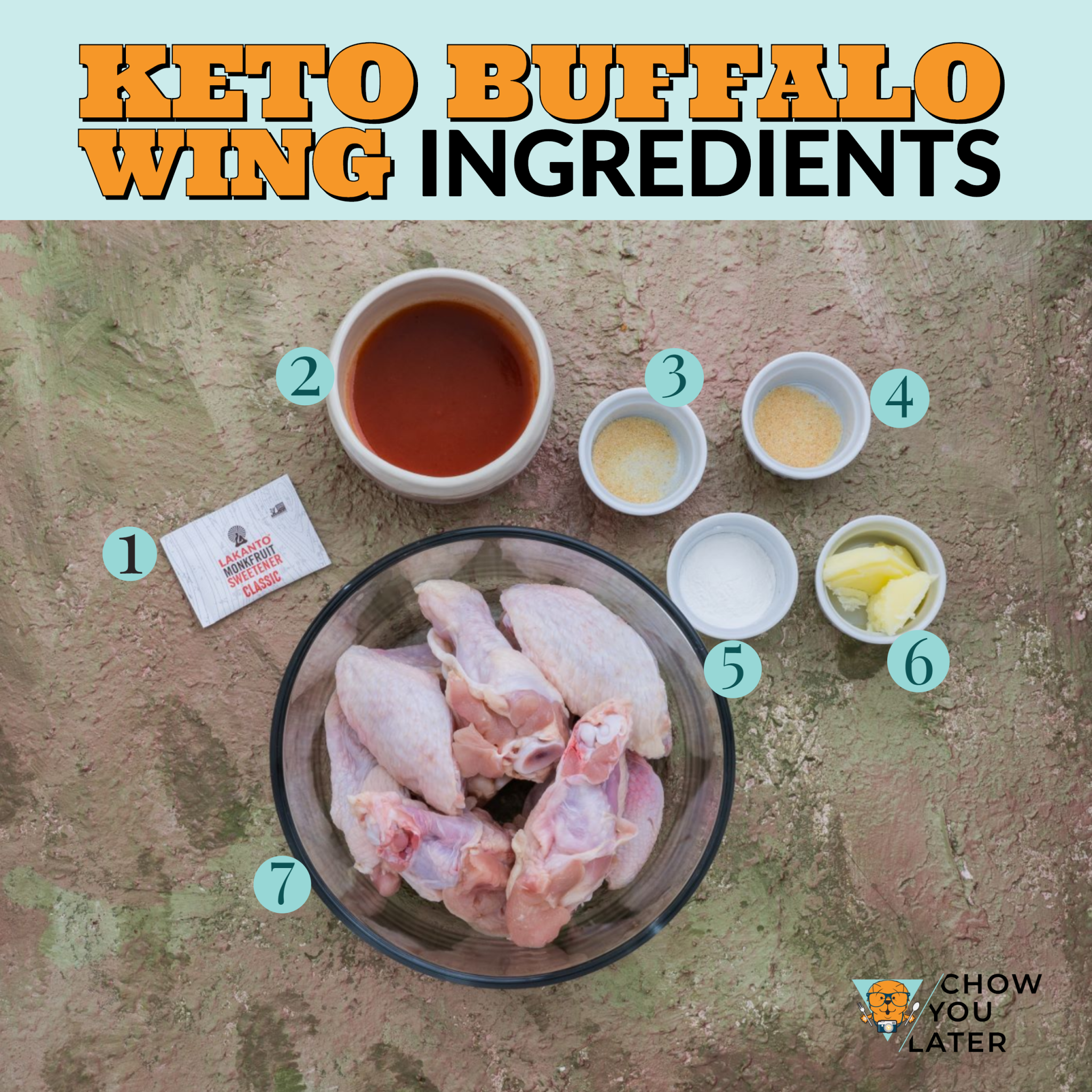 Garlic Powder
Onion Powder
Baking Powder
Chicken Wings
How to make buffalo chicken dip keto
Fortunately, it's very easy to make buffalo chicken dip keto. All you need are three main ingredients:
1 part Hot Sauce
1/2 part Butter
1/3 part Monk Fruit Sweetener
I always recommend Frank's Hot Sauce but you're welcome to use your favorite. I like Frank's simply for their longevity and for the fact they're carb free. Simply mix these three ingredients together and top it on the cooked wings. Toss the wings in a large bowl and you're done! That's it. Easy right?
Keto Buffalo Chicken Wings
My keto take of the famous Buffalo Chicken Wings. These are baked in garlic and onion flavors, then hand tossed in buffalo sauce.
Instructions
Preheat the oven to 400° F. Oven should be ready in about 5 minutes. Grab a large bowl and transfer chicken over.
Making the Chicken Wing Rub
In a large bowl, add the garlic powder, onion powder, and baking powder to chicken. Add in a pinch of salt, and black pepper. Mix and rub with hands to ensure the chicken wings are evenly coated with powder mixes.
Baking the Chicken Wings
Line an oven pan with a sheet of aluminum foil.

Place the dry rubbed wings onto the pan. Line them up one by one. Make sure to give them some space between one another. Move into the oven and heat for 45 minutes or until lightly golden brown.
Making the Buffalo Sauce
While the chicken is baking in the oven, we will make the buffalo sauce.

Mix together the hot sauce, monk fruit sweetener, and butter.

Pro tip: To get the butter to liquefy, microwave the butter for about 20-30 seconds.
Tossing the Chicken Wings
Once 45 minutes is up your chicken wings should look like this.

Remove the chicken from the oven and into a new large bowl.

Pour the Buffalo Sauce onto the chicken and toss in an upward motion until evenly glazed. You can use a spoon to mix if tossing is too difficult.

Pro tip: If you want to ease the tossing process, cover the bowl and shake the chicken in with the sauce.
Dressing and sides
Now that the chicken wings have been tossed, move them over to a large plate. Pair them with anything you like. They are commonly dipped in blue cheese or ranch dressing which are both keto friendly. Celery is also a nice addition.
Notes
Nutrition info is approximate using the sparkpeople.com recipe calculator, and the carb count does not count sugar alcohols. It is your responsibility to check the accuracy of all nutritional facts posted here, especially if you have a medical condition, in which case you should consult with your doctor before using any of the recipes.
Nutrition
Calories:
497.4
kcal
|
Carbohydrates:
3.5
g
|
Protein:
36.4
g
|
Fat:
37.7
g
|
Saturated Fat:
12.8
g
|
Polyunsaturated Fat:
0.3
g
|
Monounsaturated Fat:
2.2
g
|
Cholesterol:
170.7
mg
|
Sodium:
1785.8
mg
|
Potassium:
28.2
mg
|
Fiber:
0.2
g
|
Sugar:
0.1
g
Nutrition Facts
Keto Buffalo Chicken Wings
Amount Per Serving
Calories 497.4
Calories from Fat 339
% Daily Value*
Fat 37.7g58%
Cholesterol 170.7mg57%
Sodium 1785.8mg78%
Potassium 28.2mg1%
Carbohydrates 3.5g1%
Protein 36.4g73%
* Percent Daily Values are based on a 2000 calorie diet.
MADE THIS RECIPE?
Lets see it! Tag @chowyoulater on Instagram or Twitter and hashtag it #chowyoulater
LOOKING FOR UPDATES? Subscribe to my email list and/or follow me on Instagram, Pinterest, and Facebook.