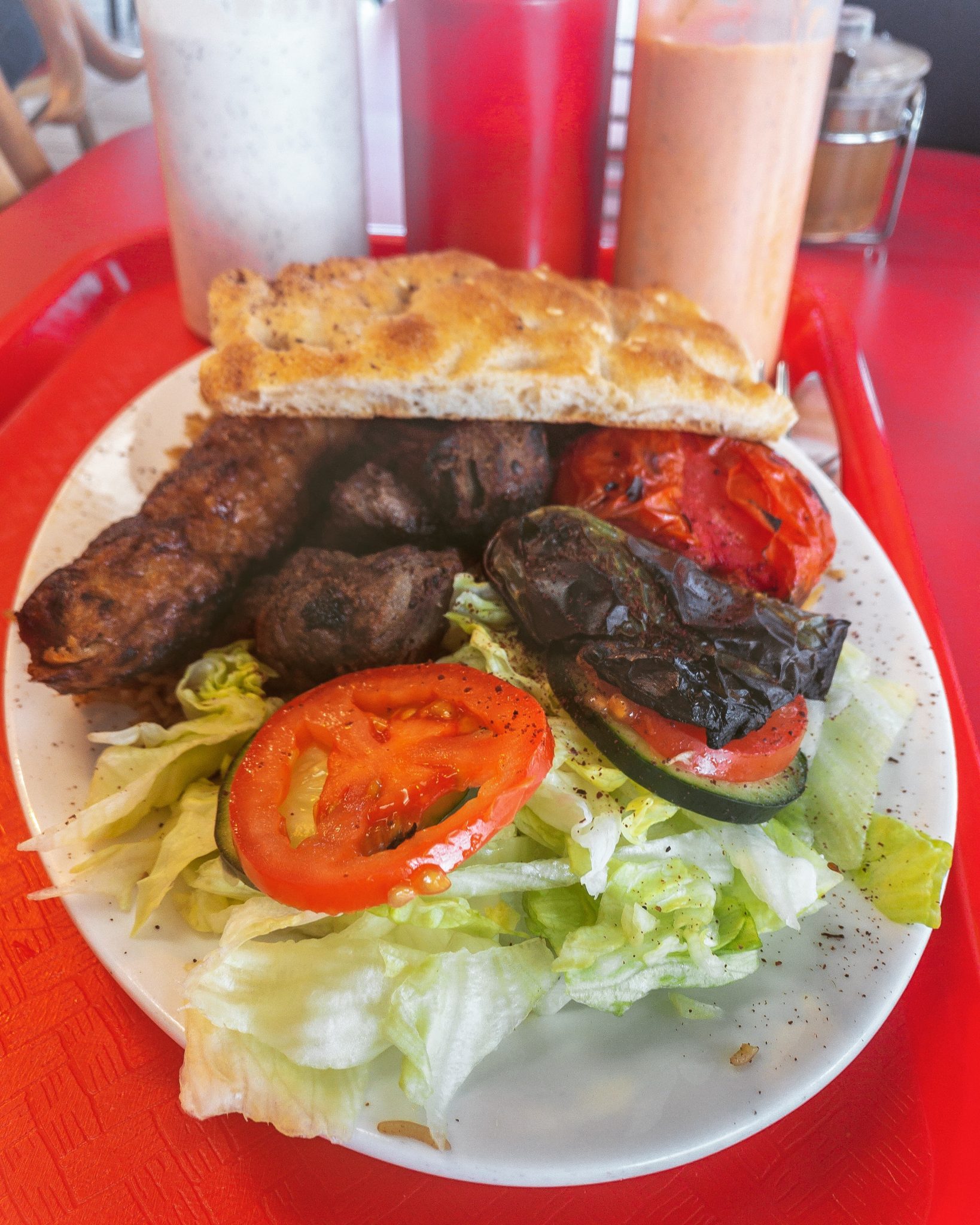 [4.04/5] I get around. By that, I mean I've been getting around restaurants for lunch hours. What I look for is the perfect mix of protein, veggies, and carbs without breaking the bank. Weekday lunches are key to staying healthy and disciplined for whatever diet/fitness/fiscal plan you're on. With all of that said, that mindset brought me to Halal Gyro Express.

Food (65%)
Taste to price 4.5/5
Quality to price 4.5/5
Portion to price 4.5/5
Average = 4.5
Service (20%)
Friendliness 3/5
Promptness 4/5
Average = 3.5
Cleanliness (15%)
Bathroom n/a
Dining area 2.5/5
Kitchen area 3/5
Average = 2.75
Overall Score = [F(.65)]+[S(.20)]+C(.15)]
= [2.93]+[0.7]+[0.41]
= 4.04
The Pluses…
+ Nice, visual MENU. As soon as you walk in to order, you'll see a huge colorful menu hanging up on the wall. Even better? The images are of their real dishes so there are no surprises. What you see is what you get.
+ Superb VALUE. I like to keep my lunches around $10-$12 so naturally my eyes will gravitate towards the entrees within that price range. By process of elimination, #7 1x LAMB TIKKA, 1x CHICKEN TIKKA, w/ RICE & SALAD is my go-to since it has a little bit of everything. At $10.99, that is a steal of a deal. There so much to like about this dish. Flavorful and packed with lots of Afghan spices.
+ They didn't have to do this but I found it a kind gesture of them to bring the food to you instead of yelling the number out at the counter for you to pick it up.
The Negs…
– Could be cleaner. At times when you walk in, there are people's leftover trays and plates on the table. The staff tries their best to keep it clean but it gets so busy they don't get the chance to.
– The FOOD TEMP could be hotter. It's happened more than once, so I'm pretty sure it's how they intend on serving it.
– Not really the restaurant's fault but the PARKING can get packed during lunch hours. I've seen people park on the Nicholson and walking over so you have to factor that into your time.
In Conclusion…
"Express" would be the perfect word I'd use to describe a restaurant like this. There's a NY feel to it but at the same time, it's embraced the Silicon Valley culture. The concept is simple. You go in, order your food, and go out. All set. Mission completed. No frills, thrills, spills or hassles. What you see is what you get. For that reason, Halal Gyro Express has become one of my go to restaurants for lunch.
#ChowYouLater