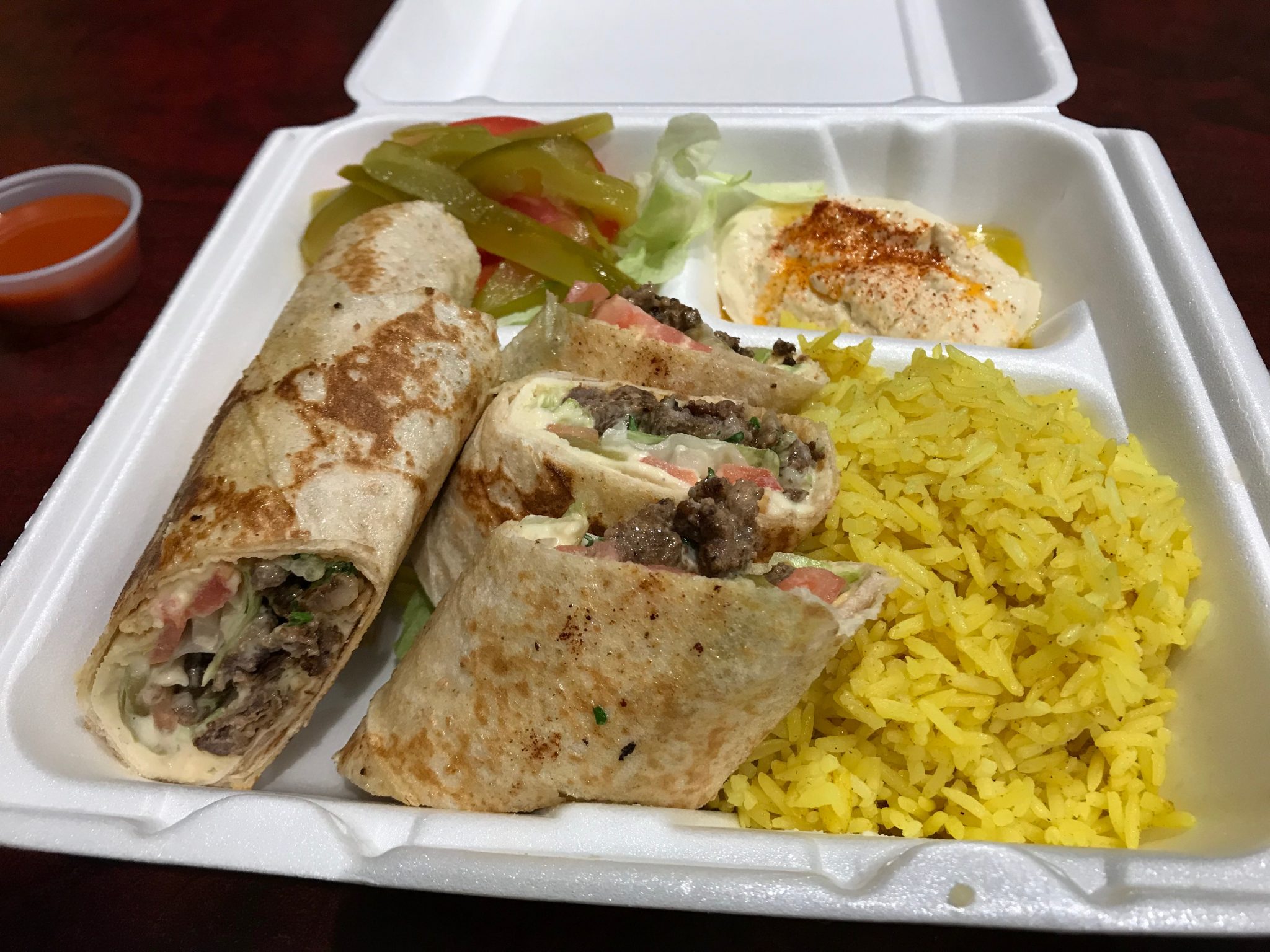 [2.83/5] What do you do when your go-to like the Super 88 Market Food Court is packed and you just want a quick comforting bite of food? Naturally, one would browse the area for something similiar and just like that my cravings travelled thousands of miles from something Asian to Mediterranean within a split second. I wanted some slices of protein on a bed of rice. This is where Tarboosh came into play. With promising reviews and takeout options, this was the best option given the circumstances. My journey begins…
Review #049
Restaurant Type: Casual Dining.
Food (65%)
Taste to price 2/5
Quality to price 2.5/5
Portion to price 3/5
Average = 2.5
Service (20%)
Friendliness 3.5/5
Promptness 4/5
Average = 3.75
Cleanliness (15%)
Bathroom n/a
Dining area 3/5
Kitchen area 3/5
Average = 3
Overall Score = [F(.65)]+[S(.20)]+C(.15)]
= [1.63]+[0.75]+[0.45]
= 2.83
The Pluses…
+ The staff was nice. There were 2 guys behind the counter. The one that took my order seemed like a cool dude, like someone I'd hang out with.
+ OPEN KITCHEN. Customers can see everything going on. The only problem is that it's a double edged sword. You'll see what I mean when you read below. I admire their transparency though.
+ I liked the seasoning they used on their RICE which made it pretty delicious.
+ Their SALAD was fresh. Their tomato, pickles, and lettuce looked really good. Lots of color.
The Negs…
– I don't think I've ever been to a Sharwarma place without the presence of a ROTISSERIE. Most places have them out in the front for the customers to see what they're getting. At first, I was thinking they hid it in the back but standing there, I saw my server open the fridge behind the register and pulled some raw meat out. He then ran to the microwave to thaw it out (I'm guessing), and as the grill warmed up he threw it on there. At first, I didn't think it was mine but once he put it in the plate and handed it to me, you know I couldn't speculate any further 🙁
– When most people order a Sharwarma Plate for dinner. Most expect layers of sliced meat on top of a bed of rice. When I got my order, I was surprised to see slices of a wrap placed on the side with rice and a few pieces of lettuce, and pickles/tomatoes slices. When I bit into the wrap, there was very little meat in there. Not what I expected especially at $14 plus tax.
– PRICEY, PRICEY, PRICEY. I could get the same thing but with larger portions and equal quality at Garlic 'n Lemons for $12.50 and Azama Grill for $12. I'm sorry but what I got that day was not $14 worth of food.
The Neutrals…
o Not much here.
In Conclusion…
The reason I enjoy shawarma plates is because of the balance of macronutrients. I know I can get my fiber, carbs, and protein in one plate. At Tarboosh, I felt I was committing carbacide. I can only comment on the LAMB SHARWARMA, so I am hoping their other entrees are better. From the pictures alone the MIX GRILL, and some of their Syrian delicacies looks really good. I'd come back again but I'd have to say my journey was not worth the risk of getting my car getting towed at the 88 lot.
#ChowYouLater