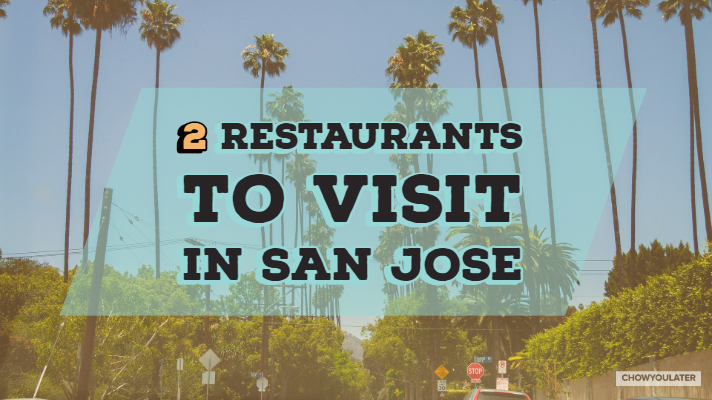 One thing about me is I enjoy finding hidden gems. I think most people follow the same protocol when it comes to selecting new restaurants. If it's not word of mouth from a trusted source, then you know you're going to Yelp for reviews, pictures, and distance. I'm no different.
As you all know I've recently moved to the Bay Area. I had to get acclimated pretty quick. Afterall, I'm the type that favors routine and rhythm for my day's work. Lunch, to me, can be annoying especially when all cylinders are clicking. The worst thing is when I'm hearing the wild animal known as my stomach growling and doing circus tricks to get satiated. And when it's loud enough the neighbors hear, then I deserve every dirty look at that point. So I go on Yelp and as I'm searching, two restaurants stuck out the most. They are what I coin as the Restaurant Unicorns.
The San Jose Restaurant Unicorn(s)
As far as I'm concerned, The Restaurant Unicorn most likely despises cold weather and Boston accents so much they've migrated far, far away because I haven't seen any back in Bawwwwston. Let me tell you the requirements for such a feat and why it's rare:
Sure there were other 5 Star Restaurants (I counted 26) but most of them had under 50 reviews which doesn't hold much weight since most of the time they're written by friends and family. I also checked for fake reviews, you and I both know what they look like, and most of them appear legit. Factoring in the number of Yelp Elites reviewing the spots, it's pretty clear to me these restaurants are serious. Let's identify these two restaurants.
1.) ACHILLES, 2521 Newhall St. Santa Clara, CA 95050

Named as Yelp's 9th best place to eat in the US, Achilles has been one of my favorite go-to spots for lunch. This is a fast casual, Build Your Own (BYO) Middle Eastern Restaurant. When you walk in, it's easy to see why as you are greeted and the workers seem to look like they give a 5h!t. It's clean, fully staffed, and most importantly the owner is there. Always at the cash register with a smile and asking how your day is. I can name only a handful of restaurants that does this. The food has got be one the Bay Area's best value. For lunch, the number one feature I look for is the variety of ingredients and how well balanced the food groups are between veggies, grains, and proteins. This one knocks it out of the park.
One of the biggest draws is their menu. Step 2 Add Complimentary Items is what makes Achilles stand out. I sometimes go HAM and tell them I want everything, afterall I'm just a poor kid from Boston. Can you spare me some change?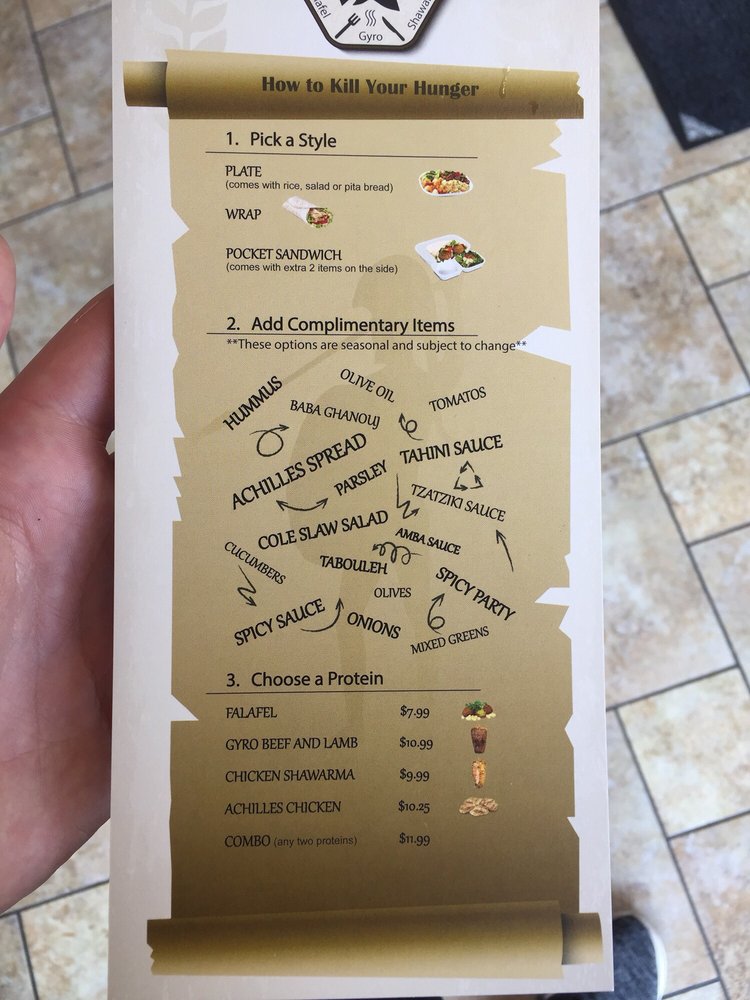 Not sure what to order? I was when I first went in. Don't worry I got you. My go-to order is:
Plate – half rice, half salad.
Hummus, Mixed Greens, Onions, Cucumbers, Cole Slaw, Spicy Sauce, Achilles Spread.
Always go with the ACHILLES Chicken*
*Always order the Achilles Chicken which, fun fact, has been marinated in 16 different spices. One bite in and you can really taste it.
2.) Snack Corner, 70 Saratoga Ave. Santa Clara, CA 95051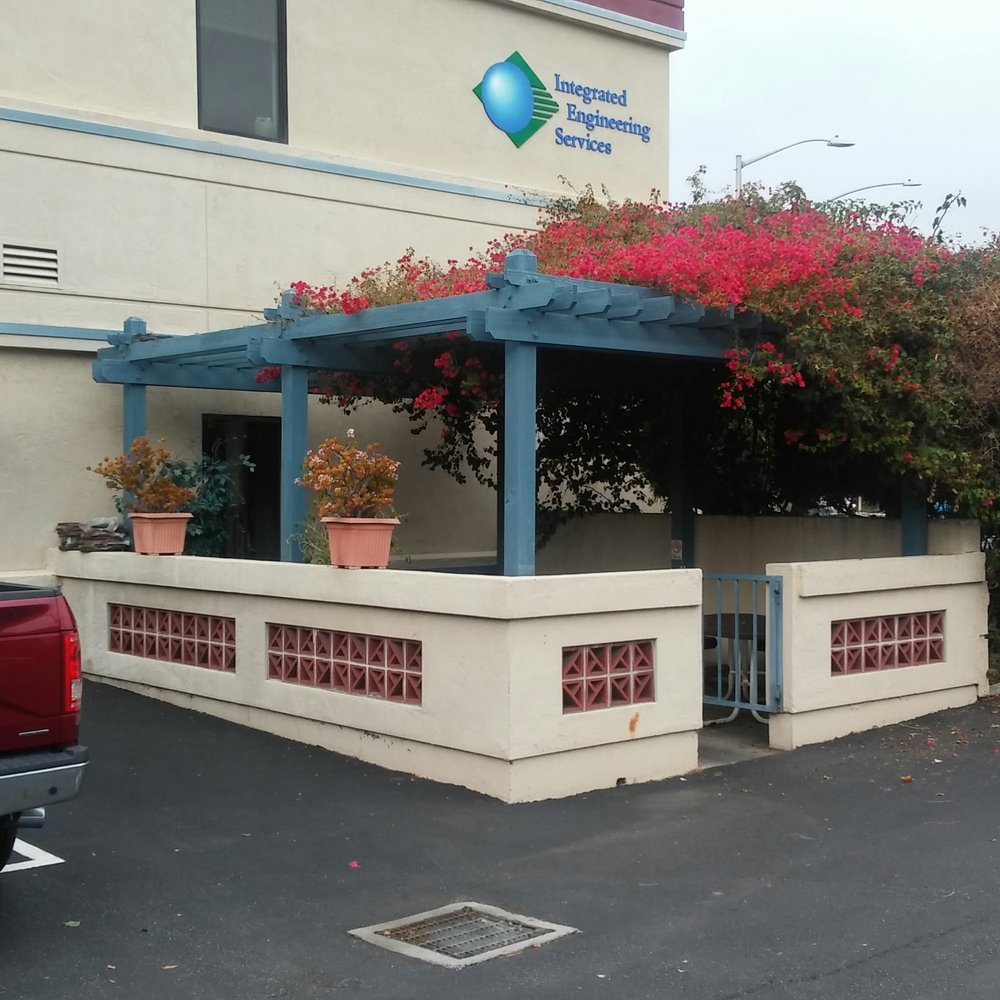 Snack Corner may not have 600 reviews but they've got some mileage having been around since 2016 which makes their 5 star review pretty remarkable, withstanding the test of time. I suspect they've been winning customers one at a time in good old organic fashion. I mean, you don't see a website nor any kind of marketing and there's not even a sign for customers to locate this place. I've concluded that the marketing has been spread through word of mouth evident in their Yelp reviews.
Snack Corner serves mainly Japanese, Korean bento style boxes and maki rolls. These boxes are made fresh with an assortment of sides such as salad, pickled veggies, and croquette made with the kind of care you'd expect from a friend. I say that because when you walk in you'll meet the owner, cook, cashier, and server who happen to be one person. Yep, the owner does it all and as you wait for the food, it's almost like you've been invited to a buddy's house for dinner, conversing and watching your meal made.
You can't go wrong with any of the bento boxes as you get to sample a little bit of everything. The prices may seem high initially but once you factor in the fresh ingredients, the made to order service, and the likeability of the owner you'll understand why the price is set that way. Seriously, come down and you'll understand the rave reviews. It's literally a one man show.
In Conclusion
They're not fancy, both small and found in somewhat odd locations. They're not crazy expensive and the owners run the business during all hours of operation and beyond. A large chunk of their life is dedicated to their craft and it shows in the food.
Although, it's yet to be determined whether these restaurants can maintain its illustrious 5 star rating (I'm rooting for them), as most end up dropping their scores thanks in part to articles like this that raises the expectations for readers but in reality, I'm telling you to be mindful. Eat with your heart and not your brain.
And if you were to use your brain, think about the value in each meal. Think of what you're really getting at that price point. Can you find a restaurant that matches the price? These are not restaurants owned by a boardroom of investors, they're family owned. They have heart and if you're a struggling restaurant owner, these 2 restaurants are a good place to start for note keeping. If you're a food venture, look no further.

If I missed any other unicorn restaurants, comment below and I'll be more than happy to make a visit! For real time check-ins and reviews follow me on my Yelp.
#chowyoulater