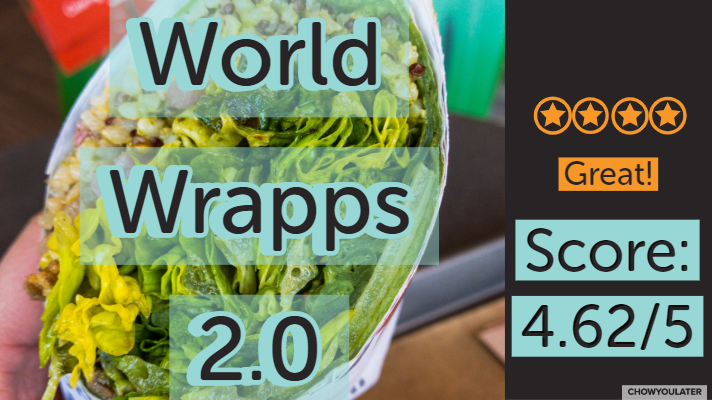 [4.62/5] I'm in a conundrum ya'll. I don't like salad, I don't like eating "healthy", and I don't want to have to pay an arm and a leg for quality ingredients but I need to lose weight especially when summer's coming up. Lol I try not to look at the scale but I'm pretty sure I've ballooned into a big ball of lard. When cooking at home isn't an option and time at a premium, what is there to do? Not trying to sound like an ad but the solution is World Wrapps.

Food (65%)
Taste to price 4.5/5
Quality to price 5/5
Portion to price 4.5/5
Average = 4.67

Service (20%)
Friendliness 4.5/5
Promptness 4.5/5
Average = 4.5

Cleanliness (15%)
Bathroom 4.5/5
Dining area 4.5/5
Kitchen area 4.5/5
Average = 4.5

Overall Score = [F(.65)]+[S(.20)]+C(.15)]= [3.04]+[0.9]+[0.68]
= 4.62

The Pluses…
+ Great MENU. The average ticket price is probably around $12.50. There's something for everyone. It doesn't matter what your diet needs are, they have a item for you. In addition, there's a kid's and drink menu.
+ REWARDS PROGRAM coined the WW Perks. Some of these wraps and bowls can get pricey but the good thing about it are their rewards system. You get a free bowl/wrap every 8th visit. If you're like me, this can be done within a week lol.
+ QUALITY. Just look at the list of ingredients on the menu. When I see quinoa, brown rice, and avocado I'm thinking quality and the best part are their prices. They're pretty good when considering what actually goes in these wraps.
+ Well developed RECIPES with their own spin. Equally impressive are their understanding for ethnic foods. They could easily water it down with fillers like corn, carrots, and potatoes but nope they did their research. For example, a Vietnamese wrap contains mint, cucumber, glass noodles, etc. you know the things that makes it Vietnamese. Kudos!
+ HOUSE FLATBREAD. You gotta try it. I've never tasted flatbread like that before. It's fresh, chewy (the good chewy), and warm. You see them throwing them into the press which I appreciate because you see the work put into it.
+ CUSTOMER SERVICE. The staff actually enjoys each others' company and are happily there to greet and serve you. I like that they go to every table asking how the meal was. That doesn't even happen at some of the upscale restaurants I've been to.
+ CLEAN. Again, kudos to the staff. I noticed the staff checking on the bathroom every so often to make sure it's spotless. Good job guys!

The Negs…
– No major negatives here.

In Conclusion…
There's a lot to rave about World Wrapps. Seriously, this is my kind of place and they earned themselves a loyal customer. The customer service is on point and the food is made in a way that's enjoyable for those who aren't fans of salad. As mentioned, there's something for everyone whether you're on a vegetarian, paleo, keto, gluten-free diet, it's all there. Because of this, it's easy for me to keep coming back because I get to lose weight without compromising taste.

#ChowYouLater