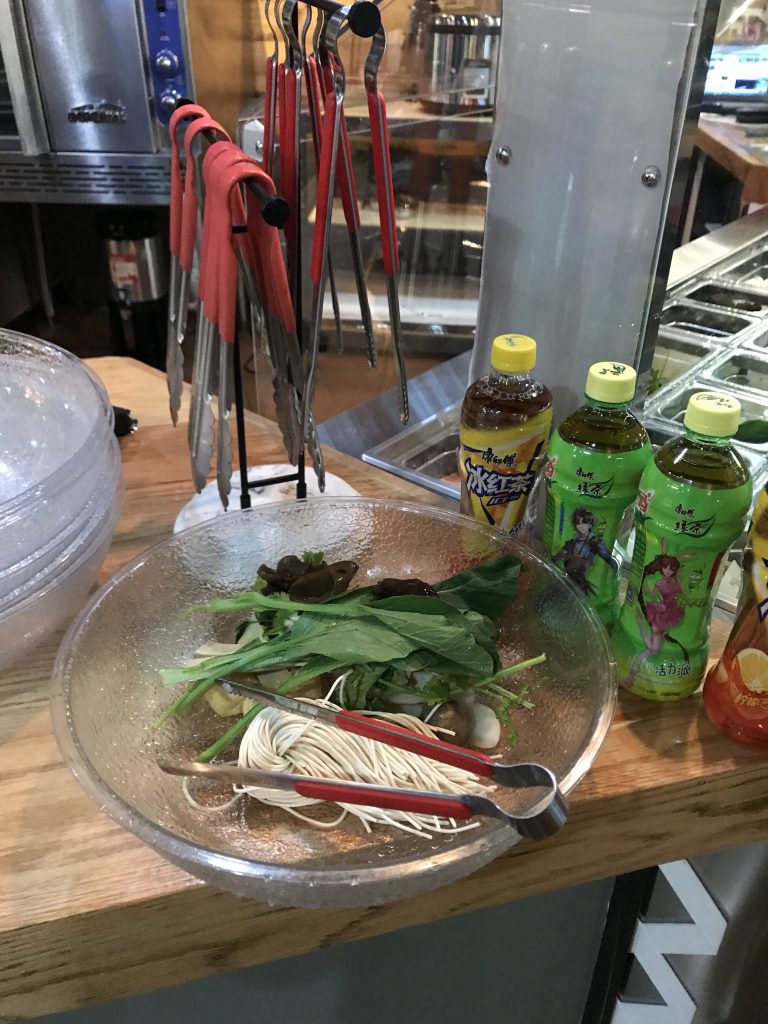 [3.86/5] When Refuge Cafe went down I was immediately pulled in, curious of what to come next. Like the nosey bathrobed neighbor I was, I would peer through the window hoping I'd get a glimpse of a clue. This is a prime location afterall, Allston's version of Time Square. OK I'm exaggerating a little, but either way this is a major commercial intersection. Whatever came next had to be exciting. [Oh god, I'm beginning to sound like a townie.] Here we go!
Review #046
Restaurant Type: Fast Casual Dining.
My 1st Impression: First there was a KungFu Panda, then
KungFu Tea, and now Mala KungFu! *cue the music* Everybody
was kung fu fighting!
Food (65%)
Taste to price 3/5
Quality to price 3.5/5
Portion to price 4/5
Average = 3.5
Service (20%)
Friendliness 4.5/5
Promptness 4.5/5
Average = 4.5
Cleanliness (15%)
Bathroom n/a
Dining area 4.5/5
Kitchen area 4.5/5
Average = 4.5
Overall Score = [F(.65)]+[S(.20)]+C(.15)]
= [2.28]+[0.9]+[0.68]
= 3.86
The Pluses…
+ Very passionate and welcoming owner. As soon as I walked in I was immediately greeted. He walked us through and curated all the offerings of the restaurant. I appreciated that.
+ You make your own bowl here so if you like or despise anything in particular you can make it anyway you like. The choice is yours.
+ For the soft opening promo, he gave us complimentary seltzer water and beef toppings. That was a kind gesture 🙂
+ BBQ LAMB was how I liked it: Hot, tender, juicy, and heavy on the chili powder.
+ BROTH was delicious. Rich in flavor, and not overly salty. It was similar to the MALA TANG in China.
+ Spacious dining area, huge 4K TV! Lots of room to maneuver all
you want. If you have Invisible Lat Syndrome like me, this is a dream come true.
+ Lots of natural air flow as they keep their windows open (weather permitting). One of the few Asian soup themed restaurants to do so. Best view for people watching.
+ Very clean all around, new everything.
The Negs…
– With all that open space, I would like to see more for toppings much like the many MALA XIANG GUO places have it set up. I also think given the similarities, they could easily offer MALA XIANG GUO as an option.
– I'm all for the single item restaurant movement, but in this instance, I want more menu items. Nowadays, with so many soup options what is their Unique Selling Proposition (USP)?
– At checkout we were told, "Other restaurants require 15%, we only charge 10% for tips. It's for the kitchen and this will help them." I think that's very kind of the owner to watch for his staff, but there must be some kind of cultural misunderstanding because in America, that's not going to be well received, as many reviewers have pointed out.
The Neutrals…
o The owner is fluent in English, Chinese, Korean, and Japanese. I thought that was pretty cool.
In Conclusion…
Mala Kung Fu is one of the few restaurants in the area to serve MALA TANG or MALA SOUP. They are a solid choice if you're craving for this particular item. With a highly visible location and high foot traffic, they should do well especially in the winter. I look forward to coming back.
#ChowYouLater