If you feel your growth is not fast enough and you really need that extra push to grow your Instagram account then this article is for you. I show you exactly how I got 100 followers a day as well as any lessons I've learned along the way.
Last updated: December 5, 2019
Why I decided to embark on this dangerous journey
The simple answer is for more exposure. It's unfortunate that many agencies define you based on the number of followers you have simply because "with x amount of followers, you can unlock this feature and that feature…" or "you can join this or that group… blah, blah blah". I realize Follower Count is not the only factor but a large one that determines whether you can join a group or not. Because of the way it works, it puts most users at a disadvantage to start off. I'm embarking on this journey because just like everyone else I want to grow my account, I want the same advantages, and to share my findings with everyone.
Mind you this came during a week when many of my colleagues were getting action banned for likes and following too many people at once. Instagram has been cracking down on accounts using third-party apps as well as what they deem bot-like behavior. It's, for this reason, I mentioned it a dangerous journey ahead. But I think the learning involved will be worth it in the end.
What You'll Need
If you want to take a more steady approach please read my How I got 2000 Followers Fast. Basically, we're going to take that strategy and inject steroids into it but before I go ahead, let's go over some preliminary requirements because if you're starting from ground zero it will be a lot more difficult to achieve this feat. This article makes some assumptions.
You will need a legit account. That means, your account needs to look credible. To be credible you need to optimize your profile and feed. In other words, don't look spammy or a fake account. Humans like to connect with others of value. Provide none, and there will be no follows.
At least 2500 Followers already in your account. The more followers you have the easier this process will be. I'm not saying it's impossible but it will be much more difficult if you don't have around 2500 followers. If you're not quite there, please check out my How I got 2000 followers fast.
You're going to need about 2-3 hours of accumulated free time per day. 100 Followers day is not an easy feat especially when trying to get around Instagram's algorithm to avoid getting banned. You will need to dedicate some free time just for Instagram.
Multitasking skill. If you're not good at multitasking then this approach is probably not for you.
Hopefully I didn't scare you away. After going through the preliminaries, if you're still interested keep reading.
How it's done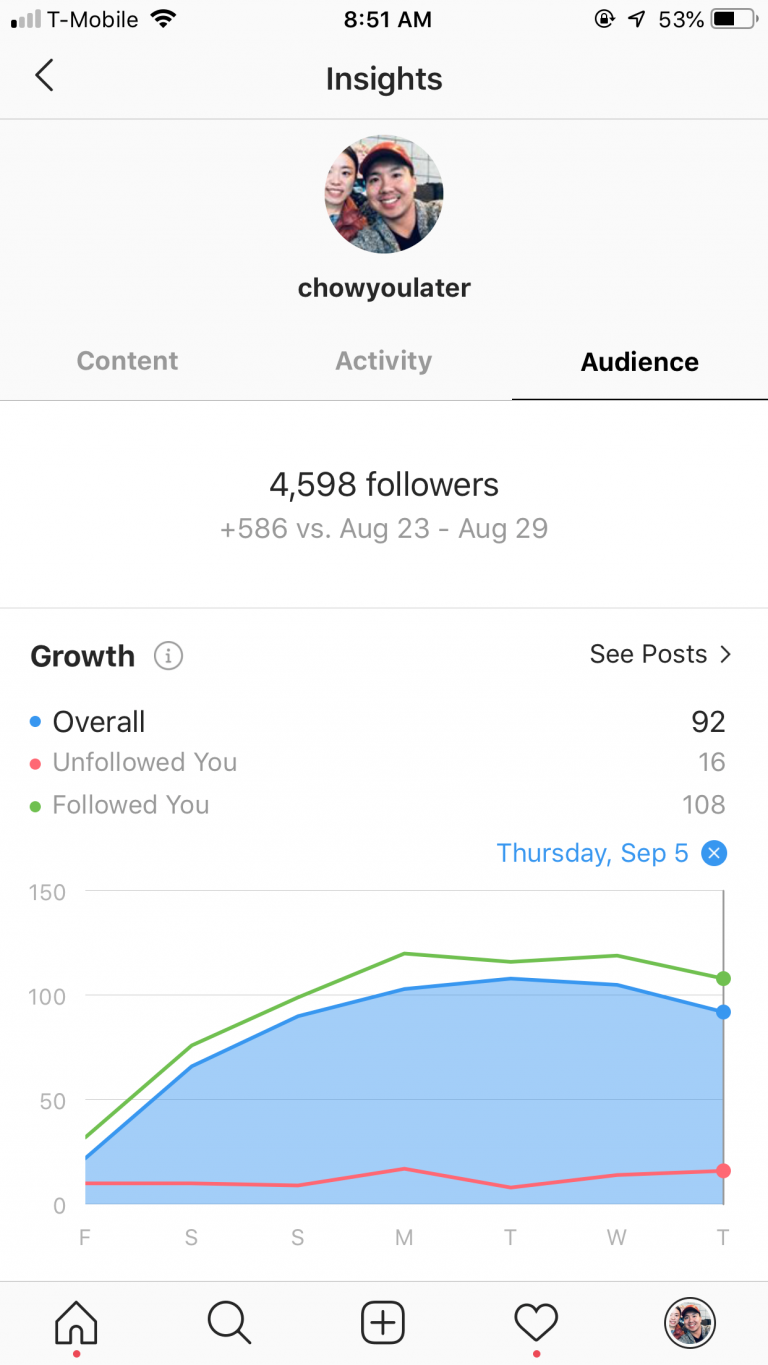 With Instagram cracking down on suspensions and the soft banning of accounts this was outright dangerous but I need to build my audience. I decided not to use any third-party apps and went the manual route which I prefer. Here I will outline how I did it.
1.) Spread out your Follow Actions.
In case you're not aware, the best way to grow an account fast is using the Follow for Follow Method. I won't go in-depth too much as this article is already long but it's when you follow an account and in return they follow you back. I go into more details of the Follow for Follow.
Instagram has a merit system that allows you to follow more people based on how long your account has been around and your Trust Rating. When your account is in good standing, they'll extend your leash a little but abuse it, and it's going to get tugged. With that said, if you follow a bunch of accounts at once, you're going to get flagged.
Instead, spread it out throughout the day. For me, I did a Follow Wave which I define as following around 10-15 accounts at one time. You don't have to shadow me but what I did was run a follow wave during these times:
As soon as I wake up
Before leaving the house
Before/During/After lunch
At the gym in between sets
At the parking lot before any destination
Before/During/After dinner
Before going to bed
As you can see, there's nothing exciting about this. It can be tedious but as I mentioned, if you're really driven that's how it's done. It's about taking advantage of the pockets of time you have during the day.
2.) Diversify your Instagram activity.
Be a human on Instagram. Diversify your actions. Whatever you do not be a robot. Besides following and unfollowing, this means:
Like and comment on posts

For me, I comment on about 1 out of every 60 likes I make

Create a Story
Watch other user's stories and react/comment to it
Create a post and followup with comments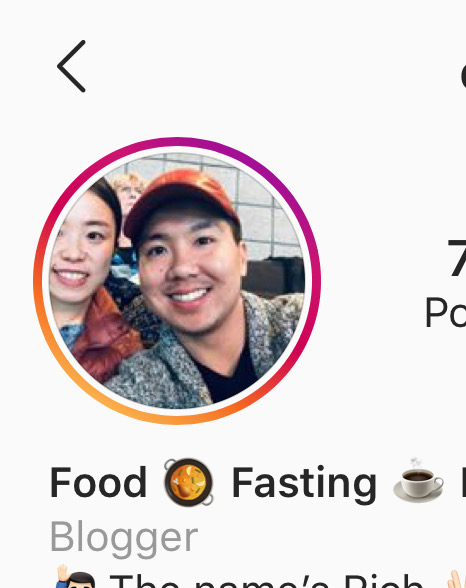 Make sure to regularly post and upload a story. By regular, I mean posting every 2-3 days and for stories, at least once a day. What attracts other accounts is if you're an active one. No one wants a dead beat account so that red ring around your profile signifies to others you're active.
3.) Like recent posts. You want to be hunted.
This one here is important. When you go to your home feed, you will see a bunch of posts. The most crucial ones are those that were posted an hour or earlier. These are the posts you want to use your likes. With Instagram flagging you for using too many likes, likes are somewhat a scarce resource.
Remember the Follow for Follow Method I mentioned earlier? There are a lot of accounts familiar with this practice. In this world, there are the hunted and the hunters. To me, you want your likes to appear like a fat juicy gazelle so the lions can find you. When you like a recent post of another account, you're in early and the lions will come and find you later. And if you want to entice them even more, leave a comment. See how many will follow you just based on that action. Liking an older post is like feeding a pack of lions that already had their feast. You're too late.
4.) Hunt for Accounts that will most likely follow you back.
Ohh but plot twist. You gotta eat too. Time to go hunting. Welcome to the circle of life. Look for accounts that are most likely going to follow you back. These are the accounts that have a good ratio of followers to following.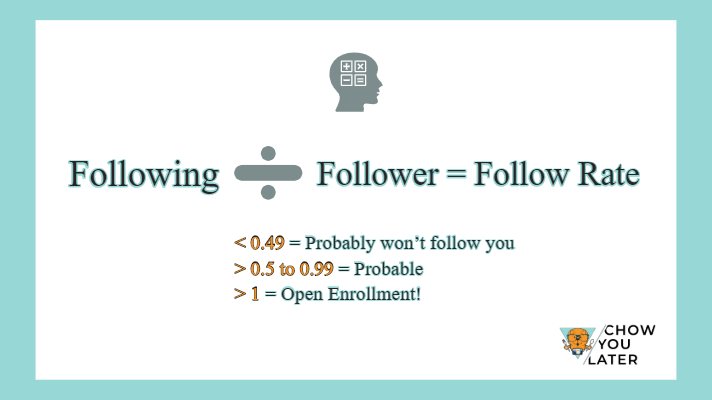 The most simple explanation is if an account has 20K followers yet only follow like 10 accounts, do you think they'll follow you back? Of course not. I go more in-depth with the follow ratio here.
Now it's your turn: 100 Followers a Day Challenge
At first, it will be shaky but after some time you will get the hang of it and move pretty fast going through the motions. It will be cruise control and all of it muscle memory. Don't be hard on yourself if you're unable to get your first 100 followers a day right away. It takes time and don't give up. There are so many benefits to having a high follower count. If I can do it, anyone can.
If you found inspiration from reading my post, then I too challenge you to this grueling week of Follow for Follows. Tag me in your post or hashtag #chowyoulater100 and let me know your results. How long can you get your streak going without getting an action block from Instagram?
If you want to practice at a slower pace or you're not seeing results, check out my Road to 2000 Followers for more indepth explanations and mindset.
Frequently Asked Questions
Are you constantly on your phone?
If I was on my phone all day, I wouldn't be able to go about my day. What really matters is your ability to multitask and be aware of the pockets of time given in a day. When I say pockets of time, I'm referring to the little downtime we have while we're waiting in line for something, commuting on the train, working out in between sets, etc. You'd be surprised by how much these little time pockets can add up in a day.
How long can you maintain the rate of 100 Followers a day?
I came to a halt because I stretched out my following count to the max at 7500 Followers but honestly, it can be maintained for a while as long as you've got the time and dedication. For me, I wanted to push myself and to see if it could be done which I proved.
Just keep in mind it's very monotonous. After spending a week on it, I want to say 30-35 followers a day or 1000 a month is a lot more reasonable to me. At 100 per day, there's a lot of maintenance involved. Like I said, take this route if you really need that extra push.
What are the pros of growing that fast?
Obviously, when agencies and sponsors put a major emphasis on the number of followers you have, growing your account by 100 a day is going to be beneficial. With a bigger account, you can do a lot more if you're looking to monetize on Instagram. For instance, at 10K followers Instagram allows you to link your website to stories. If you're in e-commerce, this is crucial. If you think this is a cheap method, my motto is to hate the game and not the player.
What are the cons of growing that fast?
Anytime you're aiming for a quantifiable number fast, from a qualitative standpoint it's going to suffer somewhat. In other words, when you're aiming for a specific number like 100 followers a day and time is limited, the number of quality followers may take a hit. What I mean by quality are accounts that may not even be in your language or ones just looking to grow rather than engage. My thing is if you want to interact with them in the future, and their content is in a different language it makes it nearly impossible to gain any meaningful interactions. Be sure to refer to your end game.
By growing at this pace, your engagement rate will probably take a hit. There's only so much time to a day and what a human can do. That is not to say it can't be boosted later once you hit your target number of followers.
If you need help with Engagement, check out my article on how to boost your engagement. And if you want to support my page, do subscribe and follow me on my social media handles at Instagram, Twitter, Facebook.