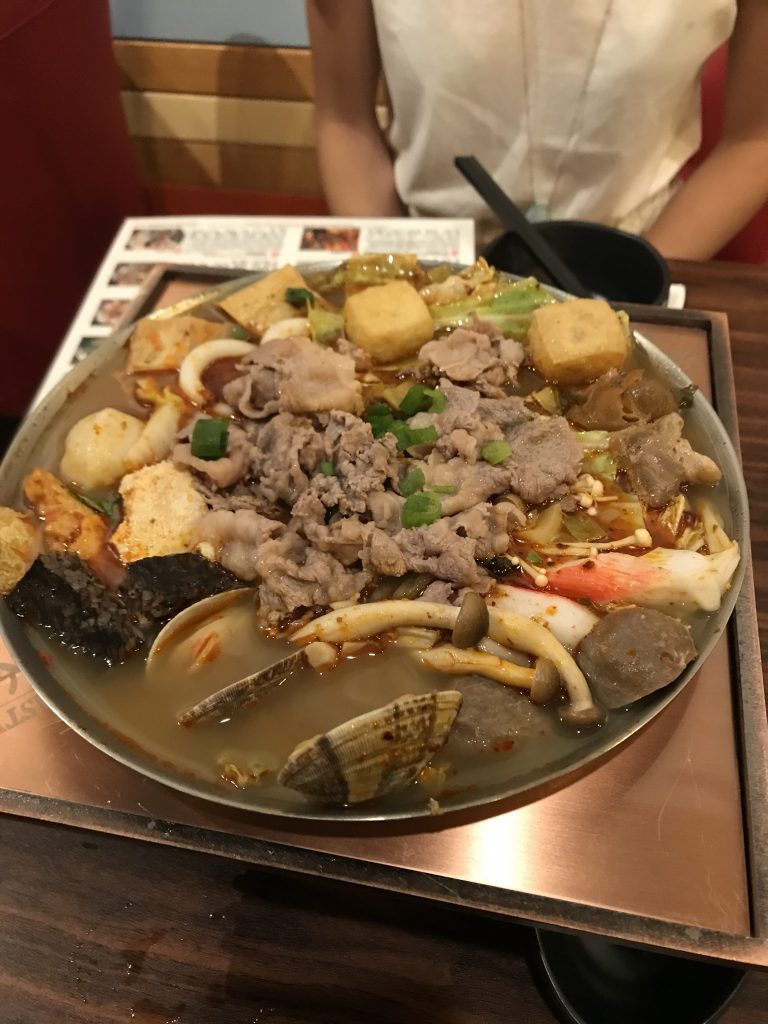 [4.38/5] I would be one wealthy dude if I got a dollar for all the times I've passed Tasty Pot waiting for them to open. So many "hot pot" themed restaurants in the area, yet all offering their own take on it. This one may just be the one to stand out.
Review #043
Restaurant Type: Casual Dining.
My short summary sentence: Tasty Pot has got it going on!
Food (65%)
Taste to price 4.5/5
Quality to price 4.5/5
Portion to price 4.5/5
Average = 4.5
Service (20%)
Friendliness 4/5
Promptness 4.5/5
Average = 4.25
Cleanliness (15%)
Bathroom 3.5/5
Dining area 4.5/5
Kitchen area 4/5
Average = 4
Overall Score = [F(.65)]+[S(.20)]+C(.15)]
= [2.93]+[0.85]+[0.6]
= 4.38
The Pluses…
+ The wait was worth it. How can this restaurant with the most unsuspecting exterior be so drastically different inside. When you walk in, it doesn't take a rocket scientist to know how much effort was put in building the space. I mean, they got brand new furniture, brick busting dragons on the wall, and an open kitchen right in the middle as you enter. That's when I knew this place was serious.
+ I ordered the TAIWANESE SUPREME SPICY HOT SOUP which is their flagship entree. At $17.99 split between 2 people, that is a steal!
+ Portion sizes are out of this world. Just look at the pictures, they look they're on steroids.
+ I chose the FLAMING SPICY option which is the spiciest of them all. I have to warn you that when they say its the spiciest, they really mean it. They don't hold back and my tolerance is pretty high. Just something for you to consider.
+ Food came out lightning quick. Thor must have been cookin' in the back.
+ Waiters were everywhere waiting to service you.
+ Definitely a place worth repeating for me.
The Negs…
– No major negatives here.
The Neutrals…
o The baby octopus was not really baby octopus. They were more like College Freshman 15 sized 🙂
o My GF likes their soundtrack. We suspect the owner came from the same generation. Lots of Jay Chou and JJ Lin 😛
In Conclusion…
Tasty Pot is for real. If they keep up and maintain the quality of their soft opening, I can see them escaping with the crown for best hot pot in Allston/Brighton. I'll be back. Chow!